Sign up for GZERO's free newsletters on global politics
SUBSCRIBE
GZERO Daily: the newsletter for people who love global politics
Sign up for our free newsletter to keep up with what's going on around the world - and why it matters.
Subscribe
GZERO Daily: the newsletter for people who love global politics
Subscribe Now

We have updated our Privacy Policy and Terms of Use for Eurasia Group and its affiliates, including GZERO Media, to clarify the types of data we collect, how we collect it, how we use data and with whom we share data. By using our website you consent to our Terms and Conditions and Privacy Policy, including the transfer of your personal data to the United States from your country of residence, and our use of cookies described in our Cookie Policy.
The promise and peril of foreign fighters in Ukraine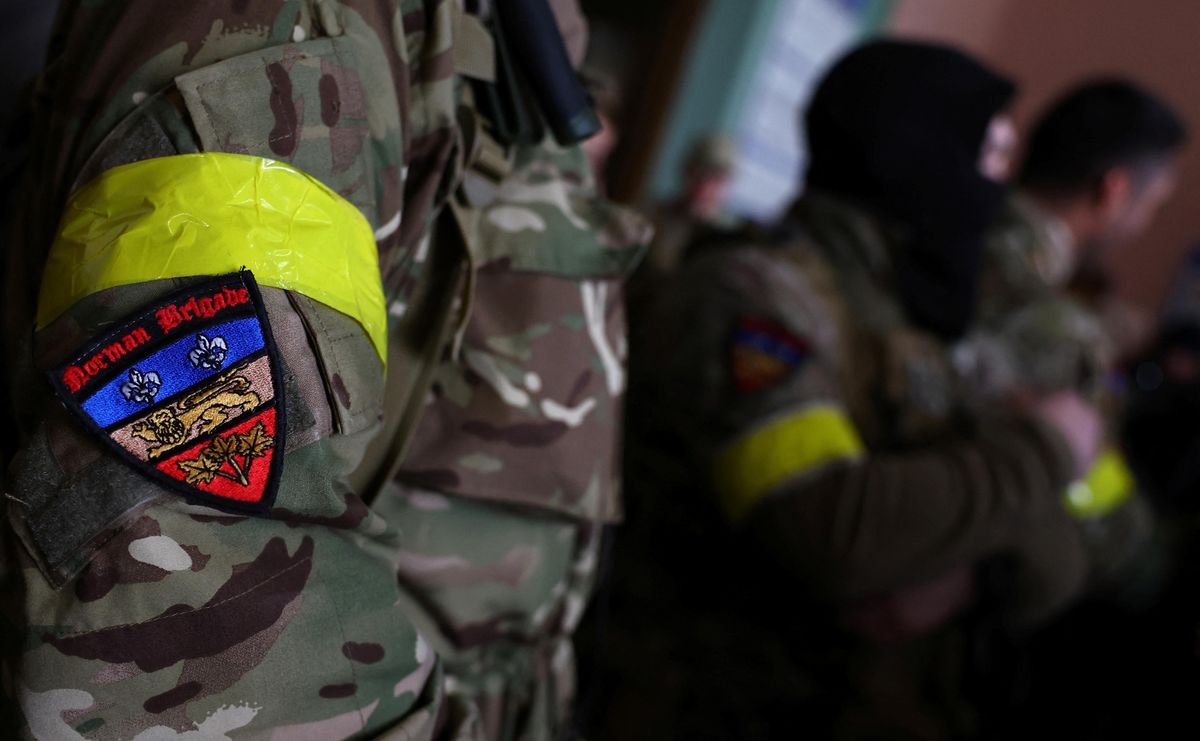 REUTERS/Kai Pfaffenbach
Less than 48 hours after Russia invaded Ukraine, President Volodymyr Zelensky appealed to foreign volunteers for their help. He also established a new military unit, the International Legion for the Territorial Defense of Ukraine, for them to join. Visa restrictions were temporarily lifted, and a slick recruitment website went up. Some compared the foreign volunteers to those who signed up to fight fascism in the Spanish Civil War, as captured in Ernest Hemingway's masterpiece, For Whom the Bell Tolls.
But with the war entering its fourth week, the implication of thousands of foreign fighters entering the fray – some from as far away as Florida and as close as Belarus – is less than romantic. What's more, Russia is now deploying its own foreign recruits, and Vladimir Putin has given the go-ahead to dole out advanced weapons systems to foreigners willing to take up arms for Moscow.
Such an influx of foreign fighters to Ukraine, experts warn, will have both short- and long-term consequences for the war, the region, and beyond.
---
"The biggest threat from foreign fighters is that they intensify conflicts," says David Malet of American University and author of Foreign Fighters: Transnational Identity in Civil Conflicts. "Foreign fighters help weaker forces fight more effectively. This prolongs the wars and sometimes the weaker side wins."
"But the price of this is significantly more violence on the battlefield and against civilians too," he adds.
Foreign fighters are not new to this conflict. Between 2014, when Russia annexed Crimea and began supporting pro-Russian separatists in the Donbas, and 2019, at least 17,000 foreigners were engaged in eastern Ukraine — the majority fighting for Moscow. While most were Russian, hundreds hailed from EU member countries, the UK, and the US.
In addition, a number of far-right militants from abroad have come to Ukraine, some of them joining the notorious Azov Battalion, a Ukrainian paramilitary group with neo-nazi sympathizers that's been used as casus belli by the Kremlin to "de-nazify" Ukraine.
The numbers on both sides are swelling. The Ukrainians now claim 20,000 fighters from 52 countries. These ranks include NATO veterans, neo-nazis, and even schoolteachers. So, can they really help?
"For those fighting on the Ukrainian side, the key is for them to be integrated into the Ukrainian military and kept under proper command," says Daniel Byman, an expert on foreign fighters who teaches at Georgetown University and serves as a senior fellow at the Brookings Institution.
"Some with skills can help train others and play valuable roles, though language barriers will be a problem in some cases." If you're unskilled and don't speak the right languages, he adds, it's much harder.
Russia, for its part, announced last Friday that 16,000 volunteers from the Middle East were ready to join it in the fighting in the Donbas. Moreover, Putin wants to give them deadly weapons like Western-made Javelin and Stinger missiles captured by the Russians, man-portable air-defense systems known as MANPADS, and anti-tank rocket complexes.
On Sunday, Kyiv accused Russia of setting up "mercenary recruitment centers" across Syria and even Libya. Independent reports have established Russian headhunters active in Iraq, too. Also, British intelligence warned that personnel from private Russian security companies with checkered human rights records and links to Moscow are also being deployed in the conflict. Meanwhile, in a bizarre twist, members of Central African Republic forces have also pledged to join Russia.
So, what makes someone sign up to fight a war in a foreign country? In many cases, nothing good. Research shows that foreign fighters have some disturbing tendencies: they are more prone to committing atrocities, they often believe in extremist ideologies, and they have a higher mortality rate.
"Conflicts with foreign fighters tend to be more violent than others," explains Raffaello Pantucci, a senior fellow at the S. Rajaratnam School of International Studies in Singapore.
"The bigger issue is what comes next now. What are these people going to do afterwards, and [what comes of] the huge flood of weapons that we're going to see surge around this wider region, as well as people with battlefield experience, some of whom are linked to extremist groups?"