North Korean fireworks coming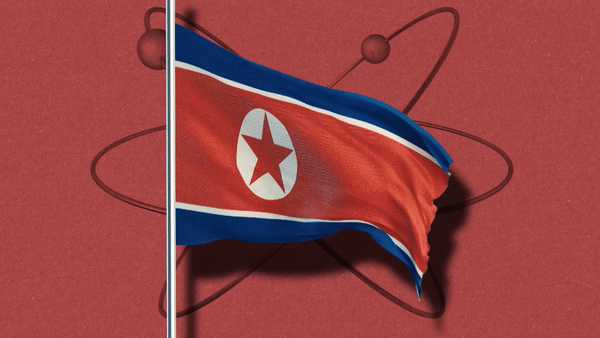 GZERO World
As their relations with the US have soured, China and Russia have grown more reluctant to help the US and South Korea manage their North Korea problem. This has created more space for the North to develop and show off the weapons capabilities that the nation's rogue regime deems essential to its survival.

Supreme Leader Kim Jong-un recently called for an "exponential increase" in North Korea's nuclear arsenal. In response to the heightened threat, South Korean President Yoon Suk-yeol has said that US guarantees of protection may no longer be enough for his country and that it may need to acquire nukes of its own, although he has recently walked back some of those statements.
What could go wrong? We asked Eurasia Group expert Jeremy Chan what to expect this year on the Korean Peninsula.
---
What is North Korea threatening to do?
As part of a policy speech laying out his goals for 2023, Kim called for his country to mass-produce tactical nuclear weapons that could strike South Korea and to develop a new intercontinental ballistic missile capable of delivering a tactical nuke to the US mainland. Kim has given no indication of how or when his regime might demonstrate these capabilities to the world, but his military goals are usually adhered to closely.
In addition, South Korean intelligence believes North Korea has nearly completed preparations for a seventh nuclear test, the first since 2017, which would allow the country to further cement its status as a nuclear power.
Why is the North escalating its provocations now?
Because it can. When North Korea emerged last year from its strict, self-imposed period of isolation during the pandemic, it encountered a substantially changed geopolitical landscape. China and Russia – two countries that have traditionally exercised influence over North Korea – are now less inclined to cooperate on managing the threat it poses.
Though North Korean ballistic missile tests violate UN Security Council resolutions previously supported by China and Russia, the two countries vetoed multiple US-led efforts to condemn North Korea's sharp increase in ballistic missile launches in 2022.
Without the support of Beijing or Moscow at the UN, Washington was left last year to confer with Seoul and Tokyo, as well as issue largely toothless sanctions against a handful of individuals involved with Pyongyang's illicit weapons programs. In the process, international red lines were redrawn, leaving a seventh nuclear test as the only remaining action that could potentially encourage China and Russia to back a tougher international response, though it is by no means certain that they would.
How is South Korea responding?
The hawkish South Korean president believes that North Korean provocations can only be deterred with force and has ordered tit-for-tat responses to North Korean provocations such as the incursion of five North Korean drones across the inter-Korean border in late December, after which he sent South Korean drones into North Korean airspace. Yoon told domestic media outlets earlier this month that South Korea and the US were in talks to carry out joint planning and exercises involving US nuclear forces, stating that promises of the US nuclear umbrella were no longer sufficient. He also said that if North Korea's provocations intensify, "the Republic of Korea could deploy tactical nuclear weapons or possess its own nukes."
Opinion polls also show that two-thirds of South Koreans now support the development of a domestic nuclear program. While this would obviously have far-reaching implications for both the US-South Korea security alliance and the nuclear ambitions of Taiwan or Japan, China would likely stand to lose the most.
What's the US saying?
The White House has flatly denied that it has discussed holding joint nuclear exercises with South Korea, a non-nuclear state. The two countries have announced a combined military exercise next month that will test their joint response to North Korea's use of a nuclear weapon.
A seventh nuclear test in North Korea, however, would put tremendous pressure on South Korea and the US to respond forcefully. US President Joe Biden told Chinese President Xi Jinping at a November meeting that the US response would "be more up in the face of China," likely entailing large-scale joint military exercises on China's doorstep and greater deployment of advanced US military assets to the area.
So, will China remain on the sidelines?
Foreign Ministry officials continue to issue boilerplate calls for "meaningful dialogue" and addressing "the legitimate concerns of all parties." In separate meetings with Xi, both Biden and Yoon requested China's assistance in reining in North Korea, but the topic did not appear in China's official readouts. Meanwhile, China-North Korea trade picked up in the second half of 2022, though it remains far below pre-pandemic levels.
With China having exited its zero-COVID policy and re-opened its international borders, flows of people and goods with North Korea are likely to increase significantly in 2023, throwing Kim an economic lifeline. This will also increase the leverage Beijing can use if it decides Pyongyang has gone too far.
Fear of angering Beijing may be all that is keeping Kim from conducting a seventh nuclear test and setting off a chain of events that could destabilize the entire region in 2023.