GZERO Daily: the newsletter for people who love global politics
Sign up for our free newsletter to keep up with what's going on around the world - and why it matters.
Subscribe
GZERO Daily: the newsletter for people who love global politics
Subscribe Now

We have updated our Privacy Policy and Terms of Use for Eurasia Group and its affiliates, including GZERO Media, to clarify the types of data we collect, how we collect it, how we use data and with whom we share data. By using our website you consent to our Terms and Conditions and Privacy Policy, including the transfer of your personal data to the United States from your country of residence, and our use of cookies described in our Cookie Policy.
Washington chaos rings alarm bells in Ukraine and Europe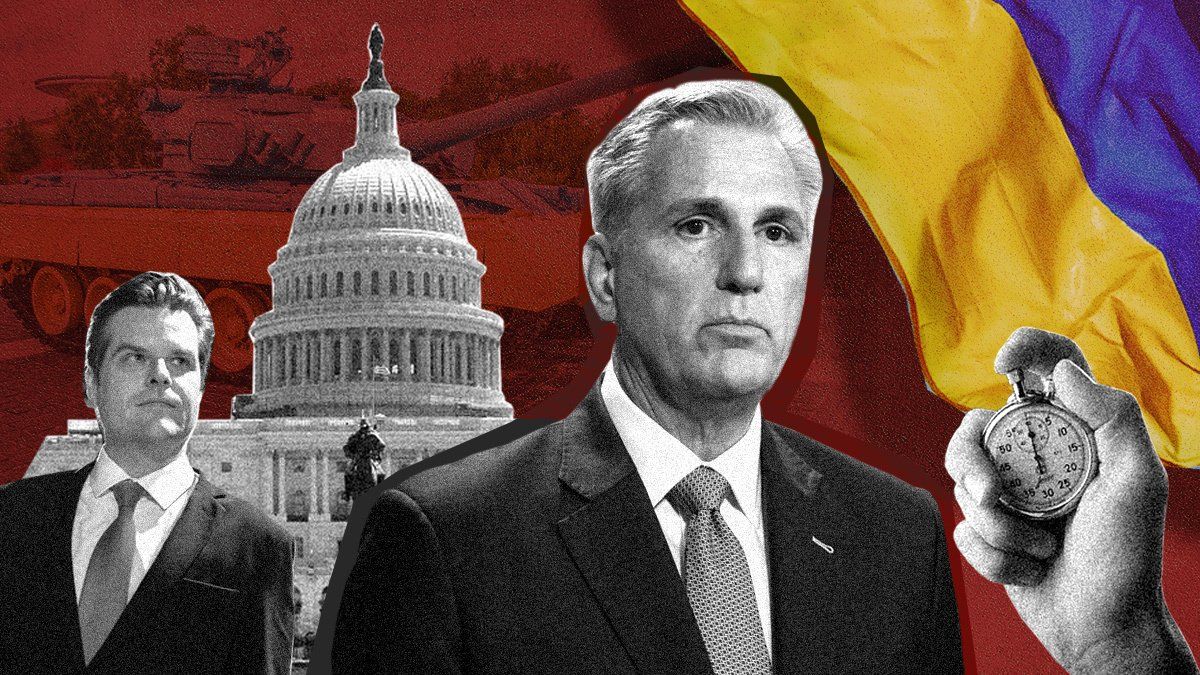 GZERO Media/ Jess Frampton
You've heard the news. Rebel Republicans and unsympathetic Democrats ousted House Speaker Kevin McCarthy from his job yesterday. That post is now officially "vacant." For now, Patrick McHenry (R-NC) holds the post of Speaker Pro Tempore to ensure there's someone there to keep the lights on and the process moving toward the election of a new speaker.
Americans (and the world) are now trying to figure out what it all means. But keep in mind, this has never happened before. The only previous attempt to fire a speaker of the US House of Representatives failed, and that was 113 years ago. The cliché "uncharted waters" fits perfectly here.
But … you've got questions, lots of questions, and I'm here to give you the best available answers.
We just survived a shutdown threat last weekend. Should we expect more of these congressional showdowns?
---
Absolutely. Current funding for the government runs out on Nov. 17, and we may not have a speaker to make a deal by then. Even if the House is able to elect a new speaker well before then, that person may feel obliged to continue this game of legislative chicken well into next year by continuing to offer only short-term government funding deals in exchange for concessions from Democrats. In short, the "shutdown showdowns" have only just begun.
Who will be the next speaker?
Get ready for a potentially bloody fight among Republicans. House Majority Leader Steve Scalise (R-LA), conservative Jim Jordan (R-OH), and Kevin Hern (R-OK) have already made moves to enter the race, but there will be more names. For now, Scalise has the most friends with votes, so he's the early favorite.
Can McHenry, the temporary speaker, get stuff done while we wait?
Again, we're in uncharted waters. McHenry, McCarthy's hand-picked successor, has an open-ended ability to preside over House business. There are no rules that prevent him from holding the job indefinitely.
But because this has never happened in American history, the limits of McHenry's authority aren't clear. The House parliamentarian is the person with the responsibility to tell us what the rules say. (Be glad you don't have that job.) Whatever the rules-interpreter/rules-keeper decides will create a precedent.
What does all this chaos mean for Ukraine?
It's bad news for Volodymyr Zelensky, to be sure. It's possible that Congress will approve new money for Ukraine before the end of the year, but it's looking a lot less likely now than it did a few days ago. There are a sizeable number of House Republicans who don't want the US to send more money to Ukraine, certainly not the additional $40 billion that President Joe Biden wants.
Step back for a moment to last weekend, when most of us were breathing a deep sigh of relief that the shutdown had been averted. To get that deal, pro-Ukraine Democrats had agreed (at least temporarily) to pull new Ukraine funding from the budget deal. They fully intended to fight over that another day, but they set a precedent that Ukraine aid was a bargaining chip they were willing to put on the table.
Anti-Ukraine-aid Republicans saw that, and now they'll want that concession every time they bargain with Democrats to keep the government open.
OK, so why didn't Democrats save McCarthy yesterday? They could have done that, right?
Yes, they could have. But the Dems felt McCarthy had backed away from too many promises to deserve saving. From the Dems' point of view, McCarthy went from condemning Donald Trump after the Jan. 6 insurrection at the Capitol and calling for an investigation of his responsibility to backing Trump and then to launching an impeachment process against Biden. Democrats made clear early yesterday they had no intention of bailing out a speaker they neither liked nor trusted.
But the Democrats do want to support Ukraine, right? Haven't they left Ukraine in a precarious place?
Yes, they have.
Here are the scenarios that could protect near-term US aid for Ukraine …
Republicans could elect a speaker who's willing to defy dozens of his fellow Republican members of Congress to pass a bill that includes billions more for Ukraine.

Or Democrats in the Senate could refuse to compromise on Ukraine aid and dare Republicans to shut down the US government.
Neither is all that likely.
By the way, it's not that all US financial help for Ukraine has stopped. The Pentagon still has $5 billion in additional aid and drawdown authority in its budget. That will meet some of Ukraine's needs in the coming months.
So, what's the lasting damage from all this?
Ukraine's leaders now know the US isn't a reliable long-term backer, even with a supportive president and the backing of most members of Congress. And they know they'll have to fight their war differently now. They'll have to keep more firepower in reserve to be sure they don't run out of weapons and ammo at a time when new supplies aren't coming.
They knew that was a risk tied to Trump and next November's US election. But now, Kyiv must deal with this risk immediately.
Washington's chaos is also ringing alarm bells across Europe, where leaders know that, particularly on the weapons front, they can't backfill what will be lost if supplies from Washington begin to run dry.
And the Europeans have to think about their own security. What, they wonder, does all this mean for NATO if this is the future of the Republican Party in America?
In short, a lot of trust has been lost, and it takes much longer to rebuild trust than it does to lose it.