What We're Watching: Bangladesh religious violence, Ecuadorian drug emergency, Lebanese to vote, Russia ditches NATO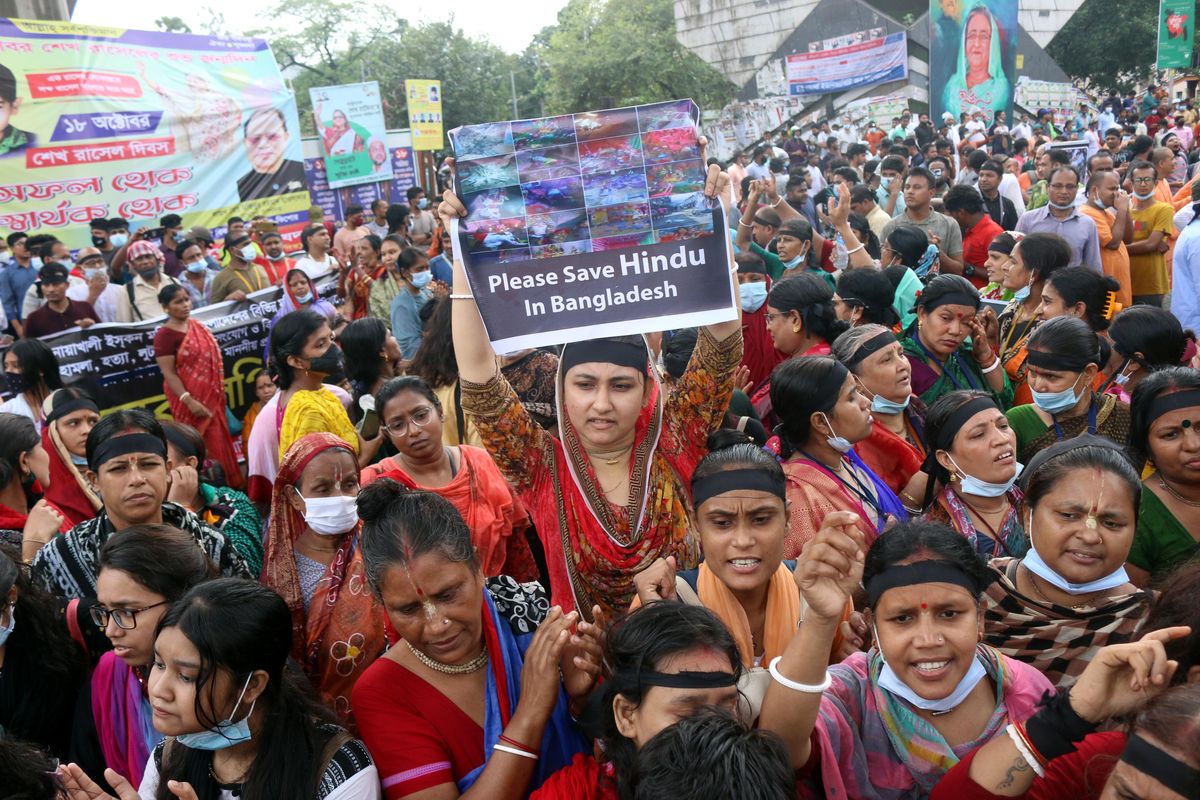 Religious tension rising in Bangladesh: Clashes between Hindus and Muslims in Bangladesh have surged over the past week, leaving at least four people dead. After an image was posted on Facebook showing the Quran at the feet of a statue at a Hindu temple, Muslims burned Hindu-owned homes and attacked their holy sites. Both sides have taken to the street in protest, with Hindus saying that they have been prevented from celebrating Durga Puja, the largest Hindu festival in the country. Such acts of sectarian violence are not uncommon in Bangladesh, a majority-Muslim country where Hindus account for nine percent of the population. Indeed, as Eurasia Group's Kevin Allison recently warned, unverified social media content stoking inter-ethnic conflict is a massive problem throughout South Asia, where for many people Facebook is synonymous with the internet.
---
Ecuador's state of emergency… again: Ecuador's President Guillermo Lasso has declared a nationwide state of emergency to deal with surging crime fueled in large part by drug trafficking. The measure allows the government to limit freedom of movement and assembly, and gives the military authority to patrol the streets. This comes less than a month since Lasso, a pro-business social conservative elected in February, declared another state of emergency after a gang war inside a jail in the port city of Guayaquil killed more than 100 people. The oil-rich Andean nation of 17 million people has become a transit country for Colombian and Peruvian cocaine where Mexican drug cartels are becoming more influential. The state of emergency might limit burglaries, auto thefts and homicides in the short term, but what happens when it's lifted?
Will Lebanese elections matter? Less than a week since Lebanon saw some of its worst sectarian street violence in years, its parliament voted to hold new legislative elections on March 27, two months earlier than planned. (However, a simultaneous vote on introducing female quotas in parliament failed to pass.) It'll be the first popular vote since 2019, when mass protests over political corruption and economic crisis rocked the country. The pressure is now on for Najib Mikati — who became interim prime minister in July after months of political deadlock — to secure a financial recovery package from the IMF that would pave the way for more international investment and aid as the country plunges further into one of the worst economic catastrophes in modern history. Talks with the IMF will be tough because the government and banks aren't willing to implement the public sector reforms or debt restructuring initiatives that the Fund wants. Indeed, as sectarian tensions linger and many kleptocrats retain prominent roles in Lebanese political life, the upcoming election may not move the needle at all.
What We're Ignoring
Russia breaks up with NATO:
Russia says it'll
sever diplomatic ties
with NATO and withdraw its representatives from the alliance's headquarters in Brussels. This isn't a massive surprise given that relations between Moscow and the EU have been strained for years, particularly since Russia annexed Crimea in 2014. But things heated up recently when the EU expelled eight Russians from its offices for alleged spying (Russia's diplomatic presence in Belgium has been steadily shrinking for years because of espionage claims; Moscow denies them.) Perhaps as a tit-for-tat, Russia announced Tuesday that it would
not supply more natural gas supplies
to power-hungry Europe as it had previously pledged to do. The EU, for its part, has long accused Russia of using gas exports as a political weapon, but this latest move couldn't come at a worse time as energy prices have
reached
record highs across Europe. As a bonus, stirring up trouble with NATO allows Vladimir Putin to drive a wedge between Eastern and Western European members, one of his favorite pastimes.