What We're Watching: Sri Lanka's political turmoil, Putin's low-key Victory Day speech, drug cartel riots in Colombia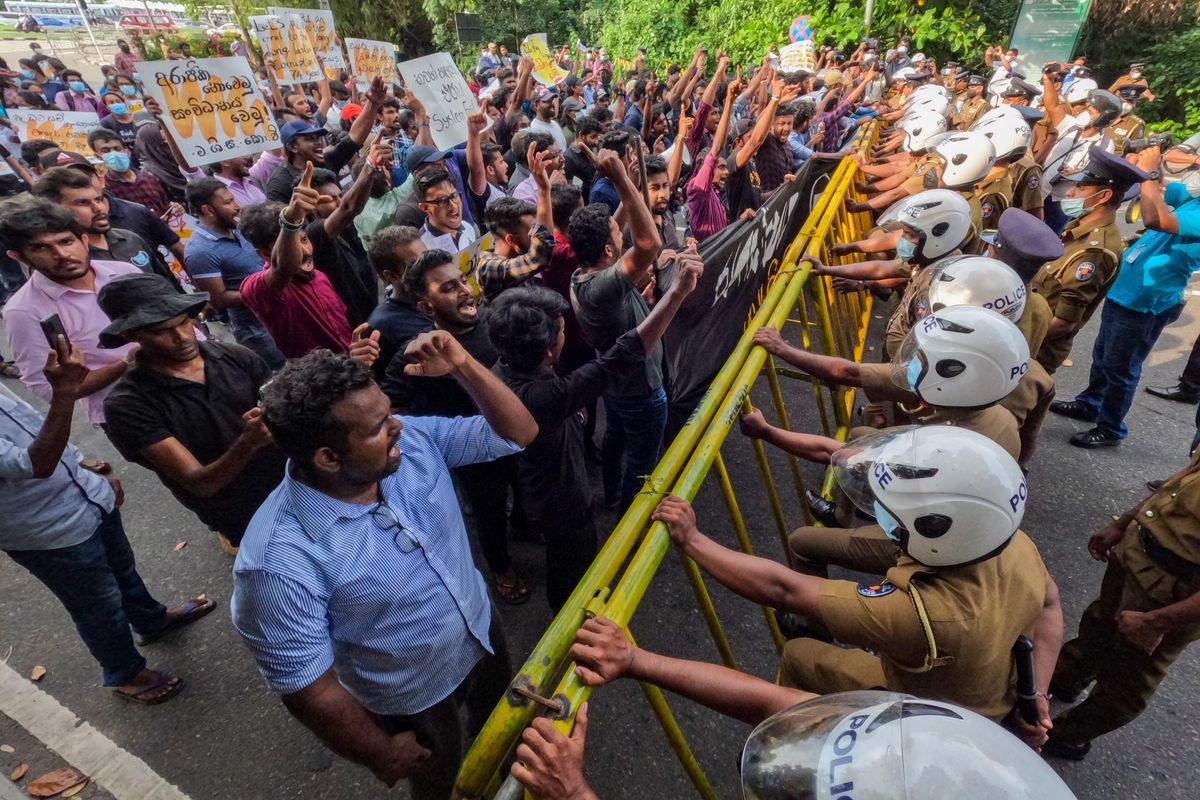 Tharaka Basnayak via Reuters.
One Rajapaksa resigns in Sri Lanka
Following months of protests over government mismanagement and the country's economic collapse, Sri Lanka's embattled Prime Minister Mahinda Rajapaksa has announced his resignation. Violent clashes broke out in the capital city, Colombo, on Monday between anti-government protesters and supporters of the Rajapaksa regime, which is headed by the PM's brother, President Gotabaya Rajapaksa. At least 150 people were taken to hospital after authorities used heavy-handed tactics to try to disperse the demonstrators. This political shake-up comes amid unrest over soaring fuel and food prices and constant blackouts. Sri Lanka's foreign currency reserves have entirely dried up, prompting Colombo to print more money, which further pushed prices up and the currency value down. The Rajapaksa brothers had overseen the country's warming ties with China in recent years, which has seen Sri Lanka become embroiled in a relentless debt trap set out by Beijing. Until now, Mahinda Rajapaksa had refused to step down. We're watching to see if protesters go home, or if they continue demanding the ouster of his brother.
---
Putin's "nothing to declare" message
Monday's big news from Russia's war on Ukraine is that Vladimir Putin delivered a Victory Day speech with no big news in it. This "nothing to declare" speech could be revealing about Putin's own uncertainty about where the war is headed. His refusal to declare an escalation of the fighting acknowledges a few basic realities. One, the emerging stalemate in Ukraine leaves the Kremlin much less confident than at the beginning of the war about what can be achieved, and Putin doesn't want to offer specific goals that Russia might not reach. Two, Putin's "best friend," Chinese President Xi Jinping, isn't on board with a larger war. Chinese State TV reported on Monday that Xi has told German Chancellor Olaf Scholz that "all efforts must be made to avoid an intensification and expansion of the conflict, leading to an unmanageable situation." COVID and a slowing economy give Xi enough headaches at home without a wider war pitting Russia against the West to make things more complicated. Third, Putin knows that escalation in Ukraine means a lot more Russian men drafted into the army – and that any such announcement would test the limits of domestic support for his war.
Drug cartel riots rock Colombia
Last week, Colombia extradited a notorious narco kingpin known as "Otoniel" to the United States to face trial. By the weekend, supporters of his fearsome Clan del Golfo cartel had run amok in several regions of northern Colombia, blocking roads, imposing lockdowns, and torching cars in a wave of violence that drew in the military and left at least half a dozen people dead. Analysts say the power of groups like the Clan del Golfo stems partly from the government's failure to bring economic opportunity to vast swathes of the country relinquished by the FARC guerrilla group after a historic 2016 peace accord. For now, Otoniel's goons have stood down, but the violence — some of the worst upheaval since nationwide protests over a tax reform in 2021 — has already filtered into the country's ultra-polarized presidential campaign. Leftwinger Gustavo Petro, who leads the polls, blasted the government's failed security policies and accused powerful rightwing former President Alvaro Uribe of fomenting the armed groups that later became the Clan del Golfo. Meanwhile, Fico Gutierrez, a rightwinger polling a distant second, called on Colombians to condemn the violence and pledged to strengthen extradition mechanisms to ensure justice for men like Otoniel and reparations for their victims. Colombians vote in the election's first round on May 29.