What We're Watching: Russian annexation fears, Russia-Israel drama, Mali breaks from France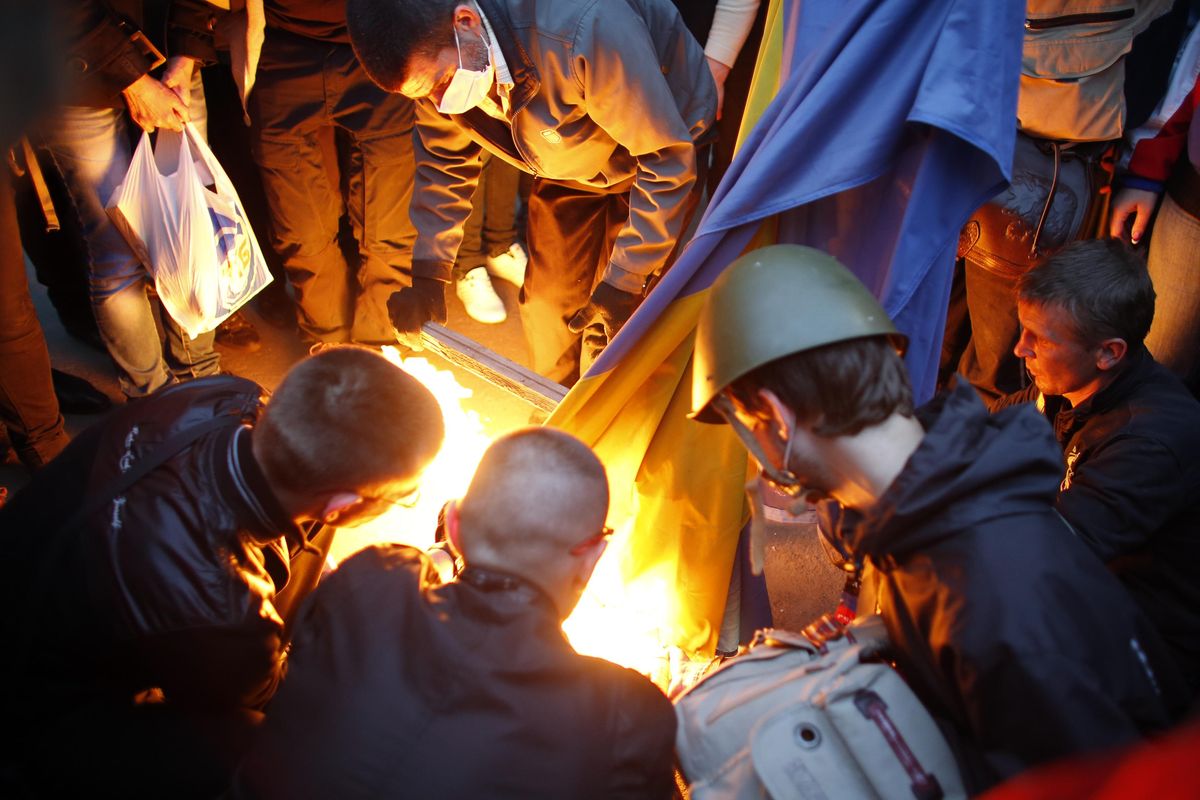 REUTERS/Marko Djurica
Will Russia annex more of Ukraine?
The US is warning that Russia plans to formally annex the Donbas regions of Donetsk and Luhansk, along with the city of Kherson, which Moscow has controlled since early March and where it has introduced the ruble. This wouldn't be the first time Russia illegally swiped a chunk of Ukraine – the Kremlin has run Crimea since holding a bogus referendum there on "joining Russia" in 2014. Washington believes Moscow will soon announce similar votes in the Donbas and Kherson — perhaps as soon as Russia's Victory Day (a World War II celebration) on May 9. This major Russian holiday has become even more important now that the Kremlin frames its war in Ukraine as a fight against "Nazism." Symbolism aside, why would Putin do this? For one thing, he needs to show something for his war effort, and he may want to make these territories bargaining chips in any eventual talks with Kyiv. But there's a downside for him, too: successfully holding these areas will mean pacifying hostile populations and supporting battered economies. Does Russia really have the military and financial wherewithal to do all that?
---
An Israeli-Russian war of words
Israel has taken a cautious approach toward Moscow since the invasion of Ukraine, mainly because Russia can make life more dangerous for Israel in neighboring Syria. Prime Minister Naftali Bennett's government has sympathized with Ukraine but kept its Kremlin criticism to a minimum. That changed dramatically this week when an Italian journalist asked Russian Foreign Minister Sergei Lavrov how Ukraine can be run by Nazis, a standard Kremlin talking point, when Ukraine's President Volodymyr Zelensky is Jewish. Lavrov asserted that Adolf Hitler had "Jewish blood" and that "the biggest anti-Semites are the Jews themselves." In response, Yair Lapid, Israel's foreign minister, said that "Jews did not murder themselves in the Holocaust" and labeled Lavrov's comments as "the lowest level of racism." His office demanded an apology from Moscow, but those hoping for an apologetic response were disappointed. The "anti-historical" comments from Israeli officials, Moscow said, help explain why their government "supports the neo-Nazi regime in Kyiv." Israel's response to this war of words? It reportedly plans to send defensive military equipment to Ukraine — at a symbolic level — while trying to keep its ties to Russia intact.
Mali-France (military) breakup is official
Mali has
terminated
its defense cooperation with France, claiming that it violated the country's territorial integrity by entering its airspace without permission. The move puts an end to
nine years
of French military presence in Mali, which in January 2013 asked the former colonial power to send in troops to help beat back jihadists in the aftermath of a coup. But the military
seized power again
in August 2020, and the now-ruling junta immediately soured on Paris, which responded by withdrawing its soldiers. Since then, bilateral ties have
cratered
amid rising
anti-French popular sentiment
. With local forces ill-equipped to fight the jihadists controlling vast swaths of the country, Russian mercenaries employed by a firm with ties to Vladimir Putin have
stepped in
to help, training Malian forces and stirring up trouble for the departing French. (France, Mali, and Russia recently had a
trilateral beef
over the discovery of a mass grave near an army base formerly used by French forces.)