What We're Watching: Sudan on the brink, unwanted Ukrainian grain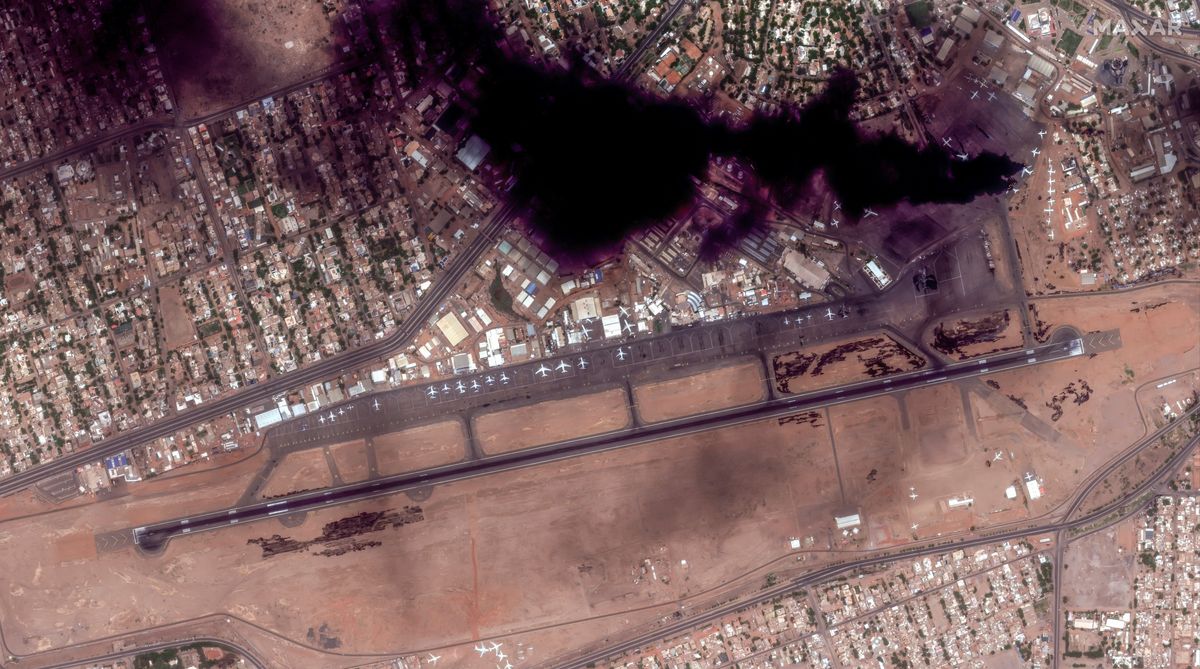 Maxar Technologies/Handout via REUTERS
Army-militia turf war turns bloody in Sudan
Over the weekend, Sudan's slow and bloody transition to democracy was turned on its head by fierce fighting in Khartoum, the capital, and elsewhere between the army and the Rapid Support Forces, a paramilitary group. By Monday, almost 100 civilians had been killed along with unknown numbers from the two warring sides in three days of intense battles.
---
The backstory. The oil-rich North African nation has been mired in instability since the 2019 coup that ousted dictator Omar al-Bashir after 30 years. A transitional civilian-military government was booted in another coup in 2021, followed by mass street protests brutally repressed by the army. The latest deadline for the army to hand over power to civilians lapsed last week — perhaps a clear sign of what was coming.
The players. On one side we've got Gen. Abdel Fattah al-Burhan, the country's army chief and de facto leader since leading the 2021 coup. On the other is his former ally and junta deputy Mohammed Hamdan Dagalo, aka Hemedti, head of the RSF, a militia that grew out of the Janjaweed death squads that committed genocide in Darfur. Both men had close ties to al-Bashir yet worked together to depose him.
Al-Burhan and Hemedti accuse each other of starting the latest fighting. At the heart of the crisis is their personal rivalry over who will ultimately control the armed forces: Al-Burhan wanted to integrate the RSF within the military in two years, but Hemedti says he needs a decade.
So, what happens now? If the warring parties don't back down, the risk of the conflict turning into a full-blown civil war is real. This comes 12 years after the last one ended with the independence of South Sudan. But even just continued violence will surely worsen an economic crisis spurred by sky-high inflation.
There are a lot of outside interested parties. Russia has long been trying to finalize a deal for a Red Sea naval base in Sudan, while the US doesn't want Khartoum to return to supporting international terrorism. Neighboring Egypt also has close ties to Sudan (both countries oppose Ethiopia's controversial Nile dam), while Saudi Arabia and the UAE also want Khartoum under their sphere of influence.
Sudan is in a semi-permanent state of turmoil and, despite its oil wealth, the economy is a shambles. But its geopolitical and strategic value remains as high as low are the odds of the country returning to democracy in the near future.
Polish/Hungarian friendship with Ukraine has limits
The EU on Sunday rejected bans on imports of Ukrainian grain announced by Poland and Hungary on Saturday. Brussels said that individual member states can't conduct trade policy, although it didn't specify how it would respond if the two countries ignore the call.
Meanwhile, Warsaw and Budapest insist they have to protect their farmers from cheap Ukrainian grain. Most of Ukraine's grain is now exported via the Black Sea, thanks to a deal with Russia brokered by the UN and Turkey. But in the early months of the war, large amounts of cheap Ukrainian grain entered Europe by land and got stuck there because of a lack of trucks to move it to ports.
Kyiv, for its part, is
not happy
but wants to talk things out with the Poles on Monday. Still, Ukraine is hardly in a position to play hardball with Poland, perhaps its strongest European ally since the Russian invasion. (Hungary, of course, is a different story.)