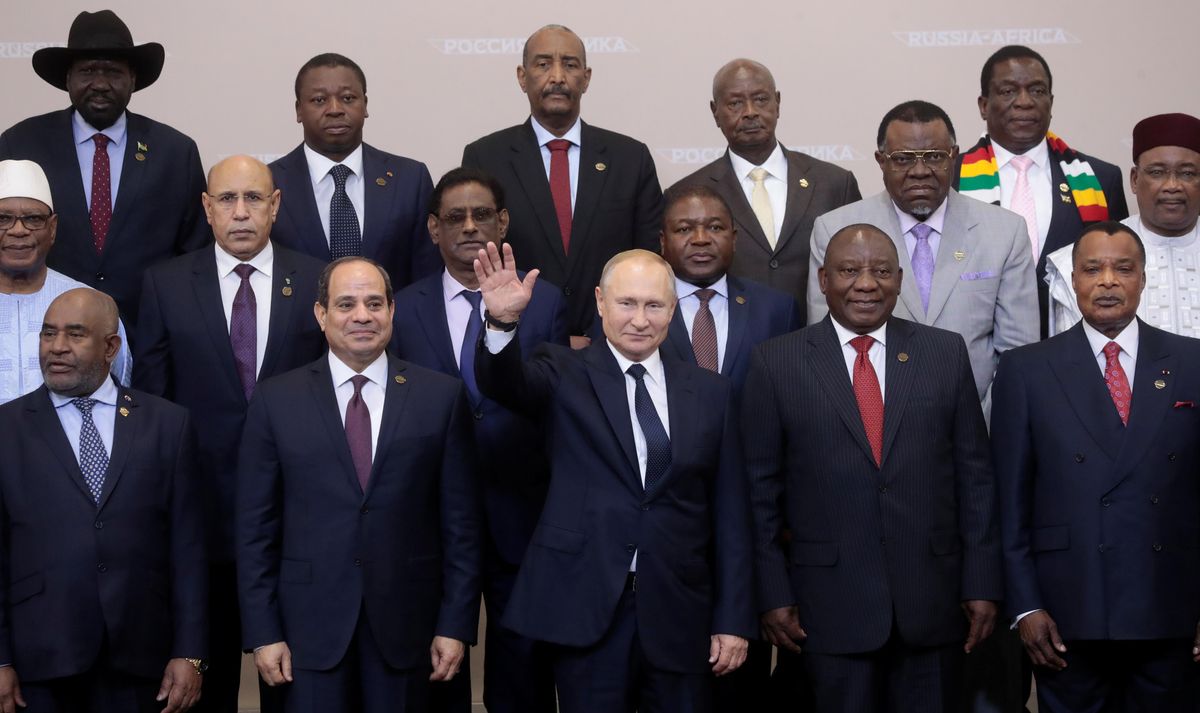 Two weeks ago, Russia secured a deal to build a naval base in Sudan, its first new military facility in Africa since the end of the Cold War. The accord is a major milestone in Moscow's wider push to regain influence, and income, on a continent where the Kremlin was once a major player.
But with the ideological and military contests of the Cold War long over, what is Moscow doing in Africa today?
---
Weapons, hired guns, and access. Russia is now the largest arms supplier in Africa, and it does a particularly brisk trade with governments that can't buy American or European weaponry. Two of Moscow's best new customers, for example, have been Angola and Nigeria, both of which reached out to Russia when the Obama administration in the US started blocking their arms purchases over human rights concerns. Since 2015, Russia has inked arms deals with at least 20 African nations.
At the same time, Russia has been supplying a host of African governments either with mercenaries to help fight insurgents or with advisers to help crush their political opponents.
The shadowy Wagner Group — a private military company believed to be owned by a Russian catering tycoon known as "Putin's chef"— has helped to battle an Islamic State rebellion in Mozambique, and has been paid in diamonds for crushing an uprising in the Central African Republic. The group is also active in Libya, where the Pentagon now thinks it might be on the payroll of the UAE. In all, Wagner has ties to nearly a dozen African countries.
What does Russia get in exchange? Cash, for one thing. But also influence over local decisions about who gets access to, say, lucrative mining projects. In Madagascar last year, Russian operatives staged a cartoonishly ham-fisted attempt to meddle in the election — but just before the vote, "Putin's chef" got a big stake in a local chromium mine. Russian companies also have gotten access to key mining or energy projects in Angola, the Central African Republic, Guinea, Mozambique, Sudan, and Zimbabwe – all countries where Kremlin-affiliated mercenaries or advisers are at work.
Why now? Last fall, Putin hosted dozens of African leaders at a summit in Sochi, billed as the Kremlin's triumphant return to the continent. And in many ways, the continent is now ripe for Russia to make inroads there without spending a lot of money or taking major risks.
Africa hasn't been a top priority for the US in recent years, and while China has lent billions to cash-strapped African governments, Beijing is also facing criticism that it has set debt traps for poor countries.
As a result, Russia has been welcomed in many parts of the continent as a no-nonsense transactional player who can deliver the muscle that governments need.
Keep things in perspective. Russia's clout in Africa still lags far behind players like China and the EU – Africa's two largest trade partners – and the US, which has nearly 30 military bases on the continent.
But Russia isn't really playing a game of scale on that level. Instead, the Kremlin is shrewdly seeking out discrete pressure points where, with minimal expenditure, it can win friends and influence people in ways that directly benefit the Russian state or affiliated cronies.
Not a bad dish for Putin and his chef. But will the US, China, Europe, or African nations themselves eventually decide to push back harder?