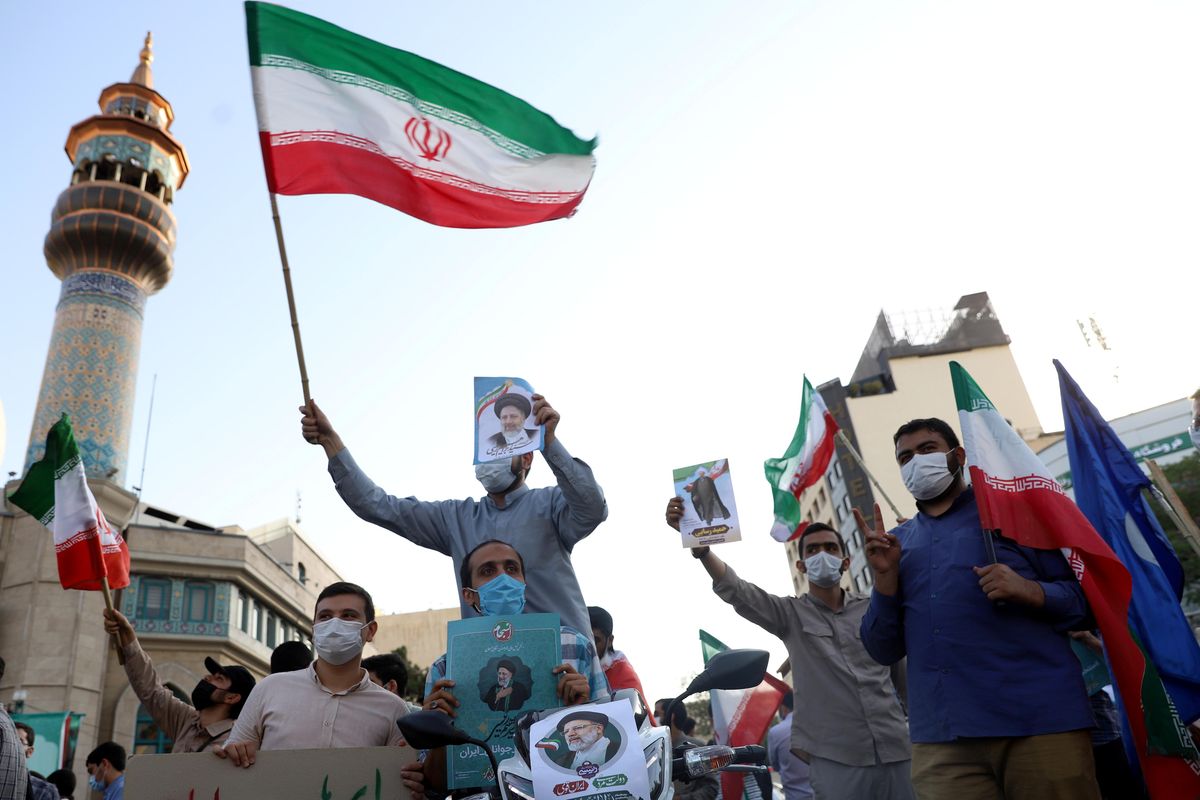 Majid Asgaripour/WANA (West Asia News Agency) via REUTERS
Iranians head to the polls on Friday to vote for president, and it appears a foregone conclusion that hardliner Ebrahim Raisi, the nation's top judge, will win.
Outsiders, and many Iranians, roll their eyes at the predictability of this vote. Iran's Guardian Council, a dozen clerics and judges who answer only to Supreme Leader Ali Khamenei, has cleared the field for Raisi by ruling all of his credible challengers ineligible. The fix is in, and Iranians are now preparing for a moment when anti-reform conservatives, those who oppose social change inside Iran and deeper engagement with the West, will for the first time ever control the country's presidency, parliament, courts, and much of the media.
But simmering beneath the cynicism and predictability of this event is a deepening anxiety over Iran's future as it enters a potentially momentous period in the Islamic Republic's 42-year history. The Supreme Leader, in power for 32 years, is now 82 years old. Very few people know the true state of his health. Even if he outlives Raisi's presidency, which could last four or eight years, preparations for a historic, uncertain, and potentially dangerous leadership transition will intensify soon.
---
In fact, Khamenei has gone to extraordinary lengths to ensure Raisi's win, according to Eurasia Group senior analyst Henry Rome, precisely because he considers Raisi a "safe pair of hands" in the presidency — a predictable and loyal leader — at this crucial historical moment.
As we approach just the second transition from one Supreme Leader to another in the Islamic Republic's history, no Iranian under the age of 45 will have any memory of the 1979 revolution that gives him his legitimacy. About 70 percent of Iranians are under 40. If a growing population of young people is less likely to accept the Supreme Leader's right to rule, no one can say much violence and upheaval this coming moment of change at the very top could create.
Some of Iran's people are desperate for change. They want more personal freedom, and many of them believe that greater engagement with Europe and the United States is essential if Iran's economy is to create opportunity and prosperity. Other Iranian voters fear that a more relaxed attitude toward religious values and rules, and greater contact with the West, would be toxic for Iranian society and could create chaos in its politics. Both sides are bracing for a fight.
We asked Henry Rome what all this means for Raisi and Iran's immediate future. You can read the full text of Henry's thoughts here.
Who is Raisi? Raisi is "ideologically very close to Khamenei," who has "elevated [him] to positions of national prominence throughout his career," Rome told us. But he's also a "poor politician… uninspiring, uncharismatic, with only a tenuous grasp on issues facing average citizens." Rome says the decision to clear the field for Raisi is "a back-handed vote of confidence: It reflects a strong desire to elevate Raisi but real doubts about whether he could win on his own."
What can we expect from his presidency? "Raisi is a firm believer in Khamenei's notion of a 'resistance economy' in which Iran builds up domestic capacity and self-reliance at the expense of broader global integration, especially with the West. But this strategy has very significant limitations. Iran's industrial sector, including automotive and energy, needs foreign inputs and investment to grow in a sustainable way. A more closed economy would struggle to create jobs, combat corruption, and raise living standards. And it would ignore the desire of many Iranians for closer ties with the West and for access to Western consumer goods."
Could that spell trouble for him? "Unmet popular expectations would leave Raisi exposed to popular discontent, especially once the initial economic benefits of a return to the nuclear agreement wear off. If Raisi gets roughed up in the presidency, the whole state may suffer further dents to its credibility."
If Rome is right, we'll be watching to see whether Raisi's "safe pair of hands" creates conflict inside the Islamic Republic at one of the most dangerous moments in its history.