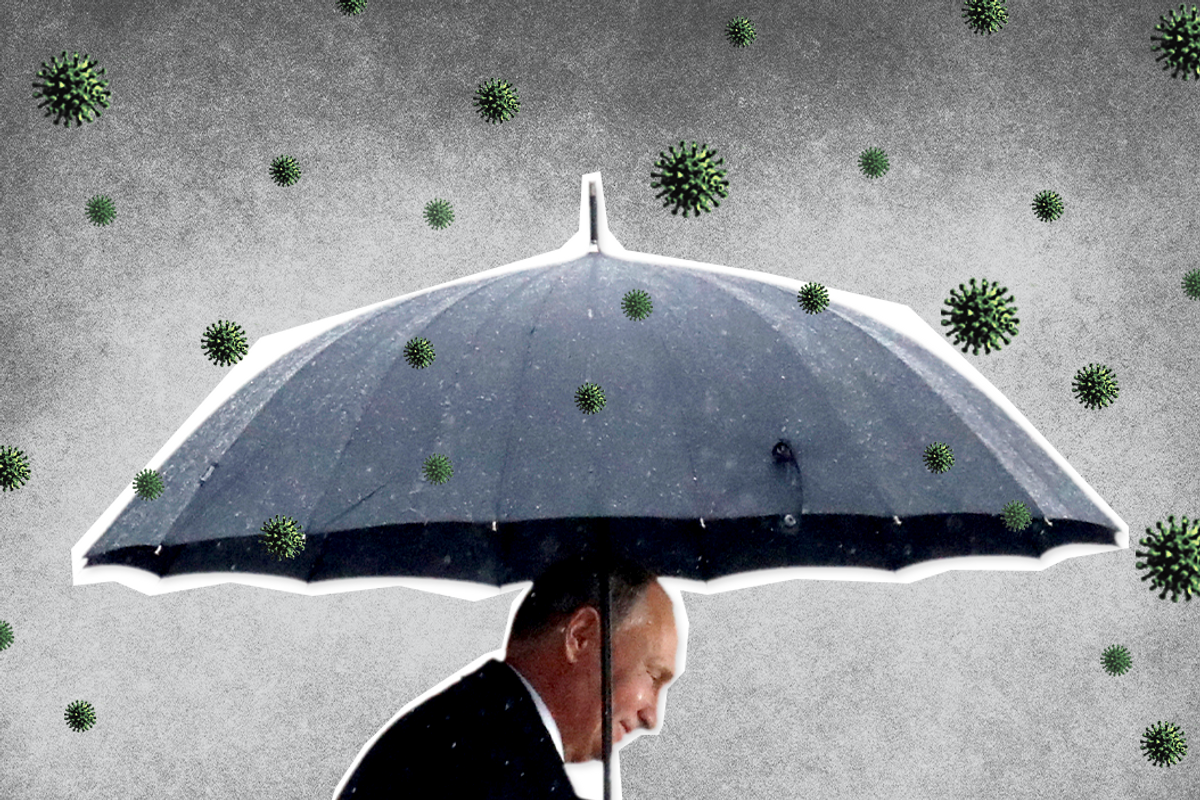 This is not the 2020 that Vladimir Putin had in mind.

As the year started, Russia's president was crafting plans for changes to the constitution that would permit him to stay in power for (at least) another 16 years. A rubber stamp public referendum was to be held in April. Then, in May, he was to welcome foreign leaders to Moscow for a grand celebration (parades, concerts, fireworks, and a reviewing stand atop Lenin's Mausoleum) marking the 75th anniversary of the Soviet Union's triumph over Nazi Germany in the Great Patriotic War.
---
Instead, the coronavirus crisis barged in and wrecked those nice, late-stage authoritarian plans.
Early in the pandemic, seeing unusually low numbers in Russia, Putin claimed that things were "under control." But even after he changed tack and declared a "national paid vacation" (that's Russian for "lockdown") in March, Russia now has the second highest number of confirmed cases in the world, after the United States. And the official stats are so at odds with what health workers are reporting that it looks like officials are covering up the true extent of the disease's spread.
The anniversary ceremony was cancelled, of course. And the referendum has been postponed indefinitely. Putin will have to think carefully about whether holding the vote in the middle of this crisis is really a good idea.
The economy is set to shrink by more than 5 percent, the largest contraction since the financial crisis of 2009. A collapsing oil price may force the Russian government to reach deep into its (sizable) cash reserves to bail out businesses, send pensions, and pay the salaries of state workers. (30% of Russian workers are paid, directly or indirectly, by the state.)
His approval rating, meanwhile, has now fallen to 59% — its lowest point since 2000, the first year of his presidency. By comparison, after his widely adored invasion of Ukraine in 2014, his rating shot up to the mid 80s. A botched pension reform last year already took some of the stuffing out of that number.
Putin has weathered crises before– terrorist attacks in the early 2000s and the 2009 economic collapse come to mind. He has also shrewdly turned them to his advantage, as he did by stoking trouble in Ukraine.
Is his system built for this? Putin has shaped a deeply corrupt and uncertain system in which power flows from the top down — officials look mainly to please their bosses rather than their constituents. And he has carefully cultivated an almost cinematic image of himself as a man-of-action, defending Russia's interests, and making it "great again," you might say. Smart economic policies mean that the government always has a huge rainy day fund to keep the wheels spinning.
But managing a public health crisis requires more than just cash, yes-men, and photo-ops. It demands competent bureaucrats capable of making sound decisions on their own, a reliable flow of accurate information, and a responsive leadership. So far in this crisis, Putin has looked at best uninformed and at worst impotent. And it's hard for him to blame the usual suspects (the Americans) for this mess, try as he might.
If the death rates that people can see – as opposed to the ones reported in suspect numbers – continue to rise, Putin may have a much bigger problem on his hands than reshuffling his agenda for 2020.
And this just in…Ramzan Kadyrov, the eccentrically cruel warlord who runs Chechnya for Putin, has been flown to a hospital in Moscow after developing COVID-19 symptoms. If Kadyrov, who has been called "Putin's dragon," were to leave the scene, the brutal peace that he has imposed on Chechnya could come apart fast, with big consequences for Russia more broadly.