Can this man save the UK?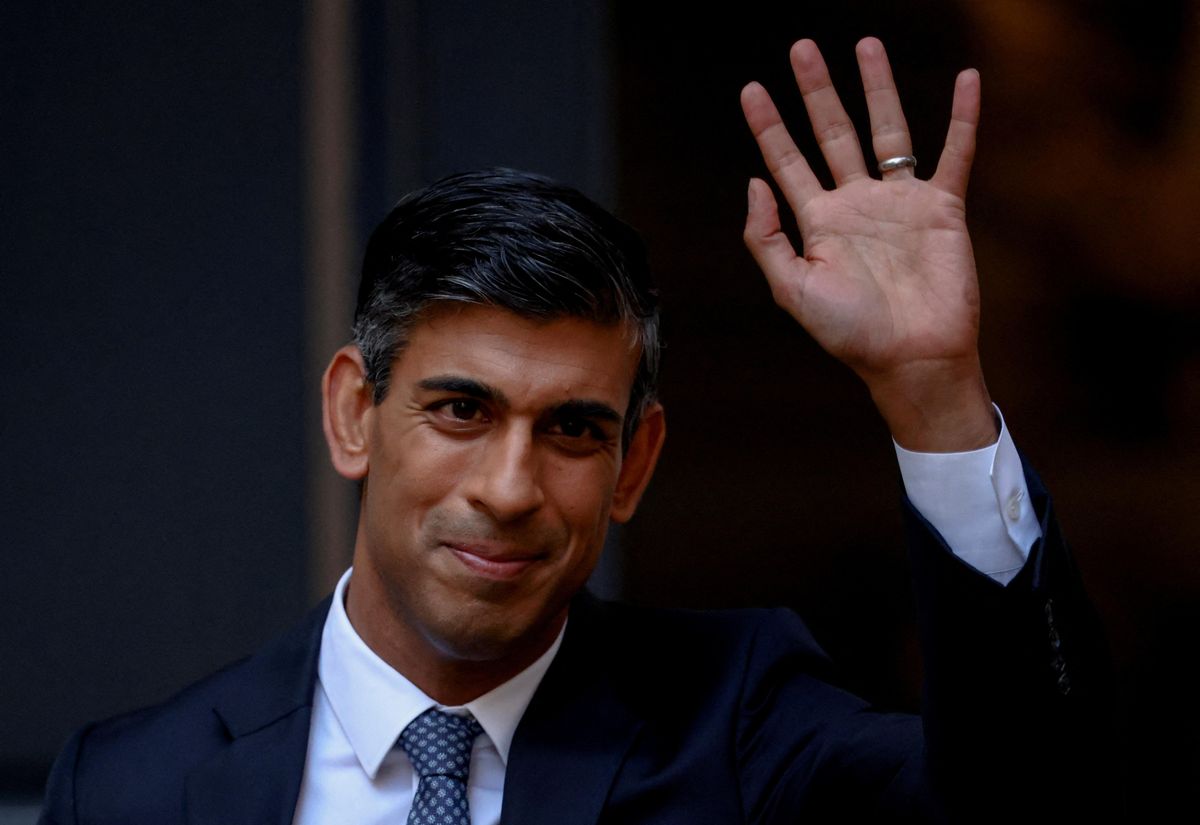 REUTERS/Henry Nicholls
On Tuesday, former Chancellor of the Exchequer Rishi Sunak became the UK's prime minister after winning the Conservative Party leadership race. But he takes over from lettuce loser Liz Truss amid turbulent times — and faces historic challenges in steering the country out of its current mess.
---
First, his premiership is hardly a win for diversity. Yes, Sunak, the son of Indian immigrants from East Africa, is the UK's first non-white and non-Christian British PM, which says a lot about Britain's changing demographics. (The "official" Twitter account of Larry the Cat, the resident feline at No. 10 Downing St, welcomed his new Hindu boss by wishing everyone a happy Diwali.)
But it's also clear that prominent Tories urged Sunak's only declared rival, former defense chief Penny Mordaunt, to drop out so the contest would be decided by MPs, not rank-and-file Conservative Party members. Indeed, the Tory base — overwhelmingly middle-class, old, and white — rejected Sunak in favor of the paler Truss when the pair battled to replace the disgraced Boris Johnson last summer. Don't be surprised if at least some are not happy about a man of color running the country without their blessing.
Second, right out of the gate Sunak will have to sign off on very unpopular measures to rescue the economy. On Oct. 31, Chancellor Jeremy Hunt — whom the new PM will likely keep in place — will announce a fiscal plan full of tax hikes, spending cuts, and welfare reforms needed to plug a 40 billion pound ($45.18 billion) hole in state coffers. That'll make it even harder for Brits already grappling with a cost-of-living crisis and sky-high energy prices to get by.
Sunak — an economics wunderkind, ex-finance minister, and Goldman Sachs alum — knows that some belt-tightening is unavoidable to pay for things like subsidizing the cost of soaring electric bills. But voters are less patient and might resent austerity coming from a super-rich leader who married into sumptuous wealth. They won't care if the markets like Sunak's economic gameplan if they can't pay to heat their homes or feed their families.
Third, Sunak will struggle to fix the structural problems created by Brexit. Leaving the EU has made it harder for British companies to do business in what used to be their biggest market. The pandemic aggravated the Brexit fallout by creating widespread shortages, which Johnson and Truss blamed on the post-Brexit trade agreement with Brussels that ruled out a "hard" border between Northern Ireland, which is part of the UK, and the Republic of Ireland, an EU member state.
Sunak will face an early test of his Brexit vs. biz credentials on Tuesday, when the House of Commons starts debating a bill that aims to repeal some 2,400 pre-Brexit laws originally drafted to comply with EU regulations. While passing the bill would be a disaster for UK firms that still trade with the bloc, striking it is a non-starter for hardcore Brexiteers.
What's more, although the Tories enjoy a comfortable majority in parliament, less than 40 hard-right rebel MPs could tank Sunak's agenda by voting down anything they don't like — as Johnson found out multiple times during his tenure as prime minister.
But there's a silver lining: Eurasia Group's top Europe analyst Mujtaba Rahman believes Sunak's premiership "is very good news for the ability of the UK to rebuild market confidence now and for relations with the EU." He predicts Sunak won't start the trade war with Brussels his predecessor was itching for and will only scrap the EU laws that make sense for British businesses.
"With the backing of 200 out of 357 Tory MPs," Rahman says, "Sunak is as well-placed as any candidate to begin efforts to unite the party and give them a period of stability — and maybe even the possibility to recover some of their poll deficit against Labour." In other words, maybe, just maybe, Britain's new PM could avoid an opposition landslide in 2024.