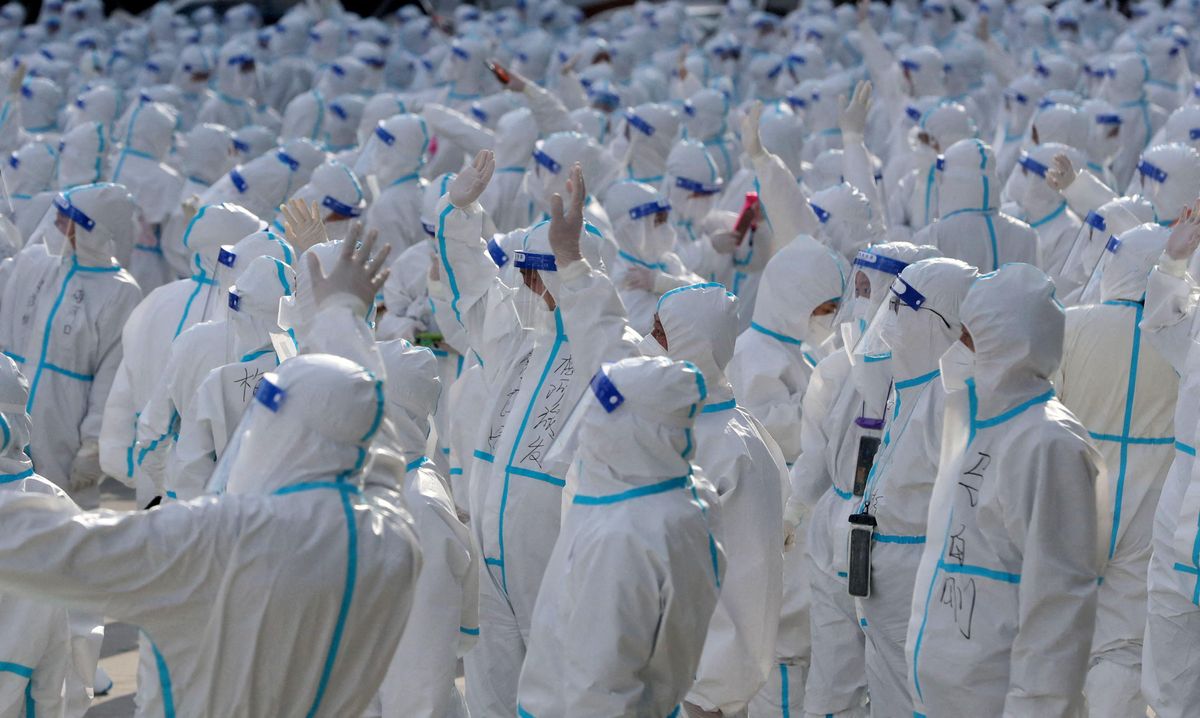 China Daily via REUTERS
This week, the head of the World Health Organization warned that China's "zero-COVID" policy, which has left tens of millions of people locked inside their homes, is not "sustainable." The Omicron variant is too transmissible to effectively isolate, and the cost of China's lockdown strategy, for the country's economy and the mental health of its people, is too high, warns the WHO.
But … also this week, a report from the peer-reviewed international scientific journal Nature Medicine warned that lifting the zero-COVID policy without taking a series of specific steps to mitigate the damage could create a COVID emergency on a scale the world hasn't yet seen. More than 1.5 million would die within six months, according to the study, and demand for intensive care would be nearly 16 times greater than China's hospitals can handle.
---
Limiting damage from a lifting of restrictions, according to the report, would demand the widespread availability of recently approved antivirals, more accurate testing, a lot more booster doses, and the vaccination of many more elderly people.
Analysts say a change in approach is highly unlikely. According to Michael Hirson, a China expert at Eurasia Group, China isn't likely to take any major step away from a "dynamic zero-COVID" strategy of mass testing and strict quarantines to contain any outbreak of the virus. "For now, they're more likely to tighten than to loosen," says Hirson.
The stakes are growing, and not just for China. The uncertainty weighing on the entire global economy has many sources. Post-COVID damage to global supply chains and the impact of Russia's war on Ukraine on food and fuel prices are major contributors. But the effect of COVID lockdowns on the world's second-largest economy, including on the more than 26 million people who live in Shanghai, the world's busiest port, is also depressing growth expectations and stoking global inflation. By one estimate, dozens of cities responsible for about 30% of China's economic output and a combined 290 million people (88% of the total US population) are currently under full or partial lockdown.
When measured strictly by the number of COVID deaths, China's policy has been a big success. It has reported fewer than 14,000 COVID-related deaths. Even if the true number is significantly higher, that compares very well with the one million deaths that have now been reported in the US, a country with less than a quarter of China's population. But the speed with which Omicron can move through a society that has no access to the world's most effective vaccines and boosters – and little of the immunity that comes with much greater exposure to the virus – could generate an unprecedented emergency inside China over the next few months.
The economic, mental health, and potential political downside to sticking with an uncompromising lockdown strategy, however, comes at a cost. China's government is encouraging already deeply indebted companies to continue borrowing to boost sagging economic growth, compounding a problem that can inflict long-lasting damage to China's economy. The stresses of isolation are flooding mental health hotlines with calls. Angry messages are lighting up Chinese social media.
It's all happening at a moment of historic political sensitivity in China. This fall, President Xi Jinping hopes to choreograph a Communist Party Congress that will set aside practices of the past to grant him an unprecedented third term as China's leader. This week's warnings make clear that Xi faces tough choices: stick with a policy that imposes pain on tens of millions of people and takes a large bite out of China's economy or publicly shift course and adopt an uncertain new strategy.
China's president is well aware that neither choice can guarantee that China avoids a health and economic crisis at the worst possible political moment.