GZERO Daily: the newsletter for people who love global politics
Sign up for our free newsletter to keep up with what's going on around the world - and why it matters.
Subscribe
GZERO Daily: the newsletter for people who love global politics
Subscribe Now

We have updated our Privacy Policy and Terms of Use for Eurasia Group and its affiliates, including GZERO Media, to clarify the types of data we collect, how we collect it, how we use data and with whom we share data. By using our website you consent to our Terms and Conditions and Privacy Policy, including the transfer of your personal data to the United States from your country of residence, and our use of cookies described in our Cookie Policy.
Is Israel in for a long war?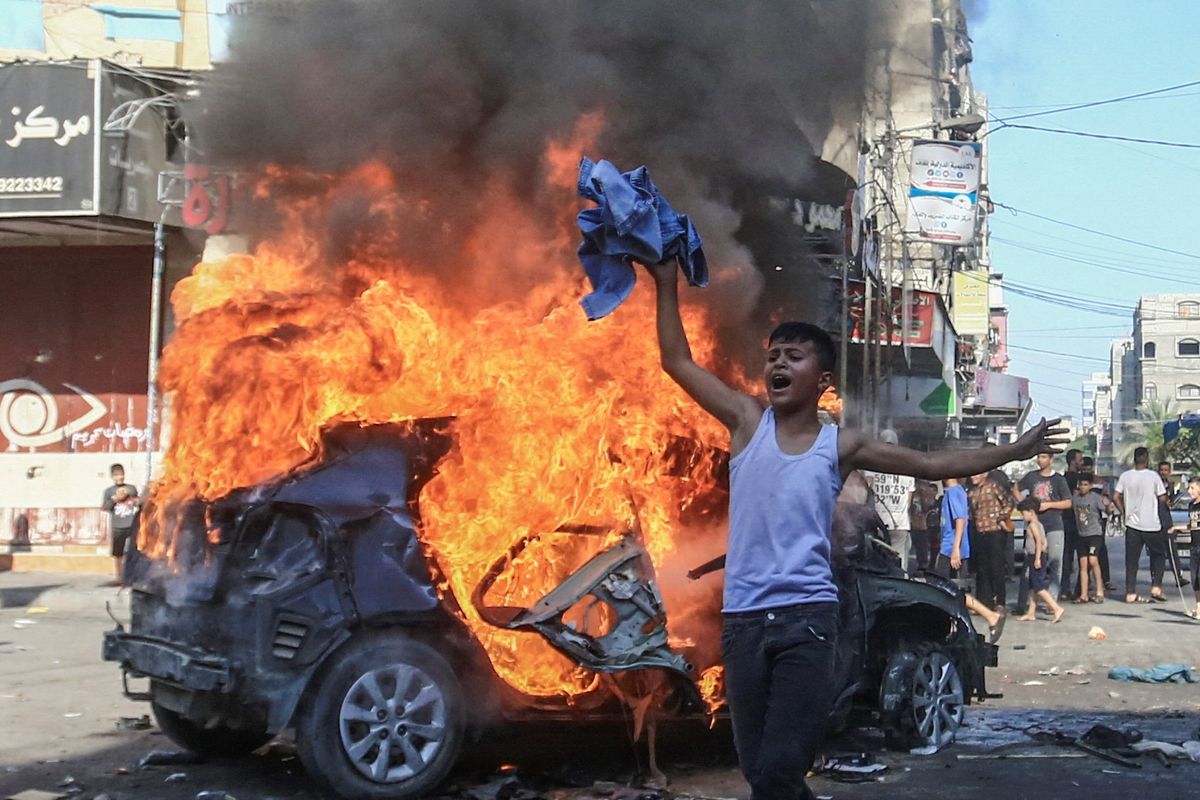 REUTERS/Mahmoud Issa
"We are at war," Prime Minister Benjamin Netanyahu announced Saturday after Israel awoke to a surprise attack from Hamas.

The Palestinian militants launched an early, three-pronged assault, coming from land, sea, and air – entering Israel from the Gaza Strip, invading several Israeli towns, and firing thousands of rockets as far away as Tel Aviv and even Jerusalem.
Scores of Israelis have been killed, several hundred have been injured, and dozens have reportedly been taken hostage – some have even been taken to Gaza, impacting Israel's options for reprisals. Still, Israel has responded with massive strikes on Gazan cities, and officials say nearly 200 Palestinians have been killed. The death toll is expected to rise.
---
The timing: The surprise attack comes on the heels of the 50th anniversary of the Yom Kippur War, in October 1973, when Egypt and Syria attacked Israel simultaneously from the south and the north, nearly overwhelming Israel's poorly prepared army. Today's attack coincides with the Jewish holiday of Simchat Torah marking the end of the yearly Torah readings.
More broadly, it also caps a year in which Israel – having just celebrated its 75th anniversary – has been racked by months of protests over Netanyahu's efforts to weaken the power of the judiciary. His overhaul, which prevents the High Court from overriding government decisions the judges deem unreasonable, has had many Israelis questioning the sanctity of their country's democratic system – and their trust in government.
Why now? The head of the military wing of Hamas, Muhammad Deif, explained that the attack was in response to the 16-year-long blockade of Gaza, Israeli raids in West Bank cities, violence at the Al-Aqsa Mosque, which Jews call the Temple Mount, and increasing settlement violence.
Tensions have indeed been mounting this year, especially in the West Bank, where Israel has launched several raids. One of the biggest was conducted in July in the northern city of Jenin amid reports that Iran was arming militants there.
These moves came on the heels of a raid at the Al-Aqsa Mosque in April, which led to Palestinians responding with rocket fire from Gaza and even prompted concerns about Hezbollah interference from Lebanon. While some rockets were fired from Lebanon, the feared escalation never came.
There was also fighting between Iran-backed Islamic Jihad militants and Israeli troops in recent months, and last month saw a series of skirmishes along the Gaza border, with Palestinians reportedly hurling explosives and firing at Israeli soldiers.
How could this happen? Today's attack, much like the one in 1973, took Israeli intelligence by surprise, with Hamas executing a well-planned and coordinated operation. Some have even likened it to an Israeli 9/11.
It's an "intelligence failing for the security establishment – that's how it's being perceived right now in Israel," says Sofia Meranto, a Middle East analyst for Eurasia Group.
"This is different from what we've seen from previous Gaza-Israel confrontations," she adds.
While it's too early to pinpoint the exact failures on the ground, what we do know is that Israeli soldiers now face the gravest security threat their country has seen in decades.
More scrutiny on the intelligence breach will come later. But for now, Meranto says, there will be "a rally round the flag effect" with Israeli politicians uniting to deal with the acute security issue.
How the world is reacting: The invasion has major implications for governments around the world, with most of the major and middle powers quick to outline their positions.
Europe and the US issued strong support for Israel. President Joe Biden said he had spoken with Israeli Prime Minister Benjamin Netanyahu and affirmed "unwavering" support for Israel's security and its right to defend itself against "Hamas terrorists."
"The United States stands with Israel," he said in a national broadcast on Saturday afternoon.
"There's never any justification for terrorist attacks," he added, noting that "Israel has the right to defend itself and its people, full stop."
Biden also said his team is in touch with leaders throughout the region and cautioned that "this is not a moment for any party hostile to Israel to exploit these attacks to seek advantage. The world is watching."
European leaders largely echoed Washington's support. German Chancellor Olaf Scholz tweeted "Germany condemns these attacks by Hamas and stands by Israel," and French President Emmanuel Macron wrote: "France stands in solidarity with Israel and the Israelis, committed to their security and their right to defend themselves."
The European Union, United Kingdom, Italy, Spain, Poland, and the Czech Republic issued similar statements.
Ukrainian President Volodymyr Zelensky said Israel's "right to self-defense is unquestionable" and urged Ukrainian citizens in Israel — hundreds of thousands of whom live in the country — to obey instructions from security forces.
Russian President Vladimir Putin, who relies on support from Israeli archrival Iran for his war in Ukraine, tried to land somewhere in the middle. He urged both sides to "implement an immediate ceasefire" and rely on assistance from the international community to reach a lasting peace — a statement so banal and out of touch it could almost be interpreted as facetious.
Some states in the Middle East also aimed for circumspection. Turkish President Recep Tayyip Erdogan called for "restraint from all parties," as did the Egyptian foreign ministry — although they added there would be "grave consequences" — and the Saudi Foreign Ministry called for an "immediate cessation of violence."
Washington had been trying hard to put together a Saudi-Israeli peace deal, including quietly dispatching officials to Riyadh two weeks ago. That's likely another casualty of this war.
Across much of the rest of the region, however, support for Hamas has been unequivocal. An advisor to Iran's Supreme Leader reportedly said Tehran "will stand by the Palestinian fighters until the liberation of Palestine and Jerusalem," while Qatar's foreign ministry said Israel alone was responsible for the violence. Kuwait also blamed Israel for "blatant attacks."
Further afield, India and Japan both said they stand in support of Israel. Other US allies in the region, including South Korea, the Philippines, and Thailand have not issued official statements – although some reports indicate that Thai and Filipino guest workers in Israel may have fallen into the hands of Hamas.
The biggest question mark is China. Beijing has been seeking to improve its Middle East ties in the last year but tries not to involve itself in local conflicts.
Will this be a long war? Hamas said today's invasion was just the beginning of "Operation Al-Aqsa Storm," and Netanyahu has declared a state of emergency and mounted an "extensive reserve mobilization."
The potential of other regional military forces getting involved could have enormous security implications. Israel feels an indirect threat from Iran, which supports Hamas, on multiple sides.
Israel is also ramping up defenses along the border with Lebanon, where the Iranian-backed military group, Hezbollah, operates.
Hezbollah's leader praised Hamas's attacks on Saturday, raising concern that the group could join the fighting and escalate the conflict by invading from the north, but it doesn't look like Hezbollah is playing a major role as of yet.
If that changes, Israel's response could extend well beyond Gaza, raising the prospects of a protracted war.
But for now, just containing the security risks within Israel will take some time. To do that, Israel has ordered schools to close and will tell most civilians to shelter in place. Meanwhile, defense forces will be trying to clear out the militants, "street by street, neighborhood by neighborhood," says Meranto.
Israeli advisors are meeting today to discuss the response in Gaza and whether to launch a bigger operation.
Ian Bremmer's Quick Take: the attacks by Hamas on Israel are "no less than Israel's 9/11." Watch here.