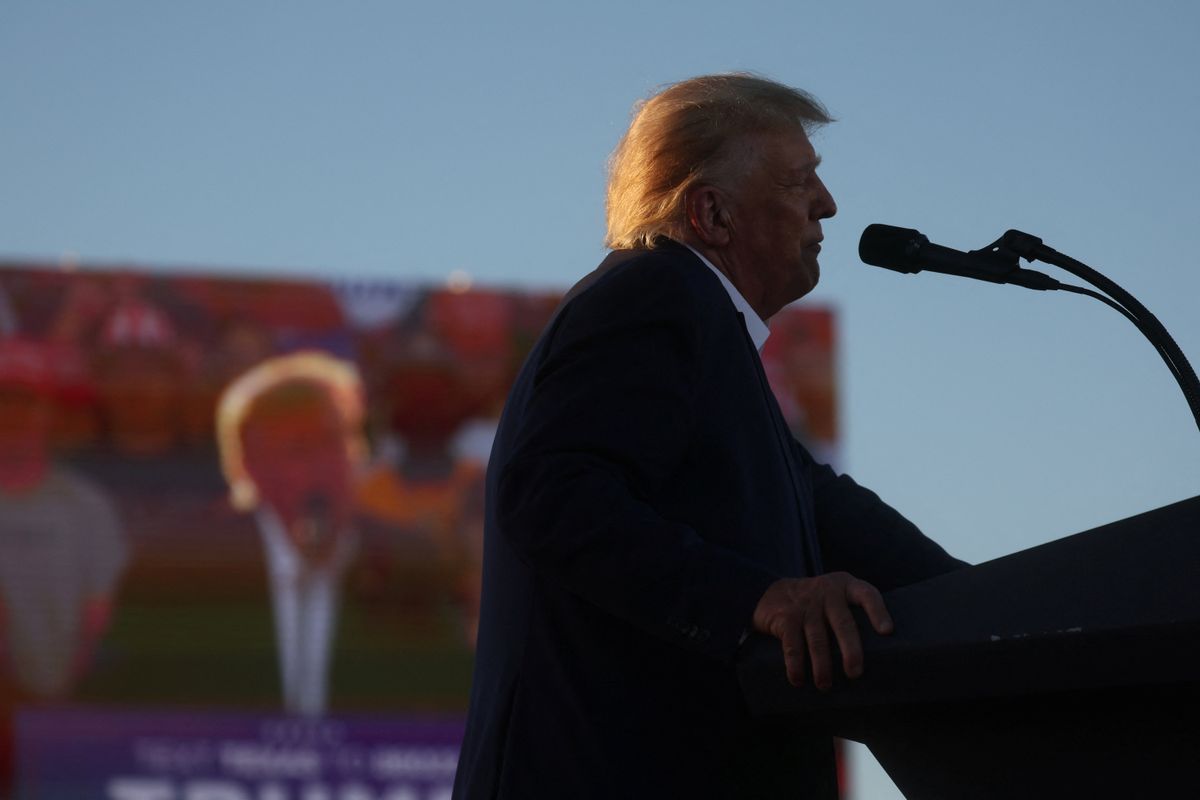 REUTERS/Leah Millis
A Manhattan grand jury on Thursday voted to indict former US President Donald Trump on charges related to alleged hush money payments to adult film star Stormy Daniels.
Let that sink in.
---
Trump's indictment is the mother of all big deals for US politics ahead of the 2024 presidential race. He's not only the first former president to face criminal charges; he's also running for reelection next year.
In the coming days, Trump will have to show up in a Manhattan courtroom. He will surely be fingerprinted and subjected to a mug shot. He might even be handcuffed.
While he awaits arraignment, Trump will do what he does best: cry — in ALL CAPS — "witch hunt" and call on his fans to take to the streets to defend him. Indeed, that's what the former president did barely 10 days ago when he previewed his own arrest. And we all know what happened the last time Trump egged on a mob …
Republicans will, once again, face a tough choice: stick with a GOP leader and presidential candidate under criminal indictment (!) or risk the ire of the MAGA base by turning against Trump. Expect most to pick option No. 1 — at least for now.
According to a recent poll, three-quarters of Republican voters believe that the charges shouldn't disqualify the former president from running in 2024, even if a majority of Americans would rather he drop out. And if you love Trump, the indictment is a smoking gun for political persecution (which he's already milking as a fundraising pitch).
Will this hurt or help Trump politically? The short answer is: We don't know.
Since he announced his first presidential candidacy in 2015, Trump has defied political gravity. Most rules don't seem to apply to him, and he has his own playbook. But criminal charges are uncharted territory — it's too early to say how the indictment might shape the 2024 GOP primary and US presidential election.
In the meantime, Trump is in his happy place: the spotlight.
"Trump has already used the mere threat of an indictment to dominate the media for an entire two weeks, time he used to sharpen his attack against his top rival for the GOP nomination," says Jon Lieber, Eurasia Group's US managing director. "However long these criminal proceedings last, they'll keep Trump exactly where he wants to be: at the top of every media feed in America."
Also, the New York indictment might be only the beginning of Trump's legal troubles as he makes his third bid for the White House. Two of the criminal probes he faces are related to his efforts to overturn the 2020 election he lost to Joe Biden.
Whatever happens, though, there is one thing we know for sure.
Trump won't drop out of the 2024 race, mainly because the indictment doesn't prevent him from running — even if he's convicted.