What We're Watching: Chaos in Israel, Franco-British thaw, Trump's deepening legal woes, Biden's budget battle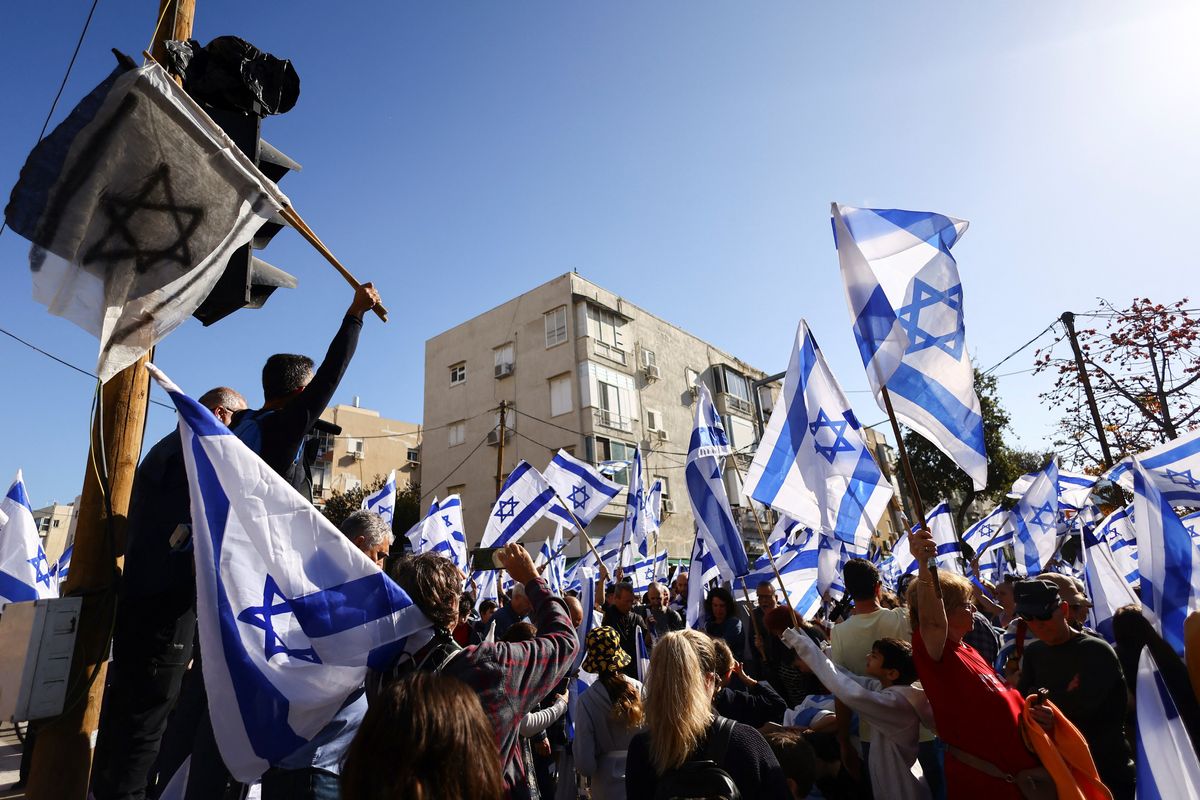 REUTERS/Ronen Zvulun
Israel's unraveling

The situation in Israel continued to unravel on Thursday when protesters against the government's planned judicial overhaul took to the streets in a national "day of resistance." In a bid to create a balagan (state of chaos), Israelis blocked the Ayalon Highway, a main artery leading to Tel Aviv's international airport, to try to disrupt PM Benjamin "Bibi" Netanyahu's planned trip to Rome (he got out)! Indeed, footage shows police using heavy-handed tactics to break up the crowds, but that didn't appear tough enough for far-right National Security Minister Itamar Ben Gvir, who proceeded to fire the Tel Aviv district commander, decrying police for "not fulfilling my orders." Israel's attorney general has since ordered the freezing of the police chief's ouster, citing legal concerns. Meanwhile, in a very rare emotional speech, President Isaac Herzog – who holds a mostly ceremonial position and remains above the fray of day-to-day politics – urged the government to ditch the judicial reforms. Crucially, things took a turn for the worse Thursday night when a Palestinian gunman opened fire on gatherers in central Tel Aviv, wounding at least three people. With deepening twin crises at home – a constitutional catastrophe and deteriorating security situation – Bibi is going to have a harder time than ever keeping his discordant far-right coalition intact.
---
Are French-UK relations back on track?
After years of tension, UK-France relations appear to be on the mend! British PM Rishi Sunak travelled to France on Friday to meet with President Emmanuel Macron for the first summit between the countries in … five years. "It's the beginning of a beautiful, renewed friendship," a French diplomat said, which was presumably a dig at former PM Boris Johnson, who butted heads with Macron. What's on the agenda? Maintaining a united front against Russia, post-Brexit fishing rights in the English Channel (see this explainer on the great roe row here) and climate change mitigation. Crucially, they are also focusing on how to tackle an influx of migrants arriving by boat through the English Channel. After Sunak this week unveiled fresh legislation that would ban migrants who enter illegally from applying for asylum, a move broadly condemned as a violation of international law, London confirmed Friday that it will offer Paris a lot of cash to help patrol French beaches, which is where most small boats headed for the UK come from. While this meeting is mostly about showing the world that relations are warm and fuzzy, the timing is still a bit awkward: On Monday, Sunak will appear in San Diego along with President Joe Biden and Australian PM Anthony Albanese to unveil the next stage of the AUKUS agreement, the trilateral security pact that incensed the French who were pushed to the side.
Trump may soon face criminal charges
Is an indictment looming? Manhattan prosecutors offered former President Donald Trump the opportunity to testify before a grand jury that's looking into his business dealings, including alleged payment of hush money to adult film star Stormy Daniels. The offer to testify – most potential defendants decline – usually signals that an indictment is about to drop. Trump is expected to steer clear of the grand jury, but his lawyers will be fighting in his corner and meeting with the District Attorney's office in a bid to dodge criminal charges. If they fail, Trump may become the first former US president to face indictment – and the NY-based case could be just the start. District Attorney prosecutors in Georgia are also investigating and expected to bring charges against Trump for alleged interference in the 2020 election, while federal prosecutors are investigating his bid to undermine the election outcome. Whatever happens, No. 45 says he will stay in the 2024 presidential race, and experts say there's nothing legally barring him from running, even if he's convicted.
Biden's budget blast

The US president on Thursday unveiled a
$6.8 trillion budget proposal
that would beef up the military, protect and expand social programs, and slash the deficit by $3 trillion over the next decade. How? By raising a slew of taxes on wealthier Americans (those who make more than $400 grand a year) and
slapping a 25% tax
on the wealth of billionaires. The budget as it currently stands has no chance of passing the GOP-controlled House — Speaker Kevin McCarthy immediately slammed the budget as "unserious" — but Biden knows that. The proposal is an opening salvo in what will be a bruising battle with Republicans, who say they want a balanced budget in order to raise the debt ceiling but have yet to produce a viable plan of their own. As Biden eyes 2024, that fiscal fight — in which he'll highlight his progressive spending priorities — will be one of the cornerstones of his campaign.