Trump vs. Biden: Round two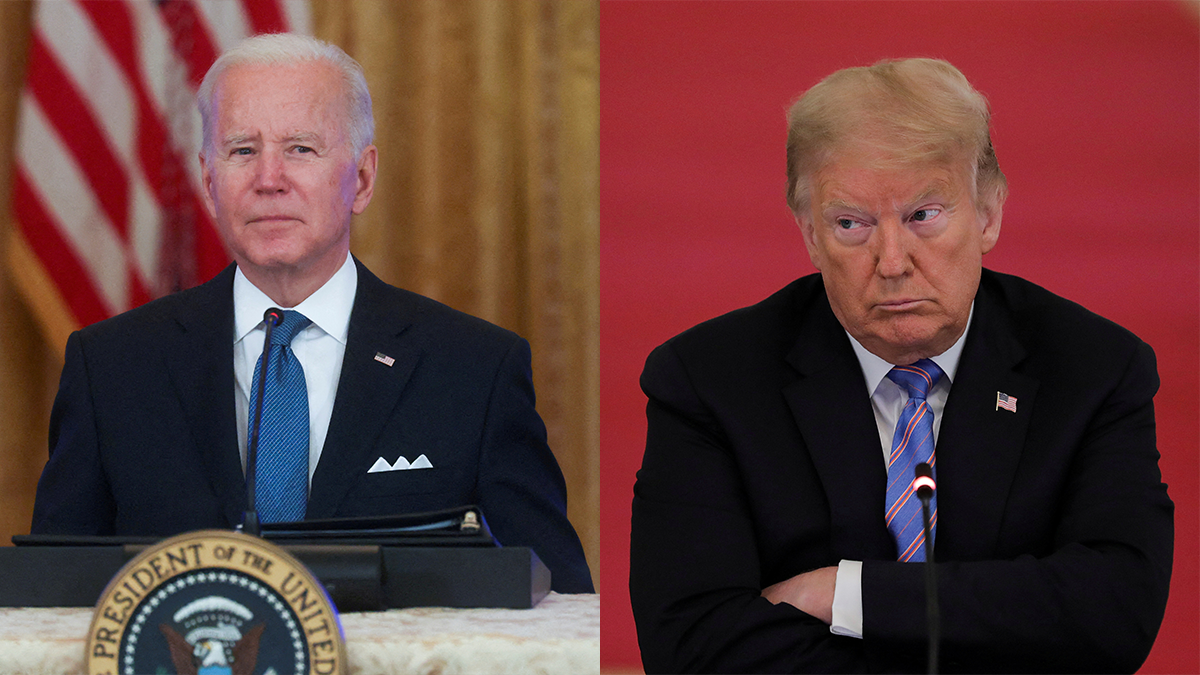 Reuters
It's on. President Joe Biden released a kick-off reelection ad on Tuesday, which means both he and his predecessor Donald Trump have now officially thrown their hats in the ring for the 2024 presidential race, kicking off one hell of a showdown.

Most Americans don't want either candidate to run again, but if polls – and vibes – are anything to go by, that's what they'll get. But what's the same and what's shifted since 2020, and how might these factors shape the 2024 campaign?
The more things change …
What pandemic? The last time Biden and Trump were both vying for the Oval Office, the number one issue for many voters was pandemic containment and recovery.
That's no longer the case. For most Americans, who are now concerned with inflation and bread-and-butter issues, the pandemic feels like a distant memory.
---
Back in 2020, the pandemic was good fodder for Biden, who used Trump's chaotic COVID response to cast himself as a level-headed policy man who follows expert advice. Indeed, without COVID casting a shadow over … everything, Biden won't be able to campaign from his Delaware basement this time around, but will have to shuttle around the country to attend town halls and rallies – something his likely opponent is very good at.
Role reversal. Incumbency is usually an advantage for US presidential candidates. Consider that Trump was just the third president in 60 years to lose reelection.
While Biden was focused largely on panning Trump's record in 2020, this time he will seek to make the election about his legislative wins – including a big infrastructure package that had bipartisan support – to get independent voters onside.
Donald Trump's legal woes. Trump has always coveted controversy, but his current legal predicament is a whole new ball game. Earlier this month, the former president was charged by a Manhattan grand jury on 34 counts of business fraud. And the cases – and potential cases – are piling up.
Biden will certainly use this as a cudgel, but it's unlikely to be a winning strategy for Democrats. So far, there's no indication that these cases will hurt Trump politically, with his polling numbers remaining steady despite being the first US president in history to be charged with a crime.

The more they stay the same …
Biden isn't getting any younger. In 2020, voters were already expressing concern about Biden's age and mental faculties. His propensity for gaffes and lifelong stutter certainly didn't help.
Ageist attacks will only intensify on the 2024 campaign trail. A bullish Trump will surely seek to make a big deal of the fact that Biden would be 86 at the end of a second term. (For context, Ronald Reagan was 77 at the end of his presidency.) But Trump, at age 76 himself, may also be subjected to age-related critiques on the campaign trail.
Trump: GOP King. Despite the stack of op-eds published in recent months suggesting that Trump's hold over the Republican Party is waning, poll after poll suggests that he would still thump any wannabe president in a GOP primary. A whopping two-thirds of GOP voters back him despite his legal woes, according to a new NBC poll. Indeed, watching Florida Gov. Ron DeSantis – who is expected to announce his candidacy soon – awkwardly navigate Trump's special status within the Republican Party reflects the former president's influence over the GOP base.
Still, while Trump's no-holds-barred approach might resonate in a feisty Republican primary, results from the 2021 midterm elections suggest that the Trump playbook doesn't necessarily resonate with independent voters in a general election.
Enthusiasm gap. Trump has consolidated a group of die-hard supporters over the past seven years, and they remain as loyal as ever. Biden, on the other hand, had an enthusiasm problem in 2020 (though the clearing of the Democratic field helped get him over the finish line) – and this continues to be the case.
With this in mind, Democrats will be looking to boost turnout among independents by undermining the former president's electability pitch, so expect Donald Trump to take up a lot of oxygen in the months ahead.