What is Turkey doing in Africa?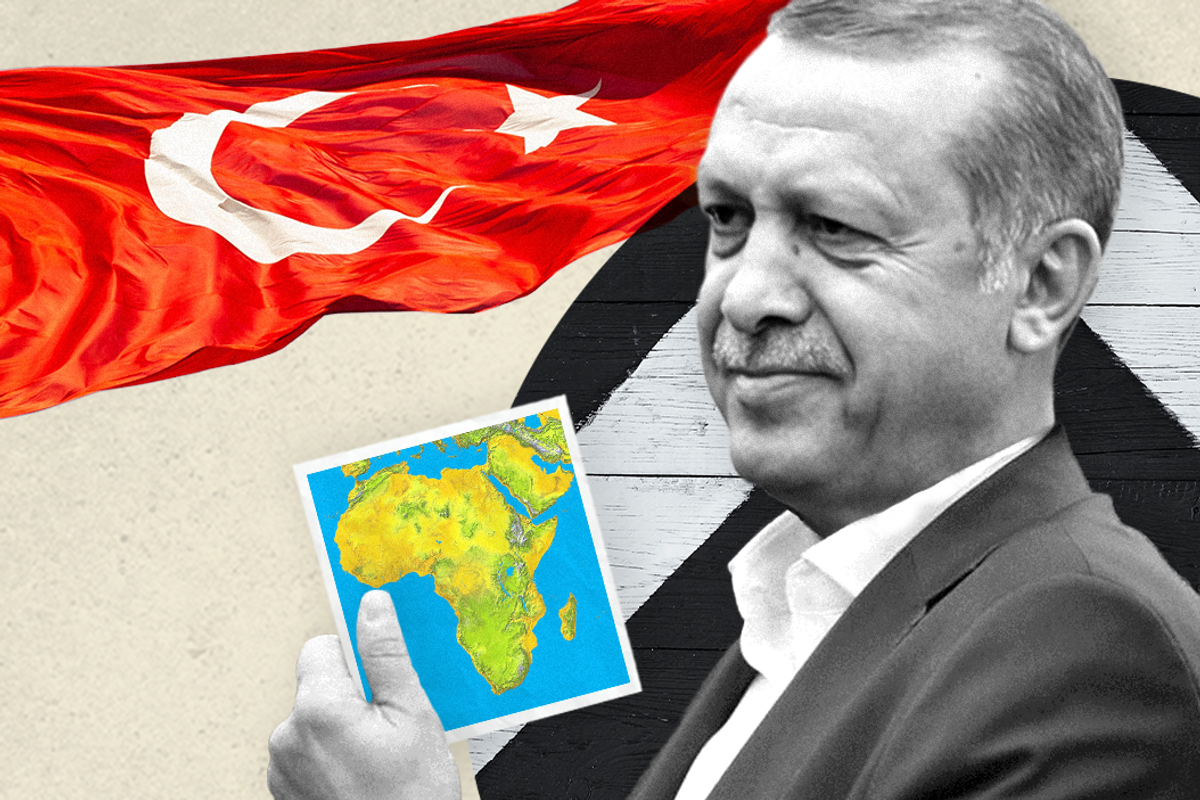 Gabriella Turrisi
If you had to guess which current world leader has made the most trips to Africa, who would you say? China's Xi Jinping? Nope, hardly — he's been there just four times. France's Emmanuel Macron? Pas de tout.

The answer may surprise you: it's Turkish President Recep Tayyip Erdogan, who's been to the continent more times than the leader(s) of any other non-African state. Just this week he notched his 28th visit, with stops in Angola, Nigeria, and Togo. Sure, being in power for two decades creates a lot of opportunities for exotic travel, but even Russia's Vladimir Putin isn't close: he's been to Africa just five times, all to visit South Africa or Egypt.
---
Erdogan's Africa travel obsession is part of a broader policy. Since first coming to power as prime minister way back in 2003, Erdogan has massively increased his country's presence in Africa. The number of Turkish embassies there has soared from barely a dozen in 2009 to more than 40 today. Turkish Airlines jets crisscross African skies, flying more than 50 routes that link the continent's cities to Europe and the Middle East.

Across Africa, Turkish companies have built splashy and popular infrastructure projects: massive sports complexes in Senegal and Rwanda, the new national mosque in Ghana, a gleaming international airport in Niger, and critical rail lines in Ethiopia. And on the softer power front, Turkish schools dot the continent, while the country's soap operas are a pop-culture hit, particularly in East Africa. Turkey now even refers to itself as an "Afro-Eurasian" country.
At the same time, Turkey has waded into the continent's geopolitics, building its largest overseas military base in Somalia, taking sides in the Libyan civil war, and stepping into the Sahel by training local troops and inking a defense pact with Niger. Turkish arms sales to the continent are growing as well.
Why is Turkey so interested in Africa? For one thing, there's an economic rationale. Erdogan is keen to unlock opportunities for Turkey's powerful infrastructure, mining, and consumer companies. Finding new foreign markets is part of Erdogan's vision of Turkey as an export powerhouse, says Emre Peker, Eurasia Group Turkey analyst.
But there's something bigger going on as well. Ever since coming to power, Peker says, Erdogan has seen Turkey as a kind of geopolitical heir to the old Ottoman empire — a powerful player in the Middle East and beyond, willing to act independently of its Cold War-era partners in Europe and the US. While much of that has meant being more assertive in the Middle East, expanding Ankara's influence into Africa is a part of that broader vision.
Why are African governments interested in Turkey? For the same reason they are interested in partnering with other outside players: they want to secure quality direct investment and new infrastructure.
But while Ankara hasn't anywhere near the resources that, say, China can bring to the table, one big thing that Turkey has going for it is what it's not. "Turkey has a lot of advantages," says Tochi Eni-Kalu, an Africa analyst at Eurasia Group, "but number one is that it's not France or the UK or Belgium or any of the other post-colonial powers." At the same time, Erdogan presents Turkey as a smaller and more sympathetic alternative to great powers like the US and China.
Who's not so happy about this? While there hasn't been much backlash against Turkey among African populations, Eni-Kalu says, Ankara's inroads have raised hackles in other world capitals. France is extremely unhappy about Turkey's presence in West Africa, with President Macron openly accusing Turkey of inflaming anti-French sentiment there.
Meanwhile, Turkey's bitter regional rivalry with the UAE is also playing out in Africa. The two powers back opposing sides in Libya's civil war, and are locked in a contest for greater influence in East Africa as well. Ankara reportedly viewed the April 2019 coup against longtime Sudanese dictator Omar al-Bashir, a partner of Ankara's, as a Gulf-backed swipe at Turkish influence in the region.
Still, let's put this all in perspective. As much as Turkey's ties with Africa have grown, the continent remains far less important economically for the Turks than Europe or the Middle East. Consider that while in recent years Turkish trade with Africa has quintupled to about $25 billion annually, that's still ten times less than its trade with Europe, and three times less than with Asia. China's trade and investment in the continent, which runs to the hundreds of billions of dollars annually, dwarfs anything that Turkey can reasonably achieve.
Upshot:
While Turkey will never compete directly with the military resources of the US and France, nor the economic resources of China, Ankara has found ways to pick its spots in Africa in ways that interest local governments, but which also stoke Turkey's other regional and global rivalries.