What We're Watching: Bolsonaro's broken silence, Iranian attack plans, Bibi's return, Colombia & Venezuela's lunch date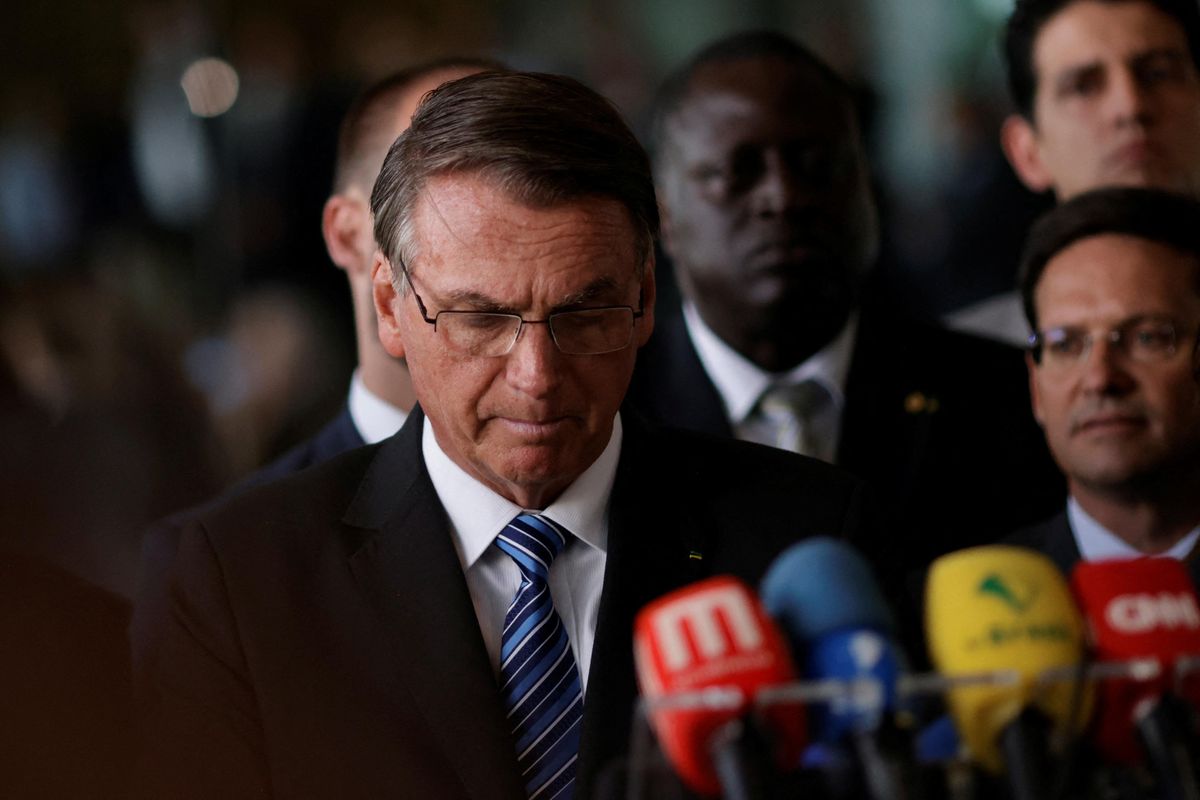 Reuters
Bolsonaro lets his friend say the hard part

In a prepared and combative statement lasting less than two minutes, Brazilian President Jair Bolsonaro on Tuesday did not concede the election he lost on Sunday. He also failed to congratulate — or even mention — his opponent, Luiz Inácio Lula da Silva. Instead, he welcomed ongoing nationwide protests by pro-Bolsonaro truckers, saying they're the result of a "feeling of indignation and injustice about how the elections were conducted." He cast himself as a person who plays by the constitutional rules and said he was proud to have stood for freedom of markets, religion, and expression. "The right has truly risen in Brazil," he said. After Bolsonaro walked off without taking questions, one of his closest allies stepped up to the podium to say Bolsonaro had in fact authorized him to begin the presidential transition. As that legal and logistical process gets underway, we are watching closely to see how far Bolsonaro pushes the popular protests to try to gain political leverage. Bolsonaro lost to former President Lula by the narrowest electoral margin in Brazil's modern history. Buckle up.
---
Will Iran attack Saudi Arabia?
Tehran is reportedly preparing imminent attacks on targets in Saudi Arabia and northern Iraq that could put the US military at risk. Based on shared Saudi intelligence, the news has put the Pentagon on "high alert." The US has 10 military bases and about 3,000 troops in Saudi Arabia and roughly 2,500 troops in Iraq. Riyadh says the plot is an attempt by the Islamic Republic to distract from the combustible situation at home, where nationwide protests – bordering on revolution – over the in-custody death of Mahsa Amini, 22, have consumed the country for more than six weeks. In recent weeks, Tehran has also bombarded Kurdish towns in northern Iraq that it blames for fomenting unrest in Iran (Amini was Kurdish). While many called for President Joe Biden to sever ties with Saudi leader Mohammed bin Salman after Riyadh recently snubbed the US by cutting OPEC+'s daily oil production, this episode reveals that – for better or worse – Washington and Riyadh's national security interests remain intertwined.
Bibi is almost back
Israelis went to the polls on Tuesday for the fifth time in under four years, and the results look very good for … former Prime Minister Benjamin "Bibi" Netanyahu. With 85% of the vote counted, Bibi's Likud Party has won the most seats – 31 – while his right-wing allies also appear to have the numbers to help him pass the 61-seat threshold (out of 120) needed to form a government in the Knesset, Israel's parliament. Interestingly, voter turnout was at a two-decade high. Far-right parties including the anti-Arab, anti-LGBTQ Religious Zionism bloc, as well as several ultra-Orthodox parties, reaped solid results and will be Bibi's coalition partners. Still, there are about 500,000 votes from soldiers, prisoners and diplomats that are yet to be counted, but soldiers' votes traditionally skew right. Longtime leader and divisive figure Bibi Netanyahu appears to be on the cusp of victory.
Colombia-Venezuela lunch date
Colombia's recently elected left-wing President Gustavo Petro traveled to Caracas on Tuesday for a lunch
date
with Venezuelan strongman
Nicolás Maduro
. Relations between Venezuela and Colombia fell apart in 2019 during mass protests against Maduro's regime and clashes along their shared border. But since Petro took office in August, tensions have eased and the borders have reopened. The two leaders
planned
to discuss the further easing of tensions, joint approaches to protecting the Amazon, and the surprising idea of reintegrating Venezuela — which the UN recently accused of
crimes against humanity
— into regional human rights bodies. At the same time, Petro wants Venezuela to act as a guarantor for fresh peace talks with the holdout Colombian rebels of the ELN. The meeting between Washington's closest South American ally, Colombia, and its biggest
bete noire,
Venezuela, comes as the US is exploring ways to ease oil sanctions on the Venezuelan petro-state in exchange for progress towards fair elections. See our recent interview with Petro
here
.