What We're Watching: EU vs Belarus, US booster shots for all, Afghan lessons for Taiwan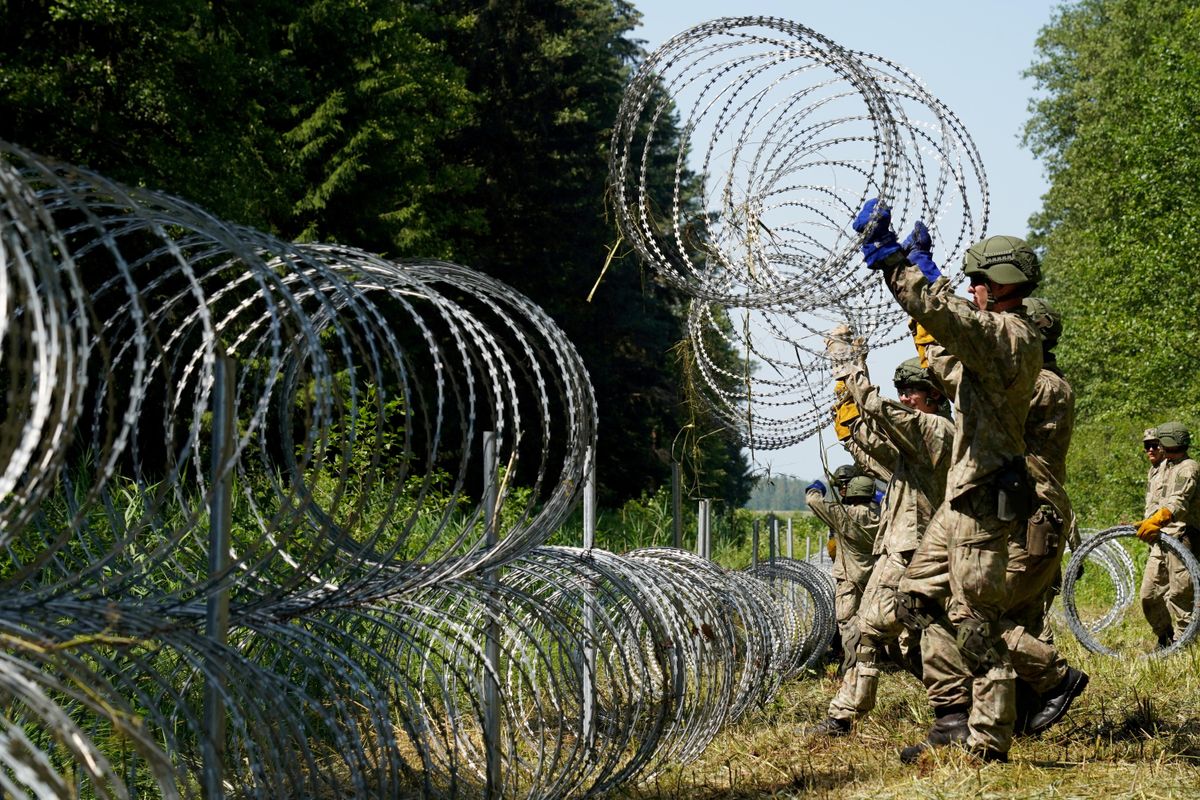 REUTERS/Janis Laizans
Booster shots for Americans: After initially authorizing COVID vaccine booster shots for immunocompromised Americans, the Biden administration now says that most eligible people should get a booster beginning next month. It's quite an about-face for US health authorities, who just weeks ago insisted a top up was not necessary despite the spread of the more contagious delta variant, responsible for new COVID flare-ups in many parts of the country. Still, the US will likely face backlash from the World Health Organization, which has repeatedly asked nations with broad access to vaccines to hold off on booster shots until all countries inoculate at least 10 percent of their populations. The WHO's argument: if rich nations play me-first vaccine politics by doling out third doses instead of sending them to countries where most people haven't even had one dose, the virus will continue to mutate into new and potentially more lethal variants, making the pandemic harder to contain. But the US isn't the only country to go down the booster track: Israel has already distributed over 1 million, while Germany, France and the UK will begin in September.
---
EU-Belarus migrant row intensifies: One week after Lithuania's parliament voted to build a border fence with Belarus to stop non-EU migrants from entering the country, the plot thickens. Lithuania says it has caught Belarusian security agents red-handed, pushing migrants across the border. The Lithuanians say strongman Alexander Lukashenko has encouraged more than 4,000 migrants to cross so far this year as a reprisal for EU sanctions against Belarus, which the Belarusians deny. Meanwhile, Poland has sent almost 900 troops to the Belarusian border, which is being reinforced with barbed wire to keep migrants out. EU ministers are meeting Wednesday to decide what to do about Belarus weaponizing migration to punish the bloc for pushing back against Belarusian human rights abuses. But Brussels has little leverage with Lukashenko, who knows EU countries can't push him too hard because many need the Russian natural gas that transits through Belarusian territory on its way to Europe.
China taunts Taiwan with… Afghanistan: One country focused on the US' calamitous withdrawal from Afghanistan is China, which has skin in the game. Just hours after the Taliban swept back to power, the editor-in-chief of a hawkish Chinese state media outlet tweeted that Taiwan "must be trembling" and fearing that America may not defend Taipei from an eventual Chinese invasion. The next day, China's military deployed fighter jets, anti-submarine aircraft and combat ships to conduct drills near the self-governing island — which mainland China has long claimed as part of its territory — in response to unspecified "provocations" from Washington and Taipei, perhaps related to the Biden administration's recent approval to sell Taiwan $750 million worth of weapons. The Taiwanese, for their part, brushed off the Afghan analogy, arguing that America will have their back as long as they avoid the domestic turmoil that preceded the Taliban takeover of Afghanistan. Either way, with a lot on his plate, it's unlikely that Xi Jinping will actually seek to reunify the island with the mainland by force anytime soon. But flexing China's military muscle across the Taiwan Strait is always a winner with Chinese nationalists, who welcome Xi's aggressive posturing on Taiwan.