What We're Watching: French fuel fury, China's next premier, Putin's offer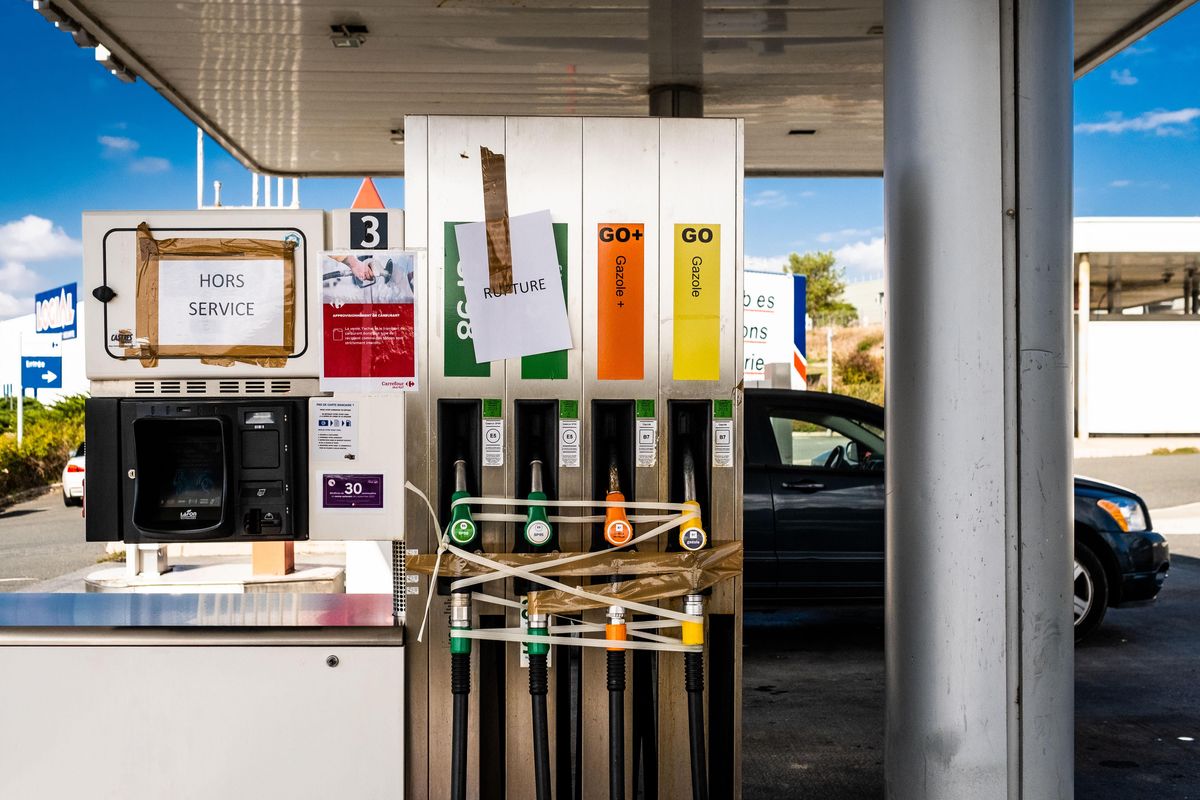 Reuters
France's striking oil workers

Two weeks into strikes by French oil refinery workers over a pay dispute, the government has ordered some striking employees back to work to get petrol flowing. Workers are demanding wage increases to offset rising inflation, and the strikes have taken more than 60% of the country's oil capacity offline. While ExxonMobil workers reportedly struck a deal for a 6.5% wage increase plus bonuses, unions representing Total Energies employees are demanding a 10% wage increase. On Wednesday, the unions voted to continue striking, defying the summons. The right to strike is protected in France, but a minimum number of workers needed to maintain a public service can be ordered to return to work … or risk a whopping 10,000 euro fine ($9,700) and time behind bars. Although Macron is keen to avoid further disruptions to the energy sector, he must tread carefully. The price of gas is a sensitive issue in France – fuel costs and economic inequality sparked the Yellow Vest movement that brought the country to a standstill in 2018. The last thing he wants to do is fuel more demonstrations, and there are already protests planned for Sunday in Paris over inflation and proposed pension reforms. Given the global energy crisis, heads of state worldwide will be watching carefully to see how Macron navigates the situation.
---
China's next premier?
China's 20th Party Congress, which kicks off on Sunday, will make history with a definitive break from the model of collective leadership of the past four decades toward a political system in which one man, President Xi Jinping, dominates decision-making. But beneath the banner headline, there will be decisions made during the event that tell the world what signal Xi wants to send about his future plans for the country's direction. One of the most talked about will be the choice of premier. The current occupant of that seat, Li Keqiang, is expected to retire next March. There appear to be two lead candidates to replace him. The first is Vice Premier Hu Chunhua, a capable party boss trusted more as a political loyalist than as a knowledgeable and talented economic technocrat. Another possibility is Wang Yang, a senior official who observers consider an economic "liberal," an advocate of free-market reform. Xi will decide China's policy direction, but the choice of premier might tell us whether he feels more comfortable with a party boss or with a candidate who has his own reputation outside China and who has favored a more open approach to economic policy.
What We're Ignoring: Putin's latest offer
President Vladimir Putin
announced
on Wednesday that Russia is willing to supply gas supplies to Europe via the Nord Stream 2 pipeline. That means opening a pipeline Europe has vowed not to use. This offer is the definition of a "non-starter." From the point of view of Germany and other European importers of Russian energy, Putin has made crystal clear that Russia is not a reliable commercial partner. In addition, European fears of a brutal winter with acute energy shortages have eased as access to non-Russian supplies have already allowed inventories to reach
90% of winter storage capacity
. The only outstanding question raised by Putin's offer is whether he's simply trolling Europe with an offer he knows they'll refuse or if he genuinely believes European leaders might suddenly decide that he's trustworthy.
This comes to you from the Signal newsletter team of GZERO Media. Sign up today.