What We're Watching: Guatemala slips into crisis, Bibi slips into Saudi Arabia,Trump slips out of Open Skies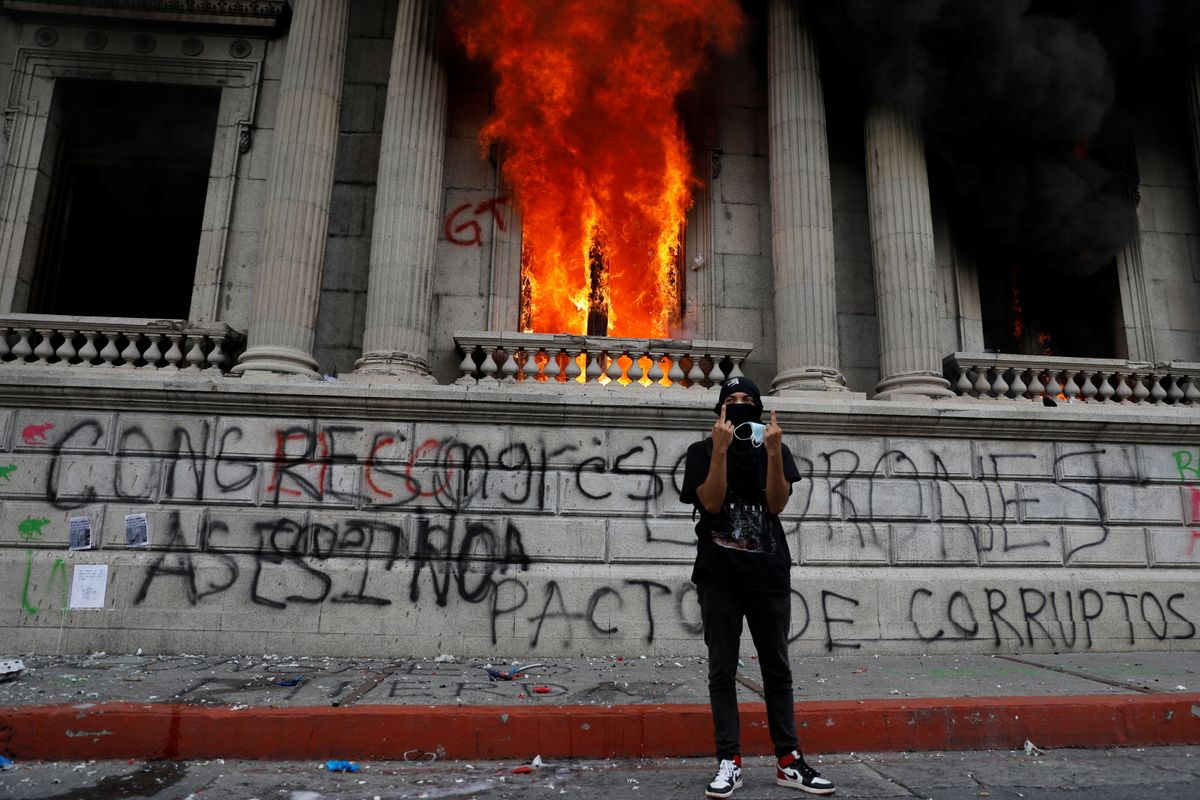 Guatemala in crisis: In the latest unrest to hit the streets of a Latin American capital, a group of demonstrators — angry about a controversial new budget — set fire to the Guatemalan parliament building over the weekend. The budget, negotiated largely in secret while the country reels from the impact of the pandemic and back-to-back hurricanes, cuts funding for healthcare, education, and human rights organizations while boosting money for infrastructure and — get this — adds more than $50,000 for lawmakers' meal stipends. The mostly peaceful protesters, along with the Catholic Church, are demanding at a minimum that President Alejandro Giammattei veto the budget, but some on the streets are calling for him and his whole government to step down entirely. Vice President Guillermo Castillo has offered to do just that, but only if the president jumps ship with him. Can Giammattei find a solution or is this a rerun of 2015, when mass protests unseated the government of then-President Otto Perez Molina? With its economy battered by the pandemic and natural disasters, Guatemala can ill afford a prolonged crisis.
---
Bibi goes to Saudi: Israeli Prime Minister Benjamin Netanyahu reportedly travelled to Saudi Arabia over the weekend for direct talks with Saudi Crown Prince Mohammed bin Salman and US Secretary of State Mike Pompeo. Although Riyadh has formally denied that any meeting took place, the reports come as speculation swirls about the possibility of a normalization of ties between the two countries. Israel and Saudi Arabia have grown closer in recent years, in part because of a shared interest in containing Iran, but Riyadh's formal position is that it cannot establish formal ties with the Jewish State until Israel and the Palestinians reach a peace accord. In recent months, Israel has pulled off a flurry of normalization deals with Arab states — the UAE, Bahrain, and Sudan — but a pact with Saudi Arabia would be a much more dramatic achievement, given the country's size, economic clout, and its role as the custodian of Islam's holiest sites.

Trump closes Open Skies: Six months after giving notice, the US has now officially exited the Open Skies treaty, a 30-year old agreement with Russia that permits both sides to conduct unarmed reconnaissance flights over each other's territory. The pact was intended to increase transparency and reduce the risk of war by giving each side a window into the other's military movements, but the Trump administration had complained that Russia wasn't living up to its side of the bargain, by refusing US access to certain areas in the former-Soviet sphere. US President-elect Joe Biden, for his part, has said he supports maintaining the Open Skies treaty and would prefer to address Russia's violations via the agreement's dispute resolution mechanisms. But even if he wanted to rejoin the treaty after he becomes president in January, he'd have a problem: the Trump administration is retiring the specialized surveillance planes that are used in the program, and stripping them for parts (paywall). If you are in the market for a highly sophisticated wet-film surveillance camera, call the Pentagon.