Will stagflation make a comeback?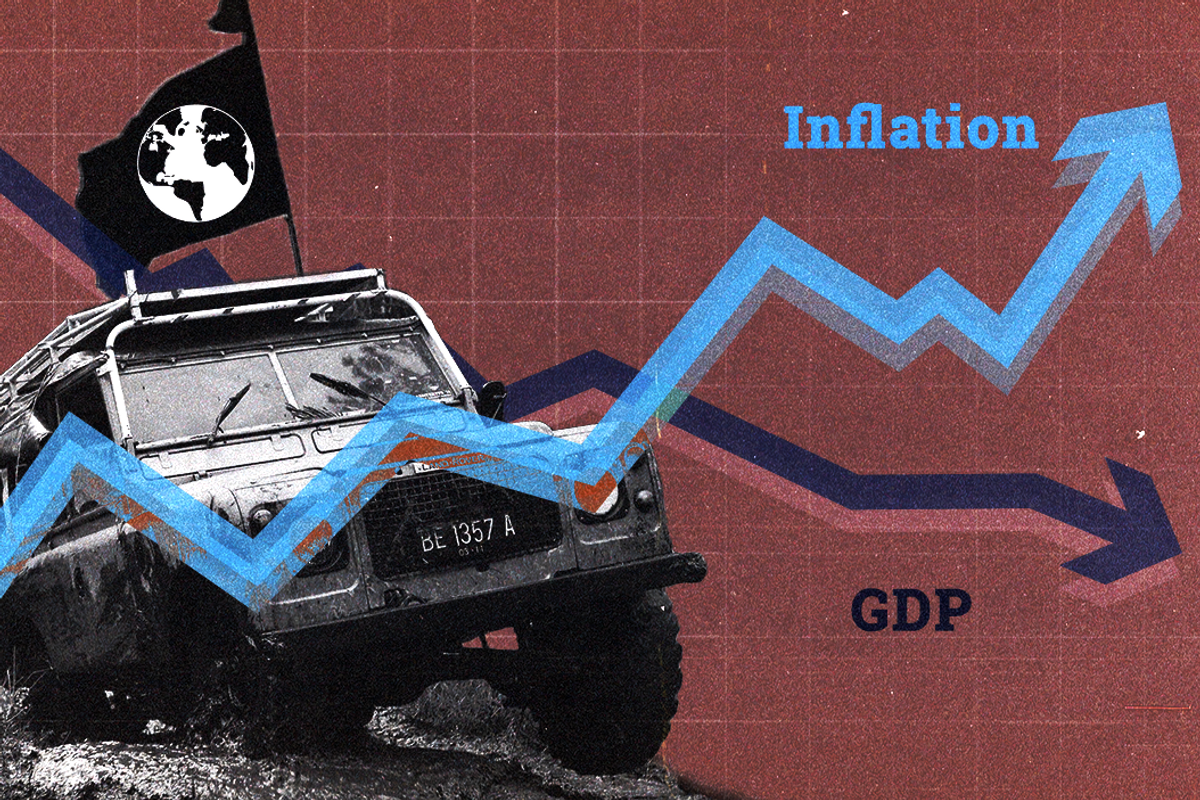 Paige Fusco
America's fashionistas are super excited these days about 1990s crop tops, baggy outfits, and tattoo chokers, but economists are freaking out over a specter from a different decade: the '70s. That's when the US economy sputtered into what's known as "stagflation."
---
Stagflation, very simply explained, is the double whammy of a stagnant economy coupled with double-digit inflation. In the mid-'70s it was caused by two oil crises, which doubled the price of crude and triggered recessions in many Western countries well into the early '80s.
Why now? Six months ago, when COVID-related supply chain disruptions first started pushing up global inflation, there was a heated debate among economists about whether stagflation was looming. The skeptics argued that prices would stop rising when the pandemic ended and things "got back to normal."
But earlier this year came two unexpected shocks. The first was Russia's war in Ukraine, which has driven the cost of energy, food, and other commodities through the roof. The second was China's zero-COVID policy, which has snarled supply chains even more.
It's the war, stupid. TIGER — a global index tracking the global economic recovery set up by the Brookings Institution and the Financial Times — warned in its Sunday update that stagflation might affect most economies this year as the war in Ukraine exacerbates a slowdown in the global post-pandemic recovery.
What's more, on Tuesday the International Monetary Fund will lower its growth forecasts for 143 of the world's economies, representing a staggering 86% of global GDP.
Barely six months ago, IMF chief Kristalina Georgieva dismissed talk of stagflation when prices were beginning to rise mainly due to pandemic-induced supply chain disruptions. Now, she says that the Russian invasion is a "massive setback for the global recovery" from COVID and admits that "for the first time in many years, inflation has become a clear and present danger."
How big of a deal is this? Stagflation has often been described as pretty much the worst thing that can happen to an economy outside of a war, a natural disaster or, obviously, a pandemic. If GDP doesn't grow enough for wages to keep pace with inflation, everyone feels the pinch: purchasing power declines, people lose their jobs, credit and investment dry up, and poverty increases.
Also, recessions tend to have political consequences. US President Joe Biden surely knows that his predecessor Jimmy Carter blames losing his job in part on America's economic "malaise" at the end of his term. Wherever stagflation hits, expect incumbents to feel the heat from populist insurgents who claim to have the secret sauce for making economic woes go away (spoiler: they likely won't).
So, should we be worried? As always, economists disagree.
On the one hand, the war and zero-COVID have thrown a wrench into a global recovery that was already limping. The longer the war drags on and the longer Xi Jinping doubles down on his policy to contain the pandemic in China, the more prices will continue to rise and the more supply chains will be impacted by Chinese lockdowns.
Xi might be able to keep China's economy chugging along with more stimulus spending, but other countries won't because COVID left their coffers empty. Also, the world's economy is a lot more interconnected than it was in the '70s, and since inflation is a global phenomenon, all nations will take a big hit.
On the other hand, it might be too early to determine whether the current economic slowdown will be enough to trigger stagflation in many parts of the world. For instance, the US economy is still doing well and unemployment remains low despite recession fears. (The traditional definition includes high unemployment, but most economists now believe economic stagnation and high inflation are enough.)
"While global inflation is now very high — above 7% in the US, the EU, and the UK — it is still forecasted to lower in the next few months," says Eurasia Group analyst Robert Habib. "For one thing, spending will cool in part because central banks will raise interests rates across the board. For another, supply chain issues will ease as cargo traffic starts to pick up."
Whatever happens, people are definitely curious about stagflation nowadays. Last month, Google searches for the term far exceeded those during the 2008 global financial crisis.
What's your take? Let us know
here
.