Catch up on GZERO's coverage of the UN General Assembly (UNGA 78)
WATCH
GZERO Daily: the newsletter for people who love global politics
Sign up for our free newsletter to keep up with what's going on around the world - and why it matters.
Subscribe
GZERO Daily: the newsletter for people who love global politics
Subscribe Now

We have updated our Privacy Policy and Terms of Use for Eurasia Group and its affiliates, including GZERO Media, to clarify the types of data we collect, how we collect it, how we use data and with whom we share data. By using our website you consent to our Terms and Conditions and Privacy Policy, including the transfer of your personal data to the United States from your country of residence, and our use of cookies described in our Cookie Policy.
Podcast: How we got here: Evaluating 1619 and US history with Nikole Hannah-Jones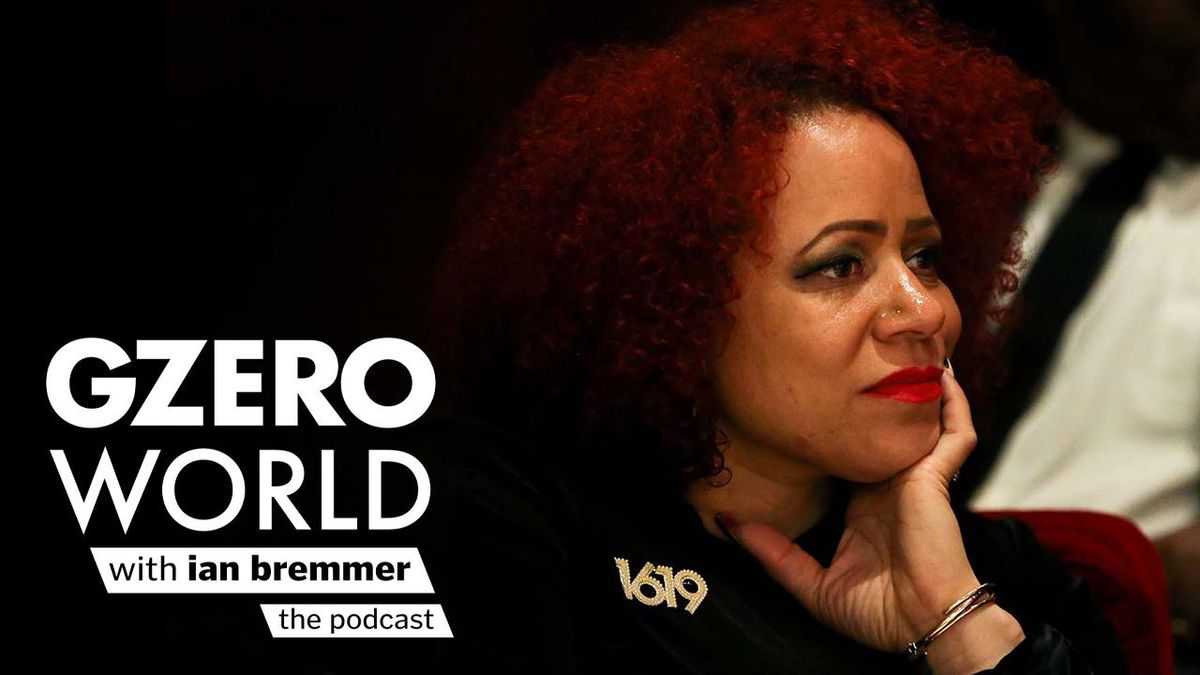 TRANSCRIPT: How we got here: Evaluating 1619 and US history with Nikole Hannah-Jones
Nikole Hannah-Jones:
When you are a white American, you don't actually know what it means to be erased, to never see anyone like you being an actor in the history, in the literature that you read, in the museums that you go to, and that erasure is really demeaning and it's really powerful.
Ian Bremmer:
When Pulitzer Prize-winning New York Times journalist Nikole Hannah-Jones published The 1619 Project a couple years ago, not even she could have predicted its cultural impact. And it's frankly hard to think of another piece of modern journalism has attracted such extraordinary praise while at the same time sparking such intense outrage. And now her new book, The 1619 Project: A New Origin Story expands on her original work. Let's get to it.
Announcer:
The GZERO World podcast is brought to you by our founding sponsor, First Republic. First Republic, a private bank and wealth management company, understands the value of service, safety, and stability in today's uncertain world. Visit firstrepublic.com to learn more. GZERO World would also like to share a message from our friends at Foreign Policy, the Paris Climate Agreement, the Iran Nuclear deal. You rarely hear what happens behind the closed doors of the world's biggest agreements until now. On the new podcast, The Negotiators, foreign policy is teaming up with Doha Debates to put listeners in the room. Listen to new episodes every week on Apple, Spotify, or wherever you get your podcasts.
Ian Bremmer:
Nikole Hannah-Jones, thanks so much for joining me today.
Nikole Hannah-Jones:
Thanks for having me on.
Ian Bremmer:
So I wanted to start a little bit with your own personal education. I mean, when you talk about 1619 Project, so much of it is about how we learn and what we learn as a kid. Can you talk a little bit about growing up yourself, what you learned from school about Black American history?
Nikole Hannah-Jones:
Yes. So I grew up in the '80s and the '90s, and I believe I had a fairly common educational experience, which was we learned a little bit about black people during Black History Month, usually the same four or five people, Harriet Tubman, Frederick Douglas, Ida B. Wells, Sojourner Truth, and George Washington Carver. And then a little bit about slavery, largely because they had to discuss the Civil War. And then black people pretty much disappeared from the story until the civil rights movement. And there was really no African history, even though we had global studies, there was no really larger understanding of how black Americans fit into the larger story of America. And there certainly wasn't the teaching of black people as actors in the American story. We were always kind of the asterisks.
Until I took this one semester black studies course that my high school offered. It was an elective course. And I've talked quite a bit about, and I talk about this in the preface of the new 1619 Project book, about how in that three month class I learned more about the history and contributions of black Americans in the United States and the world than I'd learned my entire career. Before that, it was a vacuum of information. We were just largely erased from the story. And I think that that's still fairly typical in the American classroom. It's kind of embarrassing to admit that now. But when you're a student and when you're a child, you just assume that adults are teaching you the things that are important enough to be known. And so if you're not learning about something, you pretty much assume it's because there's nothing there that you should be taught.
So the biggest aha is just, wow, there were African kingdoms. Well, we learn about all of these European kingdoms. We learned about even Mayans and Aztecs, but we weren't learning about African kingdoms. I didn't know that there were so many black writers. I didn't know about all the contributions that black people made between the era of slavery and after. So that was the aha. And that's where I really, really developed this insatiable appetite to learn this history because when you are a white American, you don't actually know what it means to be erased, to never see anyone like you being an actor in the history, in the literature that you read, in the museums that you go to. And that erasure is really demeaning and it's really powerful. So when I realized that actually there's a ton of history, there's a ton of scholarship, there's a ton of literature, there's a ton of art that could be studied, that I also realized that people had made the decision that this wasn't important enough for us to learn. And I determined that I was going to learn as much of it as I could.
Ian Bremmer:
And you also personally, you grew up in a working class neighborhood in Iowa and you were bused to the richest whitest school around. I mean, how did that inform growing up and your educational process? I mean, give us a little bit of a flavor of that.
Nikole Hannah-Jones:
So I was probably in many ways not your typical child. I was definitely very nerdy. I observed things that other kids maybe didn't pay so much attention to. And so I, from a pretty young age, was questioning why we had to leave our neighborhood to get a quality education. I rode the bus about two hours every day, an hour there and back. And those schools never felt like they belonged to us. And all of my white classmates just walked down the street and went home, and all of the black kids in my school had to get on a bus every day and go back to it, our neighborhood. So I questioned that fairly early. And what school desegregation did, we call it busing, but it was a school desegregation plan. It did give me access to an excellent public school education.
And I also got an opportunity to really observe what affluent white people lives were like, that their parents worked hard, but they actually weren't working harder jobs than the people in my neighborhood. In fact, I would argue that the people in my neighborhood, including my family who were working in beef packing plants, who were working as roofers, that this was actually more challenging work, but it didn't pay as well. So I pretty early on got disabused of these ideas about why black communities struggled or why black people struggled, because I could observe that there wasn't a stronger work ethic, that those kids weren't smarter than we were, but they certainly had different opportunities, including not having to pay the tax of already having been on a bus for a whole hour before you get to school and not getting home for a whole hour after. So you have to start your homework later and all of those things. So it just led me to question, to be skeptical of narratives, and to want to learn and understand why these divisions existed.
Ian Bremmer:
I take it doing your homework on the bus wasn't exactly the easiest thing to get done.
Nikole Hannah-Jones:
It's not, it's not. At the time, I didn't understand what exactly I was experiencing because your parents tell you you're changing schools and all of a sudden your bus ride is getting longer, but no one's consulting with you or explaining what's happening. You just kind of do what you're supposed to do. But I started to-
Ian Bremmer:
Well, you're a kid. You don't get consulted as a kid. I'm familiar with that, yeah. Yeah.
Nikole Hannah-Jones:
You don't get consulted, and your parents don't really explain to you why they're doing it or why it's necessary.
Ian Bremmer:
Yeah.
Nikole Hannah-Jones:
So it felt natural to me at a younger age, but the older I got, the less natural that it felt. And I had my school friends and then I had my neighborhood friends, and then there were a handful of us who went to these schools and came home together. And it led me to do a lot of questioning and it led me to want to understand why it was like this. Why did I have to leave my neighborhood to get a good education?
Ian Bremmer:
Let me turn now to our history and you mentioned once that every kid in the U.S. knows the story of the Mayflower. I grew up outside Boston, so damn well we know Plymouth Rock too, but nobody knows the story of the White Lion. And I bet that a majority of the people watching us on this show right now don't know that story, don't know what that ship is. And I'd like you to tell us.
Nikole Hannah-Jones:
Yes. So The 1619 Project is named after the year 1619, which is when the first Africans were sold into the colony of Virginia and sold into slavery. So your more astute viewers will know that the Mayflower Compact is 1620. And so this other ship called the White Lion that carried this cargo of human beings that were traded for food and other necessities, that came a year earlier but had been kind of completely erased from our national mythology, our national narrative, and even the history we get in history books. But I would argue as we do that that ship was actually more important to the country that would be built in some ways than the Mayflower. So when we think about, I have an 11-year-old child, she certainly has learned about the pilgrims. Many American children are asked to dress up like the pilgrims and the Natives, but by the time that happened, there were actually three racial groups on the continent and one of them gets erased and the other story gets erased, which are indigenous people.
Ian Bremmer:
I've heard you say before that slavery is a foundational institution on which the United States has been built. What do you mean when you say that?
Nikole Hannah-Jones:
Yeah, I think it's inarguable. If you just look at not just the facts of history, but look at all of the tensions, kind of the defining tensions of American life, the ways that we are exceptional to the world, a lot of that goes back to the date 1619. So when we understand that the first British colonists settled Jamestown in 1607 and just 12 years later, we have begun African slavery here, that means there's almost nothing older than slavery, than African slavery in the original 13 colonies that would form the United States in 1776. At the time of the revolution, one-fifth of the population in those 13 colonies are enslaved. All 13 colonies engaged in slavery.
And then when we think about who were the most important founders? Who drafted our Declaration of Independence? Who was the father of the Constitution? Who was the father of the Bill of Rights? Who was the first president? They were all Virginians who were enslavers. And we see an entire architecture of laws, of policies, of science and religion that is built up to justify slavery and to justify the fact that the wealthiest colonies in this country were the colonies that engaged in slavery.
Ian Bremmer:
It's beyond belief, the wealth that was there. And of course, it was all built on cotton and all built on slavery.
Nikole Hannah-Jones:
Right. And think about something like the Industrial Revolution. What do we think that textiles were being made of in these northern factories? It was enslaved grown cotton. When we learn about technological advancements, and I remember being taught like we all are about the cotton gin, but nobody connects the fact that the cotton gin is what makes slavery extremely profitable. We're just taught about it as kind of a feat of technology and not that this is what expands slavery and ultimately helps lead to the Civil War.
Look at your Ivy League universities, Harvard, Princeton, Yale, they were all funded to some degree by money that was being made by enslaved people. New York City becomes one of the most important financial sectors in the world because they are creating policies to ensure the enslaved slave, slave mortgages, collateralizing slavery, and trading the commodities that are being picked by slaves, enslaved people, including cotton, sugar, and indigo and rice. So we've kind of tried to section slavery off as if it was just in the realm of the backward south, but this was an American endeavor and our nascent capitalism was really built on the institution of slavery. So what we're arguing is it's just central to the American story. We did not need slavery to be successful, but we chose slavery and that led to our success in many ways.
Ian Bremmer:
So Nikole, is it fair to say, because again, when I was younger, I mean, you'd learn about tobacco in North Carolina and you learned about cotton in Georgia. And is it fair to say that the most important commodity for the United States as we developed was actually human beings?
Nikole Hannah-Jones:
Yeah, without a doubt. So we know that in terms of the financial cost of the asset, that enslaved people, their worth, their value is worth more than all of the factories and the railroads in America combined. That the single largest wealth commodity was human beings. Think how differently we would think about American capitalism, which we tied to freedom, if we understood that so much of American capitalism was actually tied to bondage.
Ian Bremmer:
So to take all of this and bring it to the present day, I mean, I'm thinking about this election that we just had in Virginia that was so, I mean, dominated. The most important issue that voters were saying was critical for them to vote was education and specifically issues around critical race theory. Why is it that something that's based in 400 years ago is so incredibly divisive and even in some cases dominant in political races today?
Nikole Hannah-Jones:
Well, because we as Americans are deeply, deeply invested in this mythology of exceptionalism, we really are indoctrinated into this idea that these intrepid colonists broke off from Great Britain so that they could advance the ideas of liberty and individual rights. And to believe in that, then you have to downplay the role of slavery. You have to downplay how we have been plagued by racism and inequality from our beginning. You have to ignore that one-fifth of the population was enslaved when Thomas Jefferson wrote, "We hold these truths to be self-evident that all men are created equal." Our collective identity is really hinged on this idea that we are the freest country and the most equal country the world has ever seen, but it's actually in defiance of facts. We are the most unequal of the Western democracies. We're the only country where citizens don't have a right to healthcare.
All of these things are the legacy of slavery and the reason why, you can call it critical race theory, I call it these anti-history laws, this anti-history propaganda. The reason why we saw the stoking of that was after we witnessed last year this massive effort to reckon with the legacy of slavery and voters really starting to say, "Well, we need policies to address this legacy of slavery." Then we see this tactic to stoke white resentment to win campaigns, which is really the oldest wedge issue in the books. You can go back to the Bacon's Rebellion when poor white people joined with enslaved black people to challenge the white elite. And the white elite responded by creating the slave codes that said, "No matter how poor you are as a white person, you will have more rights and higher status than any black person no matter who they are." So we can always see that when a political party is afraid and particularly a political party that's a majority white party, that they will always go to race because it is almost in our DNA to respond to it.
Ian Bremmer:
I mean, after George Floyd, there was a lot more people of all different backgrounds and races coming together to protest police brutality. Why is it that it seemed like that was less of a polarizing issue for the country than critical race theory and the 1619?
Nikole Hannah-Jones:
What George Floyd was one of the most barbaric things we could possibly witness. And you see throughout history these inflection points where the normalized violence that we just accept for black Americans, that something happens that's so egregious that it causes people to act. I mean, you could look at Emmett Till. Emmett Till became the inflection point for the civil rights movement, not because it was unusual for black people to be murdered and lynched, but because it was so barbaric. And that's what happened with George Floyd. I mean, we all basically watched a lynching on national television and yes, millions of people came out. I looked at some data on this. They say one of every 10 Americans protested. And what was different about this, was it was multiracial. It was multi-generational. It was happening in small white towns and big cities.
So in some ways, if you are a student of history, then you know that this white backlash that we're seeing was the most predictable thing to a big struggle for racial equality, that politicians can take advantage of the fact that, okay, we saw this big push. Now how do we divide these people who were finding common cause in black equality? And you do that by saying, "We believe what happened to George Floyd was wrong, but it's gone too far now. Now they're trying to make you feel like there's something wrong with your whiteness. Now they're taking away your icons, they're knocking down your statues, and they want to tell your children that your children are evil." This backlash comes every time there is a movement for progress for black Americans that seems to have some success. And so none of this is surprising.
Ian Bremmer:
Now, most recently, Kyle Rittenhouse, which is maybe the trial that's gotten the most national attention in years in this country, and you tweeted that that verdict was a legacy of 1619. And I want to know what you mean by that.
Nikole Hannah-Jones:
The fact that we own more guns in this country than any other country is certainly a legacy of 1619 in that in The 1619 Project book, Dr. Carol Anderson, a professor at Emory, really connects this idea of the Second Amendment to the fear of slave insurrections. So the right to bear arms and call up a militia, yes, was to ensure that the British would not be able to overtake the colonists, but it also was to ensure that enslavers had a militia that could put down slave insurrections. And so all of this proliferation of guns, which also makes us an exceptional nation, no other country has as many guns as we have. And then this idea that white Americans can patrol, they can have the right to walk and open carry. This is not something that black Americans can engage in in the same way. We've seen black Americans killed when they have a license to carry, when they're playing with toy guns, when they're shopping for guns at Walmart, because there's an automatic suspicion of that.
And then there's a long history of white Americans who protest and fight on the side of black Americans. They have also experienced the type of violence and the lack of justice that black Americans have experienced. You can think about Cheney, Schwerner, and Goodman. So Schwerner and Goodman who go down in Mississippi to help with voting rights and they get murdered along with Cheney who is a black man. We've seen this again and again. And so I think that legacy of having a armed militia, of having white Americans feeling like they have to patrol black people and black protest and a sense that you will be treated like a black person in term that you can be shot and there can be no justice for that. It's certainly not a legacy of 1776.
Ian Bremmer:
So when you see Republican members of Congress saying, "Kyle Rittenhouse, I want you to be an intern in my office, all of this." I mean, is your response to that, "You know what? Fight fire with fire." I mean, I want Rashida Tlaib to be doing the same damn thing on the other side of this argument because otherwise we're not getting anywhere. How do you feel? Honestly, how do you feel about it?
Nikole Hannah-Jones:
No, I don't think so. I don't think we ever want to lose our morality because even if you believe that Kyle Rittenhouse, that the verdict was correct, that for whatever legal reasons he should not have been convicted, this is a young man who was not old enough to have this gun, who went to patrol, and killed two people. Two people are dead. I don't know how we celebrate that no matter what. One can believe that justice was done through the legal system and not believe that we should be promoting someone who should not have done what he did and should not have been where he was. And I don't think that the response is to treat others in that way. That's not moral.
Ian Bremmer:
You put out a book like this, obviously by virtue of the topic, going to be a controversial book. There's been a lot of criticism and some of the criticism is stupid and insane, and some of the criticism seems much more balanced and reasonable. What's fair criticism of your book and this work?
Nikole Hannah-Jones:
I think there's a lot of fair criticism, and I hope that people who read the book will see that we have responded to that criticism. You cannot create an ambitious large project and think that everything about that project was perfect or above critique. Every single historian's work gets critiqued and valid criticisms are offered. So for instance, I spent a lot of time doing additional research on the role of slavery and the revolution. The argument is stronger. I made sure the language was much more precise and much more clear. We did additional research on the capitalism essay, which also came under critique. That is completely justified. And there were critiques, for instance, that we didn't deal with settler colonialism in the project and Indian removal. So we listened to that and we added an essay by historian Tiya Miles on that.
I would never argue, I mean, I assume you're the same way. Everything I've ever done I thought could be done better after publication. And I always read things and wish that I had reached a higher height. I think that if you are not that type of person, you are in the wrong field. But I think the difference here was the criticism of this project was seen as disqualifying, not normative for the field, not a matter of interpretation, but that people were saying these facts are wrong and that people were saying that this journalism needed to be discredited. And that's not normal. And I don't agree with that type of criticism because it's not true. And when people look at the book, there are more than 1,000 end notes. We cite our sources, and every claim made in the project is based off of scholarship. It might not be scholarships that is a consensus amongst all historians. But when it comes to black American history and slavery, consensus can be hard.
Ian Bremmer:
For me as someone who just works on global issues as opposed to the U.S., my most significant gripe, if you will, is that the impression is that slavery is a much more uniquely American institution that I take away where, I mean, obviously there was a lot of slavery globally. There's a lot in Latin America. I mean Brazil, we have a couple offices there. Massive, we talk about racism and slavery as a consequence. They have that experience. I mean, I assume that you would consider that to be a reasonable critique of the work that was done.
Nikole Hannah-Jones:
Reasonable, yes. It's not a critique I agree with because one, we list the numbers. There were 13 million people trafficked, only 400,000 came to the Americas. We talk about the fact that there were only, according to historian David Blight and some others, only five great slave societies in the history of the world, the American South and the Caribbean, and Brazil being amongst them. So we nod to that and acknowledge that. But this is a project on America, and it's not arguing that slavery didn't exist anywhere else. It is arguing that the type of slavery practice in America and the Americas was unlike any other type of slavery that existed in the world. And we also argued that there is something clearly unique about a country engaging in chattel slavery that says it was founded on ideas of individual rights and liberty. And that was not Brazil, that was not Jamaica, that was not any of the islands in the Caribbean. They didn't pretend to be a nation founded on God-given rights. We did. That makes for a unique circumstance.
And the last thing I'll say, my response to this critique is do we do that about anything else? If I want to write a book on the American Civil War, how much do I have to talk about the fact that there's always been civil wars in the world and that civil war is not unique? We don't expect that, but somehow when we want to talk about slavery, we have to talk about how this is an old institution that everyone engaged in. And I feel like that's a way to try to let ourselves off the hook for what we did. This is a story about the United States, and so we focused on the United States. But there's nothing in this project that even pretends to say that slavery was unique to America. What was unique though, I think, was the hypocrisy of America.
Ian Bremmer:
On the last, the hypocrisy point is very interesting. But when all of that is true, how do we take a curriculum like this and teach it in a way that is constructive and patriotic and allows Americans of all colors to feel like they are part of something that is important and that can be greater?
Nikole Hannah-Jones:
So I'm going to challenge the question because I don't think the role of education should be patriotism in teaching children to be patriots. I think the role of an education and the role of history is to help us understand the world that we live in and how do we get here. And that idea of patriotism is why the black story, the indigenous story, the Mexican American story, the Asian American story has been erased because we don't think we can have a patriotic story if we have to talk about all the ways that we failed people of color in this country and failed to live up to those ideas. So I don't think that that should be the role of an education. And in fact, I think the histories that we've been taught really render us incapable of understanding the world that we live in because we've been taught a history where we just believe things are going to work out and they're not. They work out if we make them work out. And if we don't, then we can do really, really egregious things in this country.
Nothing in The 1619 Project and nothing in most curricula that teachers are teaching are asking white children or white people to feel individual guilt for things that they have not done. Should you feel badly about slavery? Absolutely. When I studied the Holocaust, I had nothing to do with the Holocaust. I feel badly about that, and I think that is a normal, empathetic human emotion in the face of tragedy. I think we have to stop pretending that the teaching of these hard histories is somehow implicating Americans today. What it is saying is we are all living with the legacy of this. And that legacy affects you differently if you're a white American than if you're a black American. And I happen to believe that children are able to engage with complex understandings and ideologies.
Does that mean that there's never an educator who doesn't do this well? I think there's lots of educators who don't teach this very well, and that's a failing of how we prepare teachers. But that's also true when it comes to teachers doing slavery lessons that include mock slave auctions or asking students to list pros and cons about the institution of slavery. The majority of educators say that they don't feel well-prepared to teach any of this. So I think we shouldn't take these anecdotes of well-meaning educators who may not teach the lessons well as somehow white children are being indoctrinated to be taught that they're the oppressors.
Ian Bremmer:
Look, when I was freshman in high school, my biology teacher didn't teach biology well. It doesn't mean that there's a problem in the field, it just means he was a lousy teacher. I can deal with that.
Nikole Hannah-Jones:
Yeah, and it's hard. Look, it's hard.
Ian Bremmer:
Yeah, yeah.
Nikole Hannah-Jones:
This subject matter is hard. The 1619 Project is not the Bible and it shouldn't be taught as the Bible. It should be taught as additive to a curricula. And the way that I know that educators are teaching it, one, they're not throwing out the old social studies book, which is also pretty bad by the way. But what they're saying is, here's a different way of seeing this. Let's look at the sources. Do you think that they make the argument? Do you buy it? Teaching that skepticism is critical.
I understand the need for a kind of unifying narrative. That to me shouldn't be the role of educators, but I understand why politicians and others want this unifying narrative. But it can't be a unifying narrative if so many of the people in your country feel excluded from it. I think we can create a unifying narrative. I frankly think my opening essay for The 1619 Project is the most patriotic thing I've ever written. I didn't even realize I had that much patriotism in me. The only way that you can't see that as patriotic is if white Americans can't see themselves in the black American struggle because a black American freedom struggle is a struggle to perfect the ideals of our country. And I think that's something we can all take pride in.
Ian Bremmer:
So given all of this, and clearly there's been progress and not just progress in ending slavery, asking you today in 2021, as divided as this country is economically, politically, vaccines, you name it, what gives you the most hope?
Nikole Hannah-Jones:
Not much.
Ian Bremmer:
Oh, come on. Don't do that to me.
Nikole Hannah-Jones:
No. So the second to the last essay in the book is called Progress, and it's written by Ibram X. Kendi. And it talks about how this sense of progress actually allows us to deal with a great deal of inequality and eliminates for many of us the urgency to act now. So yes, we do have progress. I was not born into a country that allowed racial apartheid like my father was. But we also know that the wealth gap between black Americans and white Americans has been unchanged since the time that Dr. Martin Luther King was assassinated, literally unchanged. The gap in income, unchanged.
So yes, there's progress, but progress only occurs if we make it. It's not natural that saying the arc of the universe is long but it bends towards justice. We either bend it or not, but it doesn't bend on its own. I don't spend a lot of time worrying about hope. I think hope is a action. We either take the action to make the country what we want it to be, but hope alone isn't enough. So to answer your question, I feel hope in my child. And that's about it.
Ian Bremmer:
Nikole Hannah-Jones, thanks so much for joining me on GZERO World.
Nikole Hannah-Jones:
Thank you.
Ian Bremmer:
That's it for today's edition of the GZERO World podcast. Like what you've heard? Come check us out at gzeromedia.com and sign up for our newsletter, Signal.
Announcer:
The GZERO World podcast is brought to you by our founding sponsor, First Republic. First Republic, a private bank and wealth management company, understands the value of service, safety, and stability in today's uncertain world. Visit firstrepublic.com to learn more. GZERO World would also like to share a message from our friends at Foreign Policy, the Paris Climate Agreement, the Iran Nuclear deal. You rarely hear what happens behind the closed doors of the world's biggest agreements until now. On the new podcast, The Negotiators, foreign policy is teaming up with Doha Debates to put listeners in the room. Listen to new episodes every week on Apple, Spotify, or wherever you get your podcasts.
Subscribe to the GZERO World Podcast on Apple Podcasts, Spotify, Stitcher, or your preferred podcast platform to receive new episodes as soon as they're published.