GZERO Daily: the newsletter for people who love global politics
Sign up for our free newsletter to keep up with what's going on around the world - and why it matters.
Subscribe
GZERO Daily: the newsletter for people who love global politics
Subscribe Now

We have updated our Privacy Policy and Terms of Use for Eurasia Group and its affiliates, including GZERO Media, to clarify the types of data we collect, how we collect it, how we use data and with whom we share data. By using our website you consent to our Terms and Conditions and Privacy Policy, including the transfer of your personal data to the United States from your country of residence, and our use of cookies described in our Cookie Policy.
Viewpoint: Don't expect too much from Xi-Biden meeting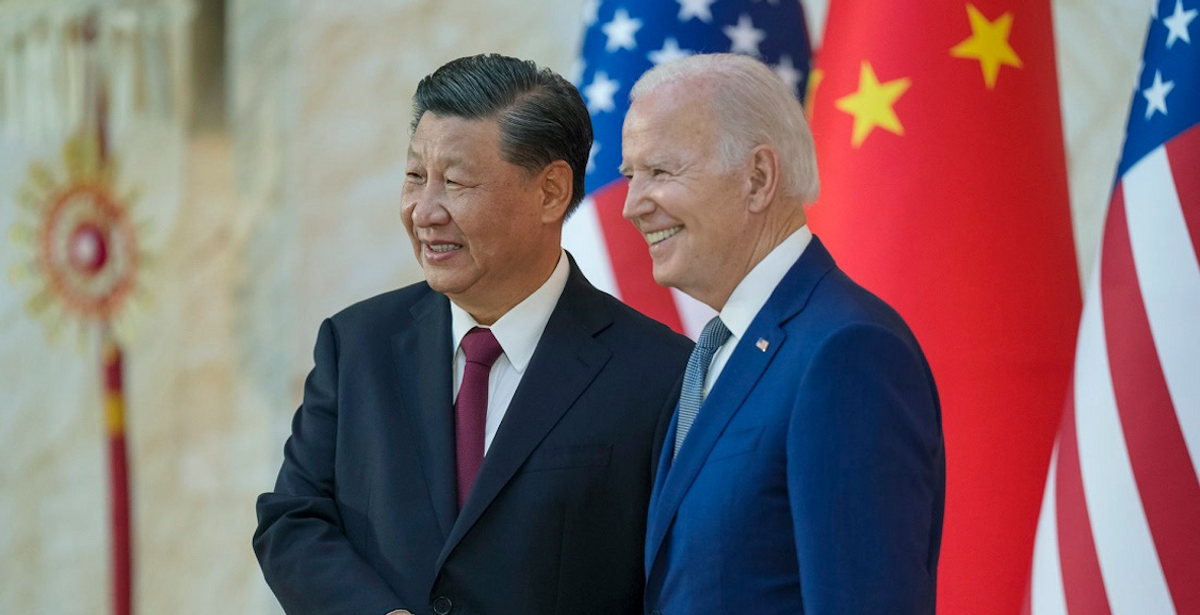 White House/Handout via EYEPRESS via Reuters
Presidents Joe Biden and Xi Jinping are preparing for talks next week to stabilize relations between their two countries and prevent a dangerous flare-up of hostilities over Taiwan. The meeting represents the culmination of months of preparatory work by lower-level officials and is expected to take place on Nov. 14 or Nov. 15 on the sidelines of the APEC leaders' summit in San Francisco.
---
At a time when wars are raging in Europe and the Middle East, any step toward reducing tensions between the world's two leading military and economic powers will be welcomed. But given the fundamental differences between the US and China, how much can we really expect from next week's meeting? We asked Anna Ashton, a director for Eurasia Group's China practice, and Clayton Allen, a director for the United States practice.
Why is this meeting happening now?
Anna Ashton: When the two presidents met on the sidelines of the G20 summit in Bali last November, it was clear they intended to take further steps to stabilize ties. The next one was meant to be a visit to China by Secretary of State Antony Blinken in February to prepare the way for another meeting between the two heads of state. But the discovery of a Chinese surveillance balloon over the US unexpectedly disrupted those plans. For Xi, the APEC summit – a gathering of the heads of state of 21 Asia-Pacific countries – represents a good opportunity to resume the dialog with his US counterpart. It will allow him (and also Biden) to demonstrate to other Asia-Pacific nations that they are managing bilateral relations responsibly. However, if diplomacy had not picked up in recent months, Xi might have opted to send another senior official in his stead.
Clayton Allen: The US push for diplomacy over the summer – which involved the visits of several cabinet officials to China and the creation of working groups to coordinate policies on various issues – was always intended to lead to higher-level engagement. The APEC summit offered a relatively low-stakes option for a meeting to move forward if sufficient diplomatic progress had been made. Put simply, both leaders already wanted to attend the summit, meaning a sideline meeting could be arranged more easily than a meeting in Washington or Beijing. More broadly, this meeting is happening because both sides see benefit in using a high-level meeting to confirm at least some of the progress made this summer in stabilizing the relationship.
What does Xi want from meeting?
Ashton: Xi is hoping to reassure China's neighbors that China is a responsible stakeholder in the region, a responsible power. His willingness to meet face-to-face with Biden in a US venue is an important signal. But the bilateral relationship remains fundamentally one between peer competitors – even adversaries. The room for tangible cooperation remains limited. Xi's expectations are likely modest.
What does Biden want?
Allen: Biden wants some reciprocal diplomatic effort from China, specifically the resumption of military-to-military communication, which China suspended in protest over Nancy Pelosi's visit to Taiwan last August when she was speaker of the US House of Representatives. (China considers such visits to what it views as a breakaway territory an affront to its sovereignty.) This, alongside the multiple working group and staff-level engagement frameworks announced since early August, would bring US-China relations back to roughly the same level they were at before Pelosi's visit to Taiwan. It would also create enough goodwill to avert a potential collapse in relations ahead of Taiwan's January presidential election.
What are the best-case outcomes?
Ashton: Events on the calendar in 2024 could prove enormously disruptive to any progress made this year. Xi will likely use this opportunity to underscore China's top concerns with US policies. He will remind Biden of the importance Beijing attaches to Taiwan's eventual reunification with the mainland, stressing the damage that would be done to bilateral ties if the US moved away from its longstanding One China policy. He will also likely reiterate China's objections to the breadth of US tech restrictions. It is also possible that China will agree to take steps in support of US efforts to end the fentanyl epidemic. The best-case scenario is that the meeting helps to mitigate the potential for volatility in 2024.
Allen: The resumption of military-to-military communication, formalization of the working groups announced since August, and commitments to additional high-level meetings. Additional commitments from China to leverage its influence with the Global South in talks about the Ukraine crisis and efforts to contain the hostilities in the Middle East would be significant positive outcomes.
What are the next watchpoints for the bilateral relationship after this meeting?
Ashton: Taiwan's presidential election on Jan. 13. The candidate most likely to win based on current polling is Lai Ching-te, a member of the Democratic Progressive Party who draws support from Taiwan's most dedicated independence activists. That brings us to a second watchpoint in May, when Taiwan's next president will be inaugurated. During the interim, between January and May, China will likely seek to dissuade the incoming president from adopting a more assertive independence agenda by conducting military maneuvers in the region. The final major watchpoint is the US presidential election in November. The lead-up to the vote is likely to feature heated rhetoric on China from both Republicans and Democrats.
Allen: Additional staff-level meetings. Leader-level meetings are essential to advancing efforts at stabilizing the relationship, but staff-level meetings are where the detailed work will happen. Historically, the US-China relationship has improved in the lead-up to leader-level meetings but declined soon after they have finished; staff-level engagement may mitigate some of this (potential) decline.
Edited by Jonathan House, senior editor at Eurasia Group.