What We're Watching: Chinese drills off Taiwan, Israeli-Palestinian violence, US abortion pills legal drama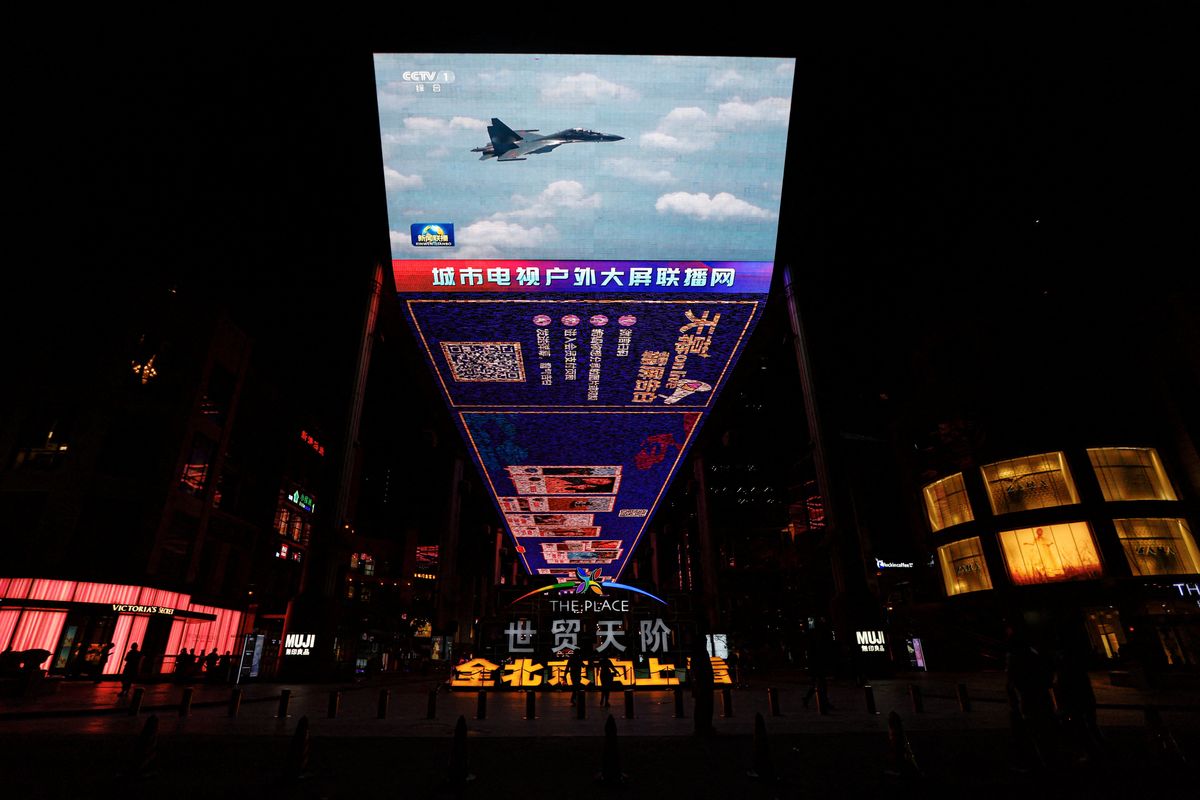 REUTERS/Tingshu Wang
China simulates Taiwan invasion
China "welcomed" Taiwan's President Tsai Ing-wen back from her Americas trip and meeting with US House Speaker Kevin McCarthy by putting on its biggest show of military force near the self-ruled island since McCarthy's predecessor, Nancy Pelosi, visited Taiwan in Aug. 2022.
As part of three days of drills dubbed "Joint Sword" by Beijing, Chinese forces rehearsed an invasion of Taiwan, which split from the mainland in 1949 and China considers a renegade province. The so-called "combat readiness" exercises sent dozens of warships and fighter jets around the island, with many aircraft symbolically crossing the demarcation line in the middle of the Taiwan Strait. Chinese military planners also released an animated video of the simulated strikes with the capital, Taipei, exploding in flames, and the drills concluded Monday with a dry run of an aerial and naval blockade.
On the one hand, China's simulation is a clear message to Taiwan and the US: We're not messing around so don't test our resolve. But on the other, the scale and scope of the drills fall short of China's fiery response to Pelosi's trip, which might indicate that Beijing doesn't want to be the one to escalate.
---
Israel's security situation worsens
Tensions between Israelis and Palestinians reached almost boiling point on Sunday after the last few days saw an unusually high number of violent clashes that have spilled over into southern Lebanon and even Syria.
In Jerusalem, Israeli cops had a tense standoff with Palestinian militants who had barricaded themselves inside the Al-Aqsa Mosque, which Israeli Jews call the Temple Mount and is administered by Jordan. Last week, hundreds of Palestinians were arrested in two predawn raids at the same site in scenes eerily similar to the tensions that sparked a brief Israel-Hamas war two years ago.
Meanwhile, Hamas fired rockets at Israel from the Gaza Strip and southern Lebanon. (Hezbollah said it was not involved but likely signed off on the offensive as the chiefs of the Iran-backed militant group and Hamas met in Beirut.) The Israelis responded with air strikes on Gaza and Lebanon — the biggest flurry of missiles against its northern neighbor since the 2006 war. Israel also hit multiple targets in Syria in response to rockets fired by Palestinian militants into the Golan Heights, a chunk of Syrian territory that Israel annexed in 1981.
On Friday, two British-Israeli sisters were shot dead in the West Bank, and an Italian tourist was killed in a car-ramming attack in Tel Aviv. As the security situation worsens, embattled PM Benjamin Netanyahu is not taking any chances: He's already called up army and police reservists.
The legal future of US abortion medication
We warned you that this was coming. The legal status of abortion pills in the US was thrown into question Friday after two federal judges issued conflicting rulings on the drug mifepristone, used in more than half of all abortions in America.
First, a Trump-appointed, pro-life judge in Texas ordered a temporary stay on FDA approval of mifepristone, which the agency greenlit way back in 2000, giving the Biden administration seven days to appeal before mifepristone becomes illegal nationwide. Less than an hour later, another federal judge in Spokane, Washington, ruled that the drug must remain available in 17 Democratic-run states plus Washington, DC.
Whatever the outcome, the case is as legal as it is political. For one thing, it's the first time that a judge has tried suspending the longtime FDA approval of a drug, blunting the agency's regulatory teeth. Also, if the stay is confirmed, even states where abortion remains legal could be barred from prescribing the pills because the Texas injunction is nationwide. Finally, you can bet the dispute will go all the way to the Supreme Court, where the same conservative majority that overturned Roe v. Wade will rule on such a third-rail issue, possibly in 2024, an election year.