What We're Watching: Brazil braces for "moment of truth," British pound slides, Putin invites chaos, Snowden becomes Russian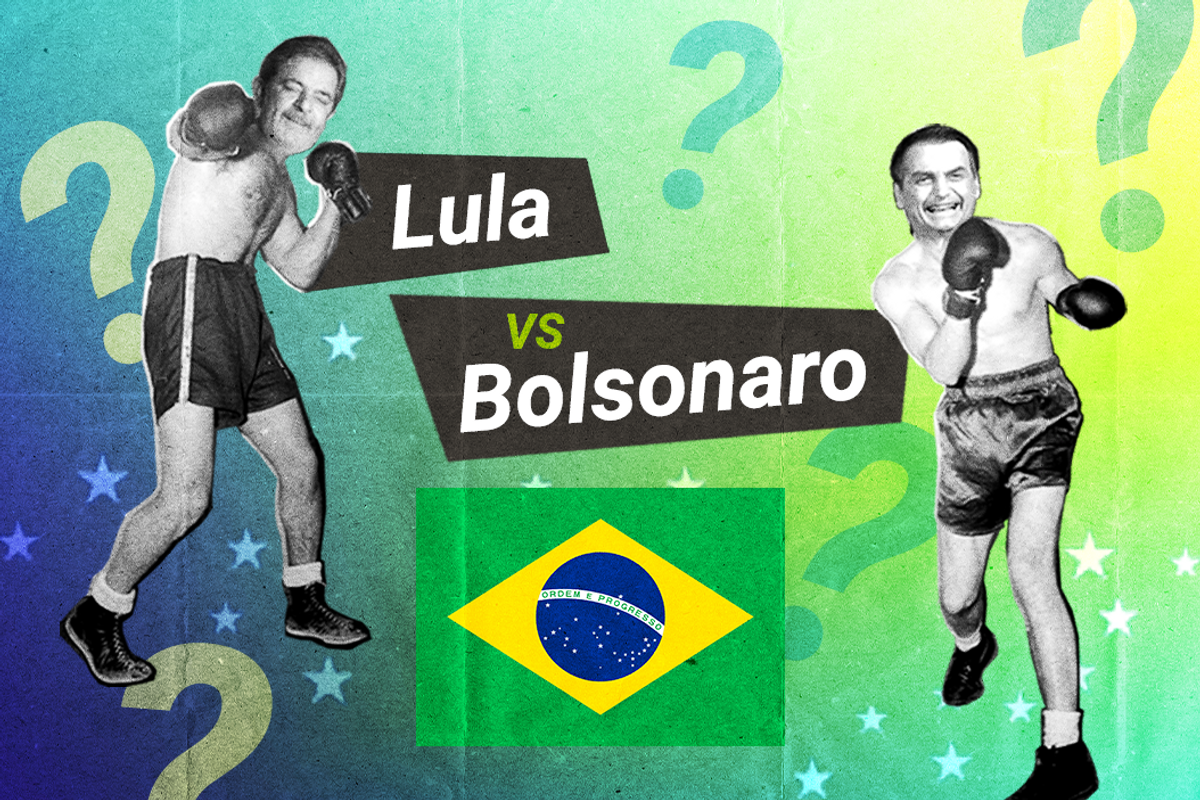 Gabriella Turrisi
Could Lula win it all in Brazil's first round?
For months, mainstream pollsters have consistently shown Brazil's right-wing President Jair Bolsonaro trailing his rival, left-wing former President Luiz Inácio Lula da Silva, by a margin of about 10 points. But a new study shows Lula now has nearly 50% support, the threshold for winning the election in the first round, which takes place next Sunday. How accurate are the polls? Support for Bolsonaro is consistently underestimated because many people are unwilling to admit openly that they'll vote for him. Pollsters say that's bogus and that they have a good track record of measuring public opinion over the years. Regardless of whether Bolsonaro and his supporters believe the polls, a more important question remains: will they believe the result if he loses? He has spent months fomenting doubt about the electoral system. Either way, as Brazil's (pro-Bolsonaro) comms minister Fabio Fara put it to the FT: "the moment of truth is coming."
---
Markets reject Truss's tax plan
The shortest UK premiership to date was 119 days, but stay tuned ... The markets just sent newly installed PM Liz Truss a stark warning over her government's plan to boost borrowing to fund a $45 billion tax cut. Truss says tax cuts should boost spending and economic growth. But thanks to sky-high inflation, prices are already soaring, and more spending makes those costs harder to tame. This runs counter to the Bank of England's monetary policy, which aims to temper inflation by raising interest rates and slowing demand. With these approaches at odds, the British pound dropped to a 40-year low Monday, trading as far down as $1.035. The Bank of England responded to say it won't hesitate to further up interest rates — it just raised the main interest rate last week by 50 basis points — if necessary. The OECD, meanwhile, has downgraded its UK growth forecast for 2023 to zero, and there are growing concerns that Truss's plans could crash the British economy. Some Tory MPs, according to reports, are already mulling a vote of no confidence, but Eurasia Group expert Mujtaba Rahman says that's unlikely unless the pound implodes.
GZERO spoke with former PM Tony Blair in recent days about the post-Brexit battle to pull Britain back from the brink. Hear his thoughts here.
Putin's frantic choreography
Russia's Vladimir Putin has proven again in recent days that he can set in motion chaotic events involving large numbers of people in multiple countries. His sham referenda, which invite Ukrainians in four regions to vote in favor of joining Russia, are coming to an end, and Putin could announce Russian annexation of them later today or during a speech on Friday. His "partial mobilization" of Russian reservists into the army continues. So do the protests and the rush for Russia's exits it has unleashed. Anti-draft demonstrations are especially intense in the mainly Muslim Russian region of Dagestan, which has suffered a higher death toll than any other Russian province. The leader of neighboring Chechnya, the strongly pro-war Ramzan Kadyrov, has exempted his province from the draft in protest against Kremlin policies he says are too generous toward Ukraine. Meanwhile, Ukraine's counteroffensive continues, and Washington promises to continue new financial and military aid, and continues to warn the Kremlin of the consequences of using a nuclear weapon.
What We're Ignoring: Citizen Snowden
As of Monday, Edward Snowden — the former US intel contractor who spilled the beans on massive US spying programs — is a
citizen
of Russia. Snowden has been in Russia for nearly a decade, ever since getting stranded at a Moscow airport while on the international lam from US prosecutors. He joins several other Western icons of varying quality who have become Russian citizens in recent years: martial arts action hero Steven Seagal parlayed the honor into eventually
becoming
Putin's "special envoy" to the US. The tax-shirking French actor Gerard Depardieu also got himself a crimson passport from the Kremlin, but he
evidently lost
it for criticizing Putin's invasion of Ukraine this spring. No word on whether the 39-year-old Snowden, now that he's a citizen, will be forced to join that fight as part of Putin's latest mobilization.
This article comes to you from the Signal newsletter team of GZERO Media. Sign up today.