What We're Watching: Hungary hearts Russian gas, Israeli government in trouble, Ukrainian exodus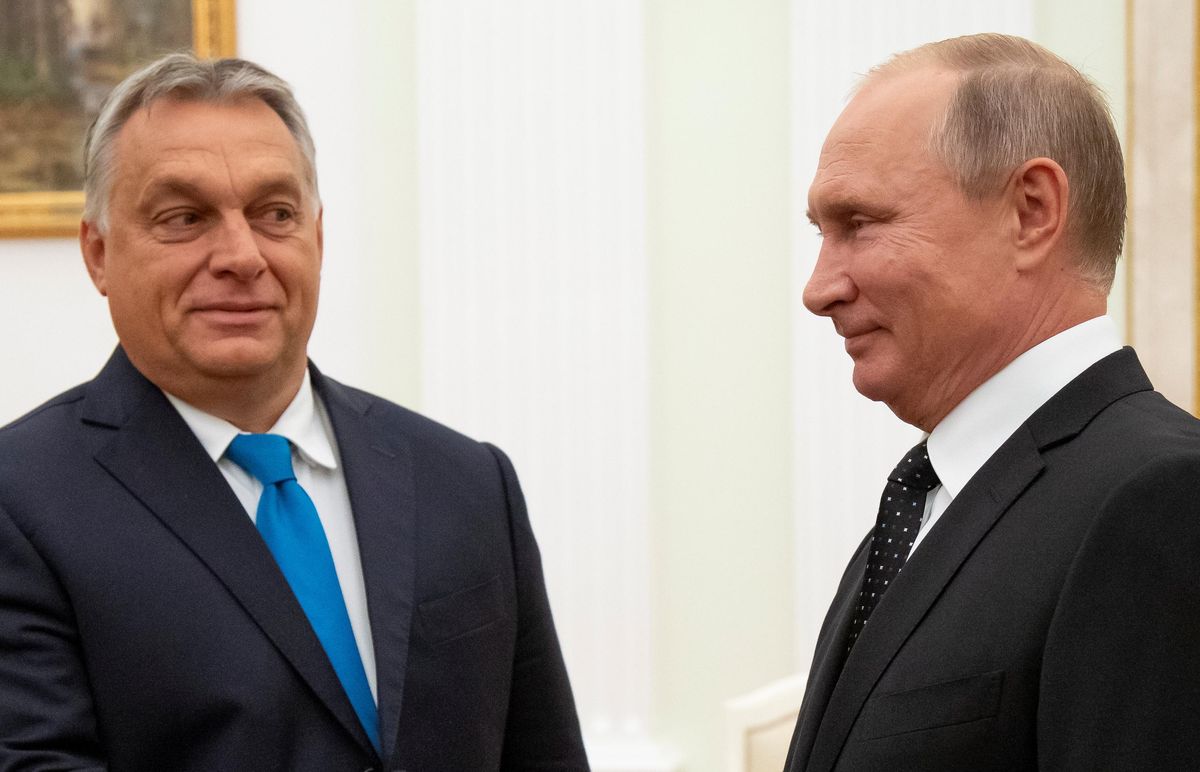 Alexander Zemlianichenko/Pool via REUTERS
Hungry for Russian gas, Budapest will pay in rubles
Fresh off his decisive election victory last weekend, Hungarian PM Viktor Orbán broke with the rest of the EU on a key point of pressure against Moscow on Wednesday, saying he's ready to pay for Russian natural gas in rubles if the Kremlin asks him to. Russian President Vladimir Putin recently threatened to cut off gas entirely to the EU — which relies on Russia for 40 percent of its supplies — unless member states pay for the stuff using Russian currency. Although the Brussels says no way, it's ultimately up to each individual country to decide what it wants to do. Orbán, among the most Russia-friendly leaders in the EU, also runs a country that depends entirely on Kremlin-exported gas. Still, while Budapest may be going rogue against the rest of the EU on this, it wouldn't make much of a financial difference for Moscow: Hungary accounts for just 3% of Russia's gas exports to the continent. Meanwhile, stricter US sanctions — which include Russia's largest bank since Wednesday — are pushing the country closer to a technical default on its sovereign debt.
---
Is Israel headed for yet another election?
Things had been going surprisingly well for Israel's PM Naftali Bennett and his ideologically diverse governing coalition, which many anticipated would collapse immediately after coming to power last summer. But things just got a lot more precarious for Bennett, head of the right-wing Yamina Party. On Wednesday, his coalition lost its parliamentary majority when party whip Idit Silman defected to the opposition (leaving a 60-60 split). Silman was reportedly lured over by the head of the opposition and former PM Bibi Netanyahu. Bennett is now in damage control mode, trying to stave off any more defections. For now, the government can survive without a majority – though it won't be able to pass any serious legislation. More defections could lead to a no-confidence vote and a fresh election, which would be the fifth in three years. Bennett won't have much power but can cruise along. The question is, for how long?
The exodus from eastern Ukraine has begun
As Russia appears to pull its forces from Kyiv and intensify efforts to capture and consolidate land between Russian-occupied territories in the Donbas region and Crimea, Ukrainian and international officials are scrambling to save lives that might be caught in the crossfire. On Wednesday, the International Committee of the Red Cross was finally able to escort a
convoy of vehicles
that evacuated more than 1,000 civilians from the besieged city of Mariupol on Ukraine's southeast coast. For now, tens of thousands remain trapped there. Ukraine's deputy prime minister also
urged residents in the eastern provinces of Kharkiv, Donetsk, and Luhansk
to leave those areas before an expected surge in fighting makes it impossible to stage an organized exit. (Later in the day, an official in Kharkiv questioned whether that was necessary, given Ukraine's military strength.) In short, a pause in the fighting as Russia regroups before launching a renewed assault on eastern and southeastern Ukraine will allow some to escape from newly intensified fighting. Yet, age, illness, and other limitations will leave many more in harm's way.