What We're Watching: Korea vs Korea, Taliban vs Taliban, Haitian PM vs top prosecutor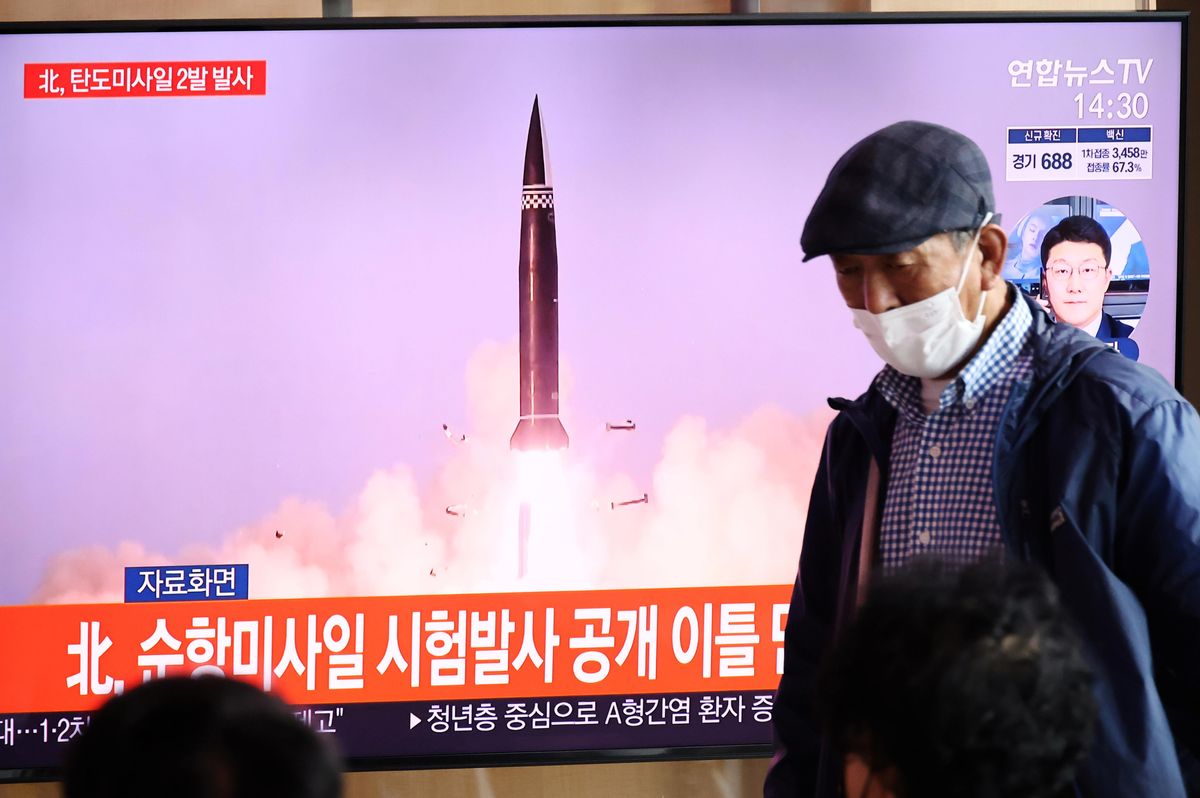 REUTERS/Kim Hong-Ji
North and South Korea trade barbs and missile tests: Just hours after North Korea fired two ballistic missiles into the sea on Wednesday, the South responded by conducting its own first successful test of a submarine-launched ballistic projectile, with South Korea's President Moon Jae-in boasting that it would deter the North's "provocations." Then Kim Yo Jong, the fiery sister of North Korea's Supreme Leader Kim Jong Un, responded to the South's response by threatening to cut all bilateral ties. Although bombastic statements by the Kims are nothing new, things are heating up. With US-led denuclearization talks stalled, Pyongyang carried out its first weapons test in six months a few days ago. Kim may be upping the ante deliberately right now, betting that after the chaotic US withdrawal from Afghanistan, Joe Biden is keen to avoid another foreign policy embarrassment on his watch. Maybe this time Joe will pick up the phone?
---
Taliban infighting: Barely a week after forming a government, senior Taliban leaders are fighting again... with each other. On Tuesday, deputy PM Mullah Abdul Ghani Baradar, who led the group's peace negotiations in Doha and considered conciliatory (by Taliban standards), had a shouting match with the battle-hardened refugees minister over whether diplomats or insurgents should get most of the credit for the Taliban takeover of Afghanistan. Supporters of both sides then brawled in Kabul's presidential palace, where officials now show up to work fully armed, before cooler heads prevailed. The Taliban, for their part, deny there was any argument at all, but it's hard to believe a group that in 2015 admitted covering up the death of its own leader for two years. The Taliban's spiritual leader, Hibatullah Akhundzada, could put an end to the bickering, but he has yet to be seen in public despite technically having the final say on all political, military and religious affairs in Taliban-run Afghanistan.
Haitian PM cans prosecutor:
The Haitian special prosecutor investigating the
July assassination
of President Jovenel Moïse made an astounding accusation earlier this week: current PM Ariel Henry was involved in the crime. In response, Henry
announced
that he had "the pleasure" of firing the investigator, allegedly for administrative errors. The move, which may be unconstitutional — because only presidents have the power to hire or fire prosecutors — deepens the acute political crisis that has gripped Haiti since Moïse's killing. Henry, who
took power
amid confusion about the proper succession to Moïse, brokered an agreement last weekend among the country's warring political forces to form a transitional government until a fresh election and constitutional referendum can be held early next year. But sacking the prosecutor may shake things up again. Complicating things further, Haiti is still reeling from last month's earthquake, which killed hundreds and thrust a gangster kingpin named "Barbecue"
into the spotlight
as a more reliable source of relief than the government itself.