State of the World with Ian Bremmer
WATCH
GZERO Daily: the newsletter for people who love global politics
Sign up for our free newsletter to keep up with what's going on around the world - and why it matters.
Subscribe
GZERO Daily: the newsletter for people who love global politics
Subscribe Now

We have updated our Privacy Policy and Terms of Use for Eurasia Group and its affiliates, including GZERO Media, to clarify the types of data we collect, how we collect it, how we use data and with whom we share data. By using our website you consent to our Terms and Conditions and Privacy Policy, including the transfer of your personal data to the United States from your country of residence, and our use of cookies described in our Cookie Policy.
Is the clock ticking on Biden and Trudeau?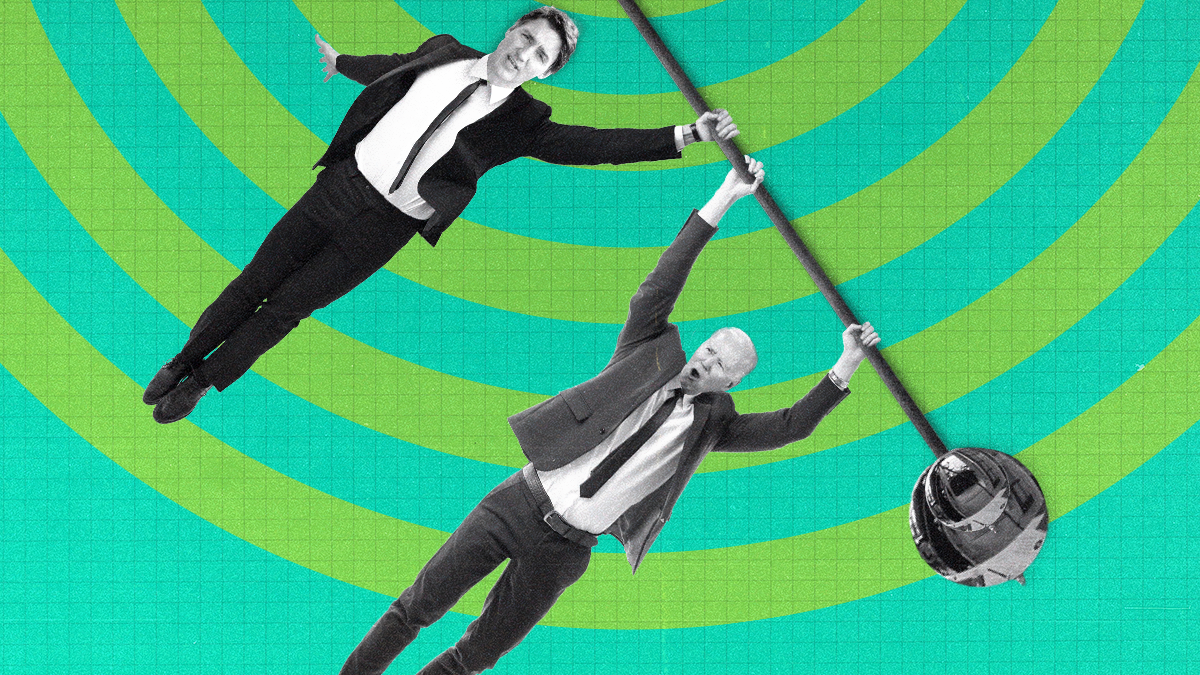 Luisa Viera
Both Canada and the United States suffer from perpetual campaigns.
---
It's worse in the US, where every elected official seems to be raising money and running for reelection all the time, but leaders north of the border feel the pressure, too.
With President Joe Biden set for a reelection bid in November 2024 and Prime Minister Justin Trudeau due to meet voters by October 2025 at the latest, the already frenetic pace of electoral politics is picking up in both countries.
A pendulum swing may be in the works
Right-wing candidates in both countries aim to unseat the progressive incumbents, which means Biden and Trudeau face stiff competition. Biden's chances, at the moment, seem far better than Trudeau's despite some recent polling that may be giving the Democrats cause for pause – or maybe not.
Earlier this week, an ABC/Washington Post poll showed Biden's approval rating at just 37%. What's more, it found Donald Trump, the probable Republican nominee, leading Biden 51 to 42.
The poll, however, was such an outlier that even the pollsters who ran it recognized it as such. Criticism followed, and it's safe to say that it is almost surely not an accurate representation of the electorate. Most polls show a much closer race, with Trump and Biden tied or within a few points of each other.
The picture in Canada is clearer. Trudeau is gunning for his fourth election win in a row – something that hasn't been done by a prime minister in Canada in over a century – but opposition leader and head of the Conservative Party Pierre Poilievre leads by a lot. Poilievre stood out in a recent poll that found 40% of Canadians think he'd be the best prime minister compared to 31% who chose Trudeau. Canada is a multiparty democracy, so hitting 40% with several leaders on option is a strong showing.
Federal polls in Canada have the Conservatives up by four points on average, with some individual polls showing them up by double digits. According to 338 Canada, which tracks polls and models electoral projections, Poilievre's side currently would stand to win 174 seats compared to 105 seats for the Liberals, which is enough for a majority government. The Conservatives are currently showing a 96% chance of winning the most seats.
Economic, aging, and legal matters
In the US, voters are expressing concern about both Biden and Trump – they aren't exactly thrilled with their presidential options. A recent NBC poll echoes the ABC/Washington Post poll's assessment of Biden's flagging approval rating. It also shows that fewer than 40% feel Biden is handling the economy well despite job growth and the country heading for a soft landing. People are still feeling significant economic pressure.
Nonetheless, Biden might be safer on the economy than a quick glance suggests, especially since economic hopes are on the upswing. Clayton Allen, US director for Eurasia Group, says "The economy is doing just well enough for Biden." He points out there's just enough optimism out there with people's personal economic outlooks that there's "some positive sentiment among voters around the economy." If things keep improving, such as the declining probability of a recession and the Fed's ability to hold interest rates steady, that will boost Biden's chances in 2024.
But any recent good news for Biden on the economy has to be tempered by the risk that economic sentiments take a turn. Recent numbers show optimism softening.
Beyond pocketbook issues, however, the electorate is also concerned by the candidates' ages. According to NBC's poll, a combined 74% have major or moderate concerns about the president's "necessary mental and physical health to be president for a second term."
Biden is 80 years old. Trump is 77.
Trump is also facing multiple indictments and was just found to have committed fraud in New York state. The NBC poll found that 62% of respondents had major or moderate concerns about Trump's many legal woes.
Media coverage of the two is shaping a 2024 election narrative that is priming voters to evaluate each candidate on particular metrics. "The narrative around Biden has been for quite a while that his age is the most important factor for assessing his fitness for office," Allen says. The one about Trump "has focused on his legal challenges and his position in the party." The looming showdown for 2024 seems to be Biden's age and fitness versus Trump's (un)lawfulness.
In response, the White House has crafted a plan – parts of which pre-existed recent polling – to keep Biden fit and, just as importantly, looking fit. Of note, Democrats have had a recent run of favorable election results, which could serve as a proxy for the upcoming presidential race, suggesting an edge for Biden over Trump.
Canada focuses on affordability
Canadians are expressing their own fatigue with the current leadership and economic frustrations, particularly on housing and affordability. In recent weeks, the Trudeau government has gone all-in on the housing file, removing the sales tax from the construction of purpose-built rental units. They've also made a push to "stabilize" the cost of groceries – which grew 8.5% year over year in July. Food prices have been a significant issue in the country.
The government seemed to be gaining some traction on affordability issues of late – concerns that will determine the outcome of the next election. But events conspired last week to shift the national focus and some of the government's attention.
Trudeau's allegation last week that India assassinated a Canadian on Canadian soil shocked the country and the world. Days later, during a visit to address parliament by Ukrainian President Volodymyr Zelensky, the speaker of the House of Commons, Anthony Rota, welcomed a World War II veteran in the gallery who "fought for Ukrainian independence against the Russians." He noted the man was a "Canadian hero" and a "Ukrainian hero" before the chamber, including Trudeau and Zelensky, and the chamber gave him a standing ovation. But it turns out that the veteran in question was in a Nazi SS division.
Rota has since resigned, and while Trudeau had nothing to do with the scandal, Conservatives are blaming him for the debacle – and there's a good chance some voters will, too. This was the last thing Trudeau needed, particularly since questions about whether he can even last until 2025 are already circling. An August poll found a majority of Canadians thought he should go ahead of the next election.
With more than a year to go before the presidential election and as many as two years before a Canadian contest, no outcome is guaranteed. Elections matter, and the time ahead of them leaves plenty of opportunities for events and shifting fortunes to do their thing. Plus, not everyone has made up their mind.
"Polling this far out from the general election is inherently compromised," notes Allen. "People are still very much deciding what their position is going to be, especially voters who are persuadable to either side." This is true on both sides of the border, but current numbers suggest that by 2025, we're more likely to see Biden in the White House than Trudeau in the prime minister's chair.
The pendulum may end up swinging, but Biden stands a better chance of holding on for another term.