What We're Watching: Chile's new prez, Manchin sinks Biden's agenda, Russian NATO wishlist, Australia vs China, Afghan trust fund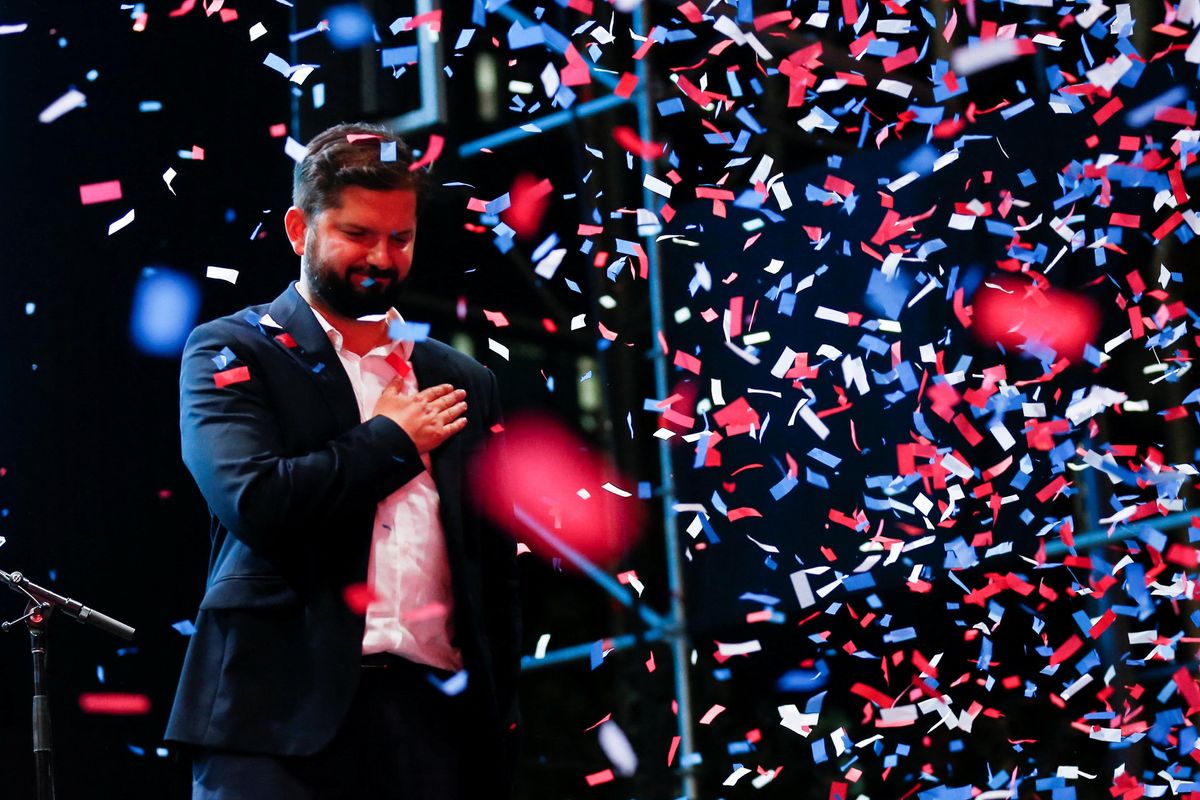 REUTERS/Rodrigo Garrido
Boric wins in Chile. In the end, it wasn't even close. Faced with two diametrically opposed choices for president in Sunday's presidential runoff, more than 55 percent of Chilean voters went with leftwinger Gabriel Boric instead of his far-right opponent José Antonio Kast. The ten-point gap was so wide that Kast conceded before the count was even done. Boric, 35, now becomes the youngest president of any major nation in the world. Elected just two years after mass protests over inequality shook what was one of Latin America's most reliably boring and prosperous countries, Boric has promised to raise taxes in order to boost social spending, nationalize the pension system, and expand the rights of indigenous Chileans. But with the country's legislature evenly split between parties of the left and the center-right, the new president will likely have to compromise on his sweeping pledge to make Chile the land where neoliberalism "goes to its grave."
---
Joe sinks Joe. It looks like US President Joe Biden has come to the end of the road with his $1.75 trillion Build Back Better Plan, now that Sen. Joe Manchin (D-WV) has announced flatly he'll vote "no." With the Senate split 50-50, Biden needs every Democrat vote in the chamber. The White House haggled with Manchin for months — "dancin' for Manchin", you might say. Biden even cut the proposed spending in half. But the moderate Manchin said he still "couldn't get there" because of concerns about the deficit, and further stoking already high inflation. Republicans, of course, are ecstatic, because passing BBB is Biden's key pitch for Americans to vote for Democrats in next year's midterms and re-elect him (or another Democrat in his place) in 2024. It's not too late to reach a fresh compromise on the bill, but the longer the Dems keep squabbling, the longer their odds of retaining control of Congress next November.
Russia makes its demands. With 100,000 Russian troops at the Ukrainian border, Moscow released a bombshell list of demands for the "West" on Friday. Among other things, NATO must relinquish any right ever to expand further eastward, and must stop sending its troops or ships anywhere that could conceivably threaten Russia. What's more, the Russians are impatient: they want the US to discuss these proposals right now. The US is happy to talk, but won't give the Kremlin a veto over the choices that sovereign nations want to make about their own security alliances. The Ukrainians, naturally, agree, and on Monday President Volodymyr Zelenskiy will meet with his counterparts from Poland and Lithuania to emphasize the point. We're watching to see what the US comes back with — one version of a maximalist response would look like this — and what, precisely, Russia is prepared to do if it doesn't like what it sees.
For Beijing, there is thunder Down Under. Tensions between Australia and China just keep rising. After China responded to Aussie requests for a COVID investigation by imposing devastating tariffs and unofficial bans on Australian exports in 2020, Oz is pushing back hard now. Canberra on Friday accused China of "economic coercion," while cybersecurity officials publicly confirmed malicious attacks against Australia by Chinese spy services working with Chinese telecom giant Huawei. The Aussies also say Chinese intelligence vessels are snooping around in Australia's Exclusive Economic Zone. These accompany several clearly pro-American moves this year: the Aussies have signed on to AUKUS, an exclusive military club with Washington and London that gives them access to unprecedented weapons tech, are allowing the buildup of US military infrastructure (read, bases) on its soil, and joined America in a diplomatic boycott of the 2022 Beijing Winter Olympics. But the Australians are taking the tensions directly to China's neighborhood, too. Canberra just signed a $770 million weapons deal with South Korea, including tech to build Howitzers — really, really big artillery guns. And even though the spat between the two continues, there is evidence that Australia, while heavily dependent on trade with China, is successfully pushing for diversity in trade partnerships.
An Islamic trust fund for Afghanistan.
They didn't officially recognize the Taliban government. They didn't even allow the Taliban's foreign minister to appear in the official group photograph. But foreign ministers from the 57-member Organization of Islamic Cooperation, the second-largest intergovernmental organization after the UN, met in Islamabad on Sunday and
pledged
to set up a trust fund to address the worsening humanitarian crisis in Afghanistan. Neither the exact amount of the fund nor the contributions by member countries was released, but may not match the $4.5 billion that the UN has
appealed
for aid to Afghanistan amid
warnings
that the Afghan economy is in a free-fall, with 23 million facing starvation. The lead organization of the fund will be the
Islamic Development Bank
, the OIC's in-house global lender.