What We're Watching: Erdogan picks 10 fights, Sudanese coup, Bosnia on the brink, Chilean right-winger surging, G-20 split on climate, Colombia nabs top narco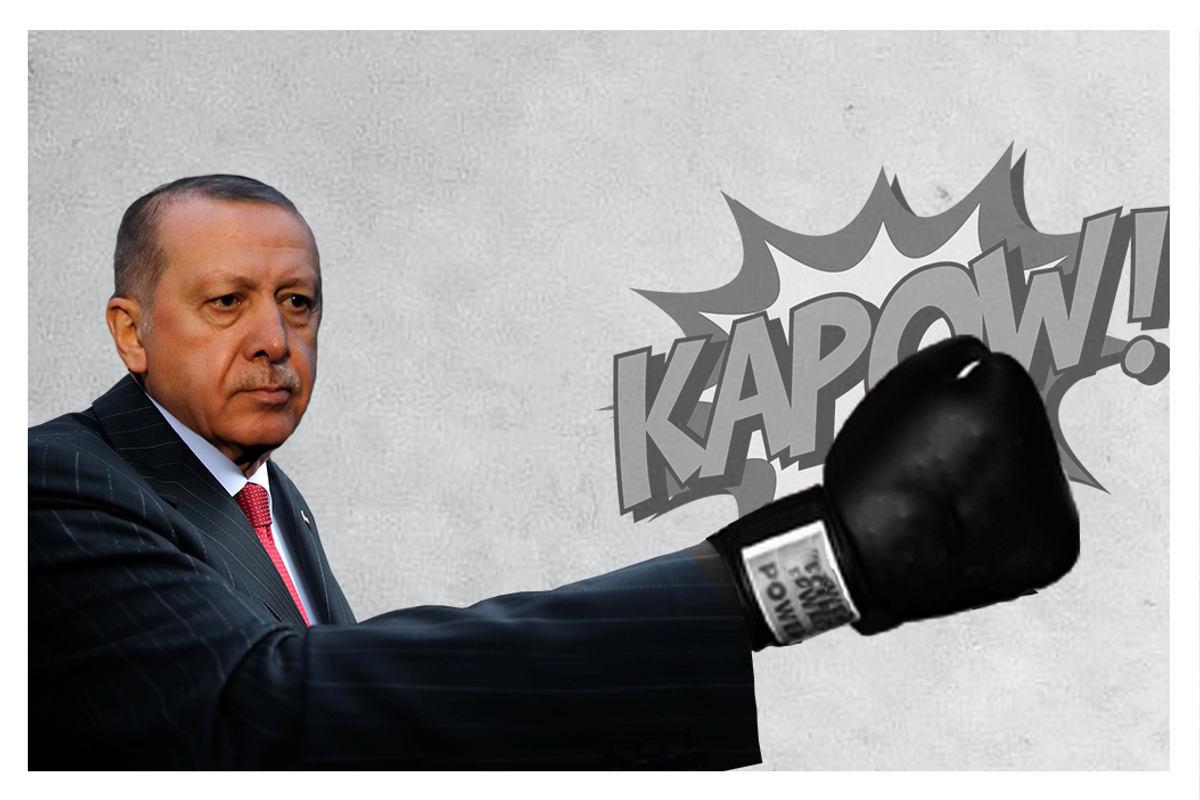 Annie Gugliotta
Turkey's Erdogan ups the ante with the West: Turkey's President Recep Tayyip Erdogan has declared diplomats from 10 Western countries "persona non-grata" after the group — which includes the US, France, and Germany — called on Ankara to release Osman Kavala, a Parisian-born Turkish businessman who's been held in jail since 2017 but hasn't been charged with a crime. Erdogan says that Kavala was involved in an attempted coup against the government in 2016. This latest move is a sign of Turkey's authoritarian drift in recent years, which has seen Erdogan's government increasingly crack down on opposition members as well as journalists. It also reflects Turkey's increasingly fraught relations with the West: things got particularly bad between Washington and Ankara after Turkey purchased missile defense systems from the Russians in 2019. The Council of Europe (the continent's leading human rights organization) had previously warned that Ankara has until November to release Kavala or it would impose "infringements," though it's unclear what those would be.
---
Coup in Sudan: Sudanese soldiers have seized power in a coup, arresting the head of the transitional civilian-military government and declaring a state of emergency. In recent days, Khartoum has been rocked by rival protests from pro-democracy groups and supporters of the military wing of the government, which the latter wanted to dissolve entirely. What's more, a blockade set up by a pro-military tribal leader in eastern Sudan had interrupted the flow of goods and food to the capital — a recipe for disaster in a country already experiencing sky-high inflation and shortage of basic products. The possibility of a military takeover by troops loyal to former dictator Omar al-Bashir has haunted Sudan since Bashir — now pending trial for war crimes in The Hague — was ousted in 2019. The situation got even more tense as we got closer to the November deadline for the military to hand over control to the civilian wing in the supreme council, which has the final say on all national matters under a power-sharing agreement. That deal was supposed to pave the way for elections in 2022, but the coup has changed the equation.
Bosnia on the brink: Bosnia is facing its worst political crisis since the end of the bloody Yugoslav civil war in 1995, which pitted ethnic Bosnians against Serbs and Croats and left more than 100,000 dead. What's going on? Well, when that war ended, the peace agreement created a special enclave within Bosnia for ethnic Serbs — the better to keep warring ethnicities apart. This has always been a messy arrangement, but now the nationalistic leader of that enclave, Milorad Dodik, is threatening to secede altogether, amid a spat over new laws meant to ban denial of the genocide that Serbs carried out against Bosnian Muslims during the war. A breakup of Bosnia could quickly lead to serious violence, and both the EU and US staunchly opposed the move. But Dodik is undaunted. He says that Serb-only institutions will be in place as soon as November. Asked how he'd pull this off, Dodik — who recently oversaw provocative military drills that spooked Bosnia's other ethnic groups — responded: "as the Slovenes did it." That's a not-so-veiled reference to the breakup of former Yugoslavia, which led to years of bloodshed. Indeed, it's not a good omen, and raising fears of a return to the deadly violence of the 1990s.
Right-winger on a roll in Chile: José Antonio Kast, an ultra- conservative politician who pines for the days of Augusto Pinochet's dictatorship, has ridden a wave of anti-immigrant sentiment to the top of the polls ahead of next month's presidential election. He's currently at 21 percent, one point ahead of leftist former student leader Gabriel Boric. Talk about political whiplash: it was just a few months ago that Chileans elected a broadly leftwing constituent assembly to rewrite the country's Pinochet-era constitution in the wake of mass protests about inequality. But Kast, an avowed free-marketeer and social conservative, has tapped into rising resentment against the vast numbers of migrants – in particular from Venezuela and Haiti – who have arrived in the country in recent years. Last month, for example, saw an outbreak of violence against Venezuelan refugees in the northern city of Iquique. Kast has called for digging ditches along the borders and wants a special police force to root out illegal migrants. In the last presidential election, Kast got less than 8 percent of the vote. This time he's making a race of it.
G-20 members split on climate ahead of COP26: Just before the COP26 climate summit kicks off in Glasgow on October 31, the leaders of the world's top 20 economies will meet in Rome to discuss climate change, soaring energy prices, and post-pandemic recovery. But the G-20 remains divided between Western countries – like the US and the EU – demanding firm commitments from all member countries on cutting carbon dioxide emissions, and top polluters like China, India, and Russia who say that demand is unreasonable given that many Western nations have benefited from fossil fuel use for decades. Of these three outspoken countries, only India's PM Narendra Modi will travel to Rome, which makes it unlikely that any meaningful progress will be made ahead of the landmark summit in the UK. Meanwhile, US President Joe Biden is in a tough spot: ahead of a trip to Europe this week, he was hoping to have secured billions of dollars in new climate funding from Congress, but his ambitious plans remain stuck due to divisions within his own party. More broadly, if no consensus is reached in Rome, it'll raise the stakes even more for Glasgow — and the planet can't wait any longer for politicians to make up their minds.
Colombia nabs top drug kingpin:
Colombian security forces have
arrested
Dairo Antonio Usuga, the most-wanted drug kingpin in the country since Pablo Escobar. Usuga – known by his alias Otoniel – is head of the notorious Gulf Cartel, and will likely be extradited to face a slew of charges in the US, which had a $5 million bounty on his head. While some say Otoniel's capture is a big win for Colombia, others say that rather than striking a blow against narco-related violence, the strategy of
taking down kingpins
creates more power struggles within cartels, in turn leading to more violence and bloodshed. This was the case following the 1993 death of Escobar and the 2016 arrest of "El Chapo" Guzmán in Mexico. Still, if Otoniel spills the beans on his operations in exchange for a lighter sentence in America, that could provide critical intelligence for Colombian and US drug enforcement to better target other narcos at a time when large swaths of rural Colombia are now ruled by gangs, contributing to regional instability.
An earlier version of this article stated incorrectly that the Council of Europe was the EU's largest human rights organization. We apologize for then error.