What We're Watching: Suu Kyi on trial, Blinken in Israel, Mali coup 2.0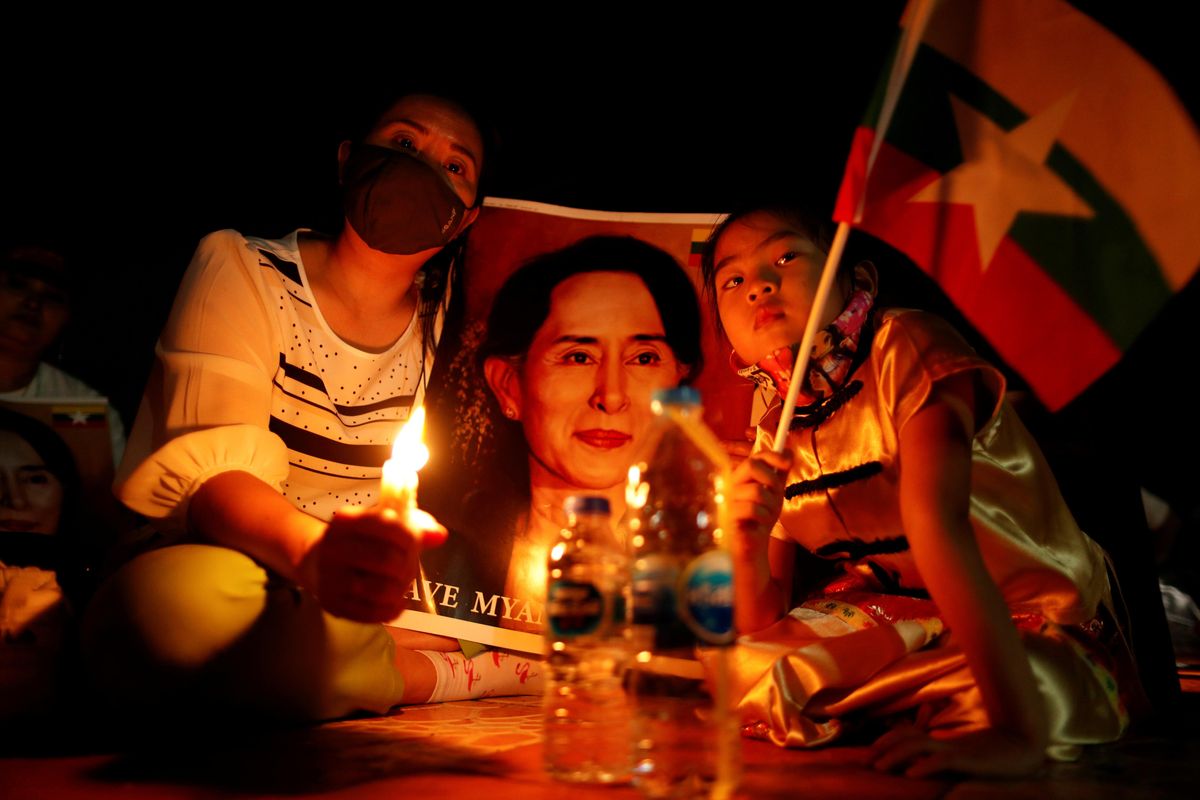 REUTERS/Jorge Silva
Suu Kyi in the dock: Myanmar's former leader Aung San Suu Kyi on Tuesday made her first court appearance since the military coup that deposed her last February. Suu Kyi, 75, faces uncorroborated charges — ranging from illegally importing walkie-talkies to breaching COVID rules — that could put her behind bars for the rest of her life. The National League for Democracy, Suu Kyi's political party that defended her in court, is now also at risk as the military junta is trying to dissolve it — mainly because it trounced the pro-military party in the December parliamentary election. Myanmar's generals seem to think that they can go back in time to the days of complete dominance if they throw Suu Kyi in jail and ban the NLD. But they may be underestimating the popular appetite for democratic change in a country where the military is as powerful as it is unpopular. Whatever the junta decrees, expect the NLD to continue its political activities underground and in exile.
---
Blinken on tour: Less than a week after a ceasefire went into effect between Israel and Hamas militants in the Gaza Strip, US Secretary of State Antony Blinken has touched down in the region for a tour. Blinken met on Tuesday with Israel's Prime Minister Benjamin Netanyahu, where he listed the following as threatening a viable two-state solution between Israeli Jews and Palestinians: "Settlement activity, demolitions, evictions, incitement to violence, payments to terrorists." Blinken also met Palestinian Authority President Mahmoud Abbas in Ramallah, as well as other leaders of Palestinian civil society. The Secretary of State hopes to provide a steady presence amid a tenuous truce, but he did reiterate America's commitment to rebuilding the Gaza Strip after recent Israeli airstrikes. Blinken warned, however, that no money would go to Hamas, which is designated a terror group by the US State Department. In a significant development, he also announced that the US would reopen its Jerusalem Consulate – whose autonomous Palestinian affairs office was downgraded under the Trump administration – in a bid to boost ties with Palestinians.
Another coup in Mali?
Last August, Mali's democratically elected government was
toppled in a coup
led by Col. Assimi Goita, who emerged from that dustup as interim vice president. Now, he has detained the transitional president, prime minister and defense minister for not consulting him before forming a new government, and
seized power
himself. Goita says next year's general election will go ahead as planned, but that until then he will head the transitional government. Meanwhile, neighboring countries, as well as former colonial power France and the African Union, condemned the move and demanded the release of the detained leaders. Goita, for his part, denied this is another coup, referring to his move as a mere "
cabinet reshuffle
." Mali is now set to experience fresh political instability amid rapidly worsening insecurity in the broader
Sahel
region, where jihadists groups are taking advantage of weak governance to control vast swaths of territory. Jihadist violence claimed over
2,800 lives
in Mali in 2020, the bloodiest year to date in the mineral-rich state.