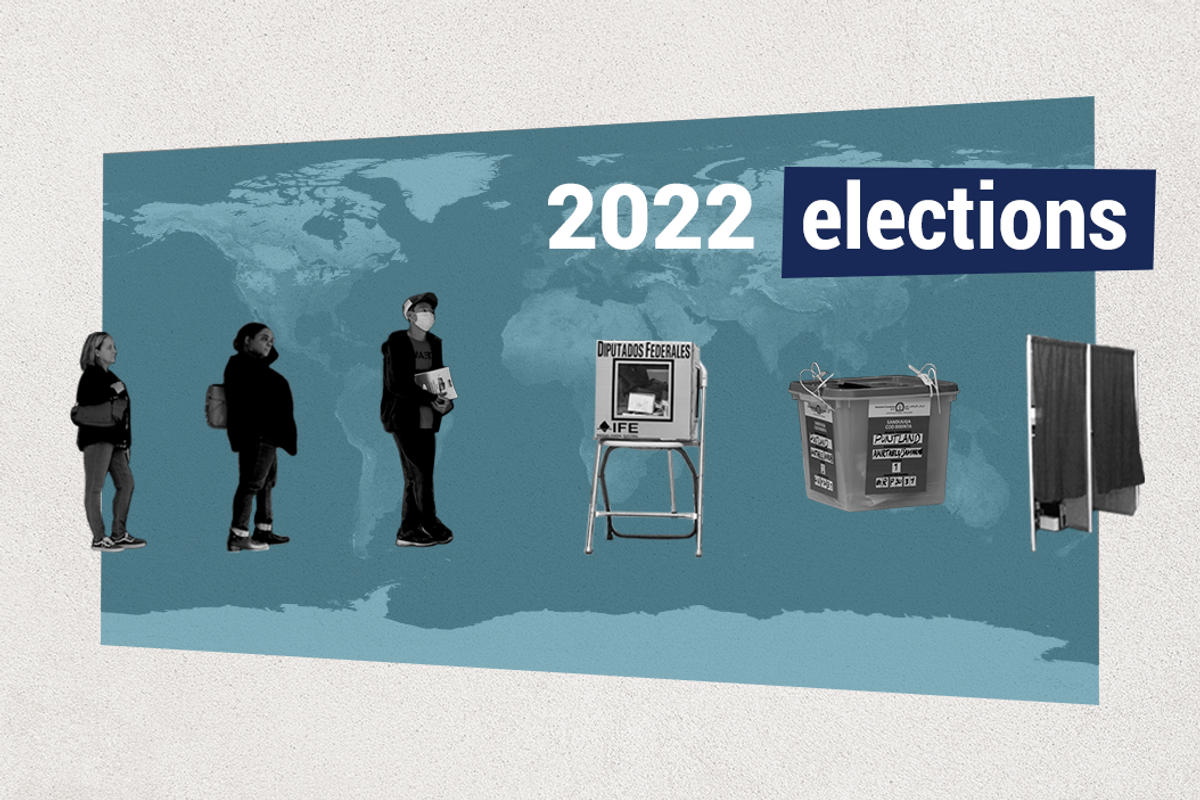 Annie Gugliotta
We have lots of big elections on deck in 2022. Today we'll preview five that will feature high international stakes and especially colorful candidates.
---
France (April) — President Emmanuel Macron is expected to seek re-election, and at this early stage he looks likely to win. Marine Le Pen, an anti-EU far-right firebrand, appears set to try to rebrand herself yet again in hopes of earning a second-round rematch with the centrist Macron, who defeated her by nearly 2-1 in their head-to-head battle in 2017. But Le Pen will be elbowed on one side by center-right establishment candidate Valérie Pécresse. On the other, she'll face constant pressure from France's new election wildcard, Eric Zemmour, a TV personality who claims left-wing elites want to consolidate power by replacing white French citizens with immigrants from North Africa and the Middle East.
Hungary (April) — Here the outsized personality belongs to incumbent Viktor Orbán, Hungary's prime minister since 2010, who now faces his toughest election challenge to date. Though Orbán insists he wants Hungary to remain within the EU, criticism of the union forms a central part of his appeal to loyal supporters. His moves in recent years to tighten his grip on power, stack the country's courts with loyalists, silence media critics, close the country's borders to non-EU migrants, and restrict the rights of LGBT people have earned pushback from the EU. But the big story here is that six opposition parties have joined forces with the single aim of ousting Orbán.
Colombia (May-June) — Colombians will choose a new Congress in March, but it's the presidential election in May and June that might make history. For now, Senator Gustavo Petro, a former Marxist guerrilla and mayor of Bogotá, is the wildcard to watch — and the favorite to win. He owes part of his popularity to his own formidable political gifts. But he's also helped by the unpopularity of the incumbent, Iván Duque, and a year of controversy and public frustration over Duque's botched tax reform and pandemic response plans. (Duque is term-limited, even if he weren't politically toxic.) A Petro victory would mark a major political turning point in Colombia, traditionally a center-right country in which decades of war with Marxist militants — and the ongoing disaster next door in socialist-led Venezuela — have long stigmatized leftist politics at the national level.
Brazil (October) — Many recent elections around the world have pitted a charismatic populist against a defender of the political establishment. Not so in Brazil next year, where October's presidential election will feature a battle for the ages between incumbent right-wing lightning-rod Jair Bolsonaro and former president Luiz Inácio "Lula" da Silva, one of Latin America's most dynamic left-wing populists. Critics have hammered Bolsonaro for his dismissive attitude toward COVID, and he's aroused anger by denouncing the integrity of the election itself. Lula is well ahead in early polls, but Bolsonaro's popularity has risen recently on promises of cash help for the poor, a decidedly off-brand maneuver for a leader who usually dismisses the need for empathy in policymaking. These two brilliant political performance artists will probably deliver the most volatile election of 2022.
US midterms (November) — Much of the US political drama next year will come directly from Donald Trump. The former president and master showman hopes to use November's midterm congressional elections to tighten his grip on the Republican Party ahead of the 2024 presidential election. In many ways, the hotly contested races for majority control of Congress will be a referendum on increasingly unpopular President Joe Biden, and on Democrats too busy arguing with one another to deliver on some of their grandest campaign promises from 2020. But Trump's active backing for Republicans who signal personal loyalty to him and his agenda against more independent-minded GOP incumbents makes this set of midterms — as well as state and local elections — less predictable than most.
We'll also be writing in the coming weeks about upcoming elections in South Korea,
the Philippines
, Australia, Kenya, and elsewhere.