The Democratic debate: foreign policy makes a comeback!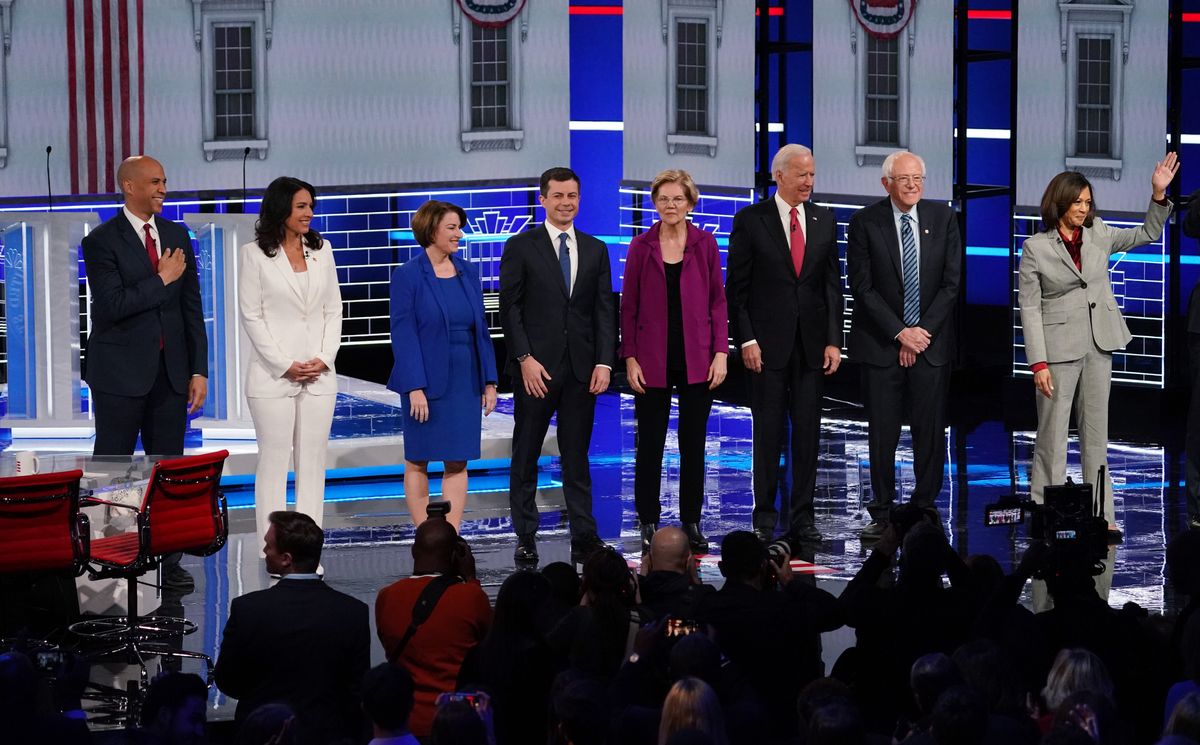 Foreign policy was, finally, a central topic in last night's fifth Democratic presidential debate. Perhaps it was the inspiration of co-moderator Andrea Mitchell, a veteran foreign affairs correspondent for NBC. Or maybe it was the fact that the debate coincided with the impeachment inquiry, which is drawing renewed attention to the state of US alliances. Whatever the reason, we're glad it happened, and here are some key takeaways about how the Democratic field views important foreign policy issues:
---
The Saudis are on notice – Several candidates criticized the Saudi government over its role in last year's brutal murder of journalist Jamal Khashoggi as well as its disastrous intervention in Yemen, which has sparked a full-blown humanitarian crisis. Former Vice President Joe Biden warned that he'd make it "very clear" that he wouldn't "sell more weapons to them." It's worth noting that it was during Biden's tenure as Vice President during the Obama administration – Biden was Barack Obama's deputy; in case you didn't know – that one of the largest US-Saudi arms deals was negotiated. Senator Cory Booker also condemned the Saudis for human rights violations in Yemen but didn't offer much by way of concrete policy proposal. "We will stop engaging in things that violate American rights," he said, vaguely, about his broader foreign policy. Bernie Sanders went a step further, arguing that the US-Saudi relationship should be downgraded, calling the kingdom a "brutal dictatorship" because of its abysmal treatment of women and disregard for "democracy." Interestingly, when Senator Amy Klobuchar was asked directly about the Saudis' bad behavior she demurred: "We need a new foreign policy in this country, and that means renewing our relationships with our allies."
The Palestinians, remember them? Bernie Sanders was the only candidate to bring up the Israeli-Palestinian conflict, noting that while he is "pro-Israel," the status quo in Gaza is simply "unsustainable." Vast media attention given to Sanders' call to treat the Palestinian people with "respect and dignity" shows just how little attention this issue gets at the debates, and in Beltway foreign policy discussions more broadly.
Mending fences with allies –America's deteriorating relationships with allies was a major theme of the night. Senator Cory Booker lambasted President Trump for putting tariffs on Canada at a time when unity is needed "to show strength against China." Meanwhile, Joe Biden criticized the president for "ostraciz [ing] us from South Korea," and offered a vague proposal on fostering old alliances – a sentiment echoed by tech entrepreneur, Andrew Yang. It's worth noting that while Joe Biden, the ultimate centrist Democrat, has said he wants to restore America's pre-Trump foreign policy – "a return to normalcy" – Senators Elizabeth Warren and Bernie Sanders, and Congresswoman Tulsi Gabbard, have all called for a major reevaluation of America's role as a global leader, arguing that US troops shouldn't be sent to fight in far-flung conflict zones.
What's your vision? Candidates across the stage agreed on this: Trump's foreign policy is chaotic and unreliable. Senator Amy Klobuchar criticized the president for "leaving the Kurds for slaughter," while Senator Kamala Harris said Trump's erratic approach to foreign affairs is "born out of a very fragile ego." Meanwhile, Tulsi Gabbard was as on-brand as ever, saying she'd discontinue "the Bush-Clinton-Trump foreign policy doctrine of regime change war." But in focusing largely on the president, these candidates failed to address the bigger question: Trump, for better or worse, has challenged decades of accepted wisdom on America's role in the world, rejecting the post WWII assumption that the US should be the world's policeman and financier. In that, he is reflecting the views of a generally war weary public that sees little value in being a global superpower. What would the Harris Doctrine look like? The Klobuchar Doctrine, anyone? We're still none the wiser.