The EU's big Eastern problems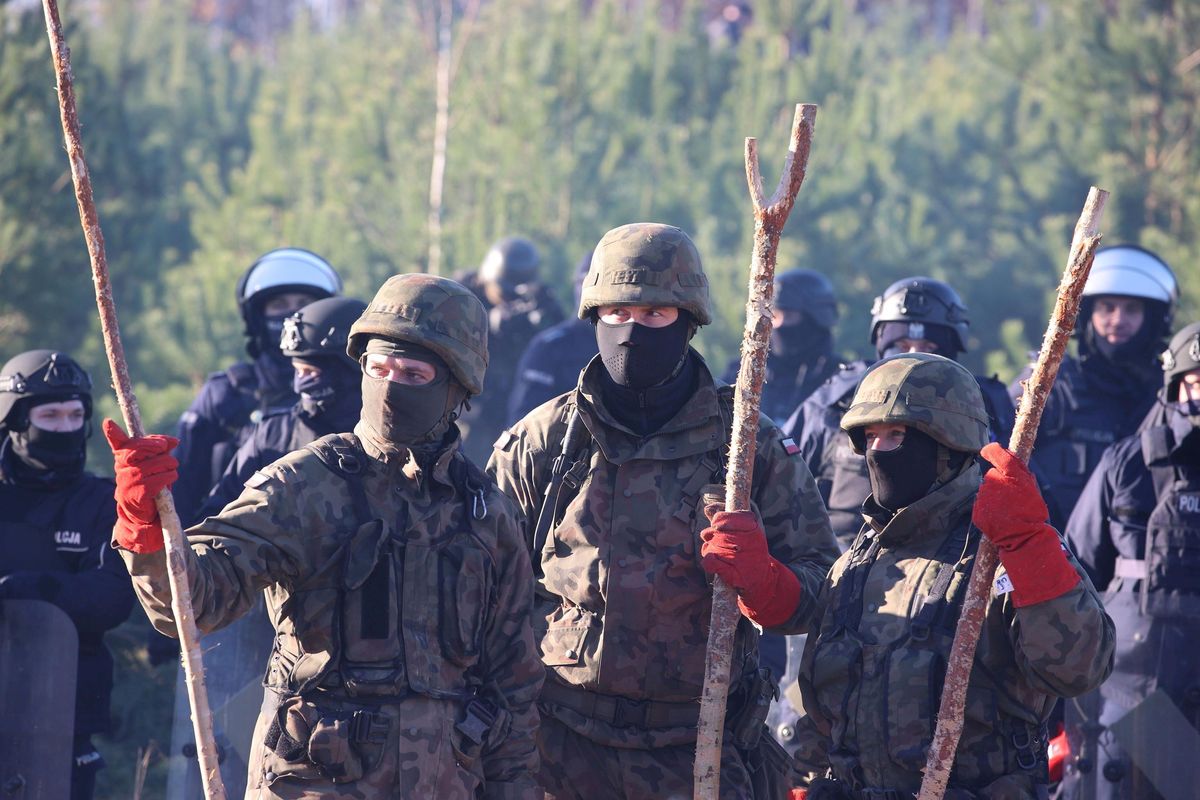 Leonid Scheglov/BelTA/Handout via REUTERS
Let's take a trip along the eastern fringes of the EU today, where two big problems are brewing at a time when Brussels seems particularly unable to respond effectively.
---
Our first stop is along the frigid and bleak border of Belarus, where thousands of migrants, mostly from the Middle East, have been trying since June to cross into EU member states Lithuania and Poland.
In recent days, tensions at these borders have escalated significantly. The migrants, allegedly driven forward by Belarusian police, are trying to break through Polish border fences. Lithuania, which initially let some of the migrants in, has now declared a state of emergency. The Poles, meanwhile, have sent some 12,000 troops to the border to stop them, and Polish officials accuse Belarusian troops of firing warning shots in the air to intimidate their Polish counterparts.
European officials say Belarus is using the freezing and malnourished migrants as pawns in a diplomatic showdown with the EU, which last year imposed sanctions on strongman president Alexander Lukashenko over his sham 2020 re-election and human rights abuses, as well as his hijacking of a Ryanair flight last May. But even if that's true, EU critics point out, the Europeans had months to prepare a coherent plan to manage this border problem — and failed to act. An ongoing spat between EU officials and the Polish government over rule of law issues has made matters worse: the Poles haven't asked EU border authorities for help.

Lukashenko, for his part, says Poland's troop movements pose a threat to Belarus and blames the EU and US for the instability that is pushing people from the Middle East to seek refuge in Europe in the first place.
The EU, caught off guard, is now threatening to slap even more sanctions on Lukashenko's regime and to punish the airlines that are ferrying would-be migrants to Minsk from countries like Iraq, the UAE, Lebanon, and Turkey. That could raise hackles in EU member Ireland, where many of the companies that lease planes to the airlines are based.
But more sanctions don't look likely to change Belarusian behavior. Particularly when Lukashenko's old frenemy Vladimir Putin is eagerly egging him on. And while the EU has managed other refugee problems by simply paying neighboring countries — like Libya or Turkey — to prevent migrants from reaching EU borders, that's not an option here: you can't send money to a government you are sanctioning.
Now, let's fly a thousand miles southeast, to the marchlands of eastern Ukraine and southern Russia, where the Kremlin has recently begun (again) massing troops along a Ukrainian "border" that isn't much of a boundary. It's more a porous line of demarcation administered by Russia and the Kremlin-backed separatists who control parts of eastern Ukraine.
Moscow has deployed some 90,000 troops to the region, raising lingering fears about Russia's broader designs on Ukraine. The US calls the buildup "unusual." And it's alarming enough that CIA director Bill Burns reportedly discussed the matter with Putin in Moscow last week.
Recall that back in April Russia brought as many as 150,000 troops into the area, before slowly drawing them back. What's Moscow up to this time?
To be clear, it's hard to imagine that the Kremlin intends to invade (and occupy) a significant piece of Ukraine. The cost in Russian money and lives would not be popular at home.
But Putin likes to rattle that sabre every so often, in part to remind Europeans and Americans that he can. And lately Russia is feeling particularly prickly: Moscow cut ties with NATO last month and is upset about US warships sailing around the Black Sea. The recent delivery of $60 million worth of US military aid to Ukraine didn't go over well in the Kremlin either.
With winter coming, it's actually a great moment for Russia to flex a little muscle. Europe is currently mired in an energy price crisis caused by a shortage of natural gas. The one country that could help alleviate that pressure is, of course, major exporter Russia. But the Kremlin — which is still under a raft of sanctions in response to its 2014 invasion of Ukraine — has refused to open the taps until Russia is treated better by Brussels.
Upshot:
Once again, some of the EU's most intractable problems rise in the East. And things aren't going to get any easier once experienced crisis manager Angela Merkel retires next month.