What We're Watching: US gun-control deal, Indian protests, Macron's majority, Biden goes to Saudi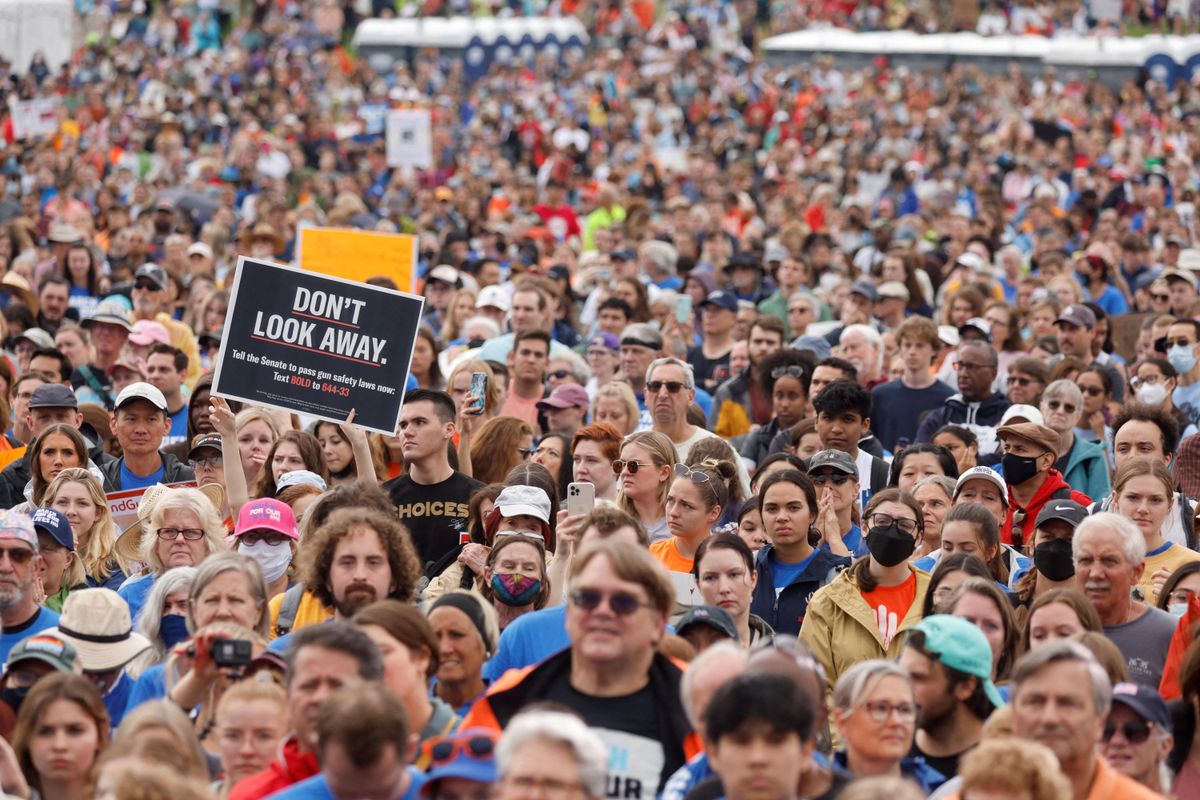 REUTERS/Jonathan Ernst
US Senate reaches compromise on guns
On Sunday, a group of 20 US senators announced a bipartisan framework on new gun control legislation in response to the recent wave of mass shootings. The proposal includes more background checks, funding for states to implement "red-flag" laws so they can confiscate guns from dangerous people, and provisions to prevent gun sales to domestic violence offenders. While the deal is much less ambitious than the sweeping ban on assault weapons and universal background checks President Joe Biden called for after the massacre in Uvalde, Texas, it's a rare bipartisan effort in a deeply divided Washington that seeks to make at least some progress on gun safety, an issue on which Congress has been deadlocked for decades. Biden said these are "steps in the right direction" and endorsed the Senate deal but admitted he wants a lot more. The announcement came a day after thousands of Americans held rallies on the National Mall in the capital and across the country to demand tougher gun laws. Will the senators be able to turn the framework into actual legislation before the momentum passes?
---
Prophet protests grow violent in India
Protests across India over the government's failure to punish two officials from the ruling BJP party for making derogatory remarks about Islam and the Prophet Mohammad turned violent over the weekend, with two demonstrators shot dead by police in Jharkhand state. In Uttar Pradesh, cops razed houses belonging to Muslim protesters as hundreds were arrested and mass gatherings were banned. Although India has seen communal tensions for decades, the new wave of protests is growing, with Muslims clashing with police, Hindu mobs, or both, ranging from as far east as Bengal to as far west as Kashmir. Why? Because the BJP handled the controversy like just another day at the office, suspending one official and firing the other after almost all Islamic countries in the region — including Saudi Arabia and Iran, which rarely agree on anything — demanded corrective action from the government. PM Narendra Modi's foot-dragging on this issue is deeply resented by many of India's 200 million Muslims, who feel they've been marginalized under Modi's Hindu nationalist government, and by many Islamic countries that trade with India.
Vote throws Macron's parliamentary majority in danger
French President Emmanuel Macron's centrist Ensemble (Together) Party looks set to win the most seats in parliament after the first round of voting on Sunday, but projected results show it might fall short of an outright majority. Ensemble was tied at 25.2% of the vote with Nupes, the resurgent left-wing coalition led by firebrand candidate Jean-Luc Mélenchon. Macron's party is projected to secure 260-310 seats in the National Assembly, where the magic number is 289. The French president needs a parliamentary majority to carry out his ambitious reform agenda. Without it, his government will have to form ad-hoc parliamentary alliances to win votes on individual proposals like raising the retirement age from 62 to 65, which Mélenchon strongly opposes. Far-right leader Marine le Pen, who lost the presidential election to Macron in April, called on her supporters to abstain wherever Ensemble candidates are running against Nupes challengers in the second round of voting next Sunday, when voters will have another go in constituencies where no one candidate got 50%.
Risks and rewards await Biden in Saudi Arabia
The White House, after changing the itinerary, is expected to announce President Joe Biden's first trip to Saudi Arabia as early as Monday. What an about-face for Biden, given his earlier rebukes about the Saudi human rights record and not giving dictators blank checks. The trip includes a meeting with Crown Prince Mohammed bin Salman, aka MBS, who an American intelligence report says was the signing authority on the Jamal Khashoggi murder (this obviously hasn't gone down well with Khashoggi's widow). But there's an element of realism at play here: MBS is likely to rule Saudi for decades, and Riyadh needs to sign the Abraham Accords in order to really stabilize the Middle East. The groundwork has been set by friends: the Israelis have been lobbying for the trip, while British PM Boris Johnson and French President Emmanuel Macron have already met MBS and encouraged Biden to do the same. In a big get for Washington, the Saudis might have some welcome gifts: ousting Russia from the OPEC+ group of oil-producing countries led by Riyadh or perhaps announcing the normalization of ties with Israel. But don't expect anything to change on the Saudi human rights front.