What We're Watching: China's problems, UAE vs Houthis, Nord Stream 2 split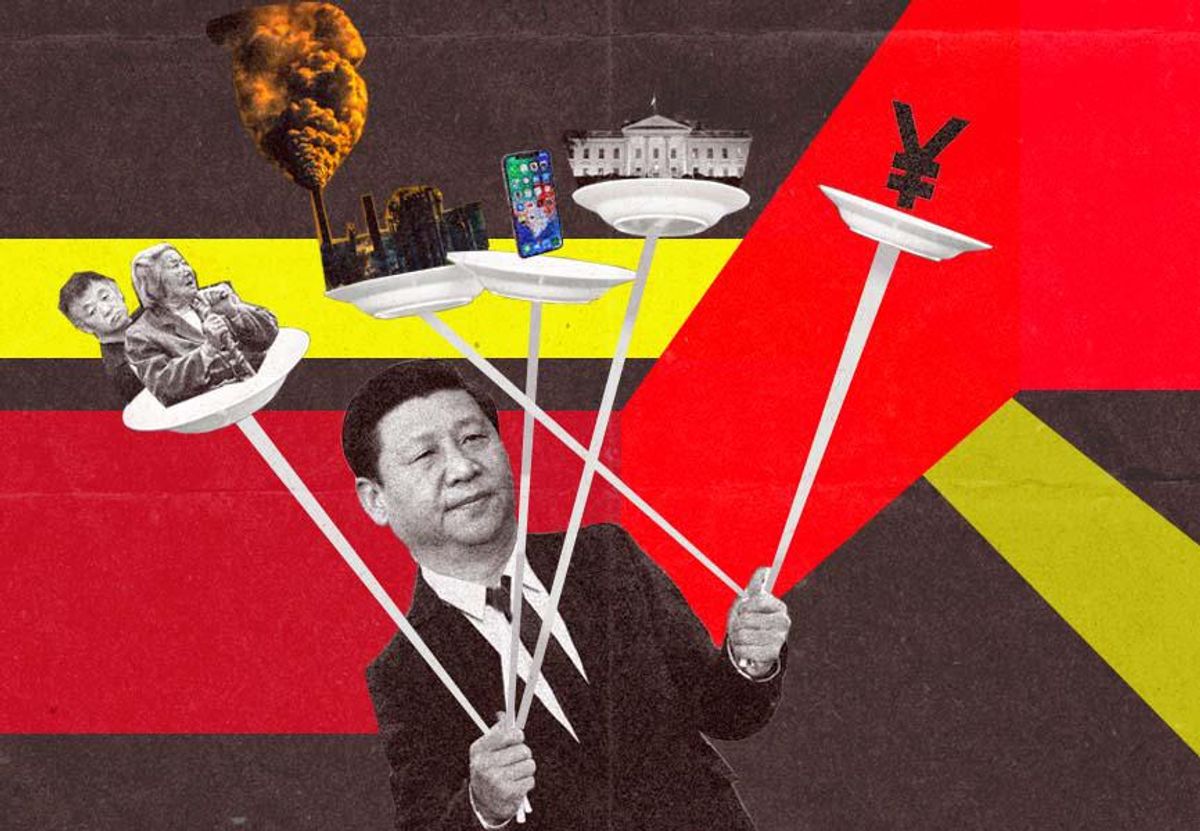 Annie Gugliotta & Jess Frampton
China's mounting problems. Xi Jinping is not off to a good start in 2022. First, Chinese economic growth slowed down to 4 percent in the last quarter of 2021, almost a percentage point less than the previous period. While annual GDP was up 8.1 percent year-on-year, beating government expectations, the trend is worrying for the world's second-largest economy. Second, annual population growth fell in 2021 to its lowest rate since 1949, when the ruling Communist Party took over. Although Xi probably saw this one coming, he's running out of ideas to encourage Chinese families to have more children — which the government needs in order to sustain growth and support the elderly over the long term. Third, and most immediate: the upcoming Beijing Winter Olympics canceled ticket sales for domestic spectators — foreigners were not invited — as the more transmissible omicron variant has driven up COVID infections in China to the highest level since March 2020. It's only the latest sign that Xi's controversial zero-COVID policy is setting itself up for failure against omicron without mRNA vaccines. What'll it take for China to reverse course?
---
Drones, deserts, and demands. Although it has long been interfering in Yemen's civil war, the United Arab Emirates has been avoiding direct conflict with the Houthis for years. Not anymore. A drone attack at the Abu Dhabi port targeting oil tankers has killed at least three people, and been claimed by Yemen's Iran-backed rebels. The Emiratis don't share a border with Yemen, from where the Houthis have targeted neighboring Saudi Arabia for its backing of government forces in Yemen's eight-year civil war. That, along with an unannounced ceasefire between the Emiratis and Houthis, has led to zero attacks against the UAE since 2018. But as recent operations by UAE-backed groups have started targeting Houthi forces, Abu Dhabi now finds itself ensnared in an intensifying confrontation with the rebels. Thus, it has demanded that the US re-designate the Houthis as a terrorist group, as the Trump administration did in 2020 and Joe Biden reversed when he took over.
German government split on Nord Stream 2.
Just weeks after taking power, two members of Germany's new three-party coalition government
disagree
on what to do about the Nord Stream 2 pipeline, which carries (more) Russian natural gas to Europe under the Baltic Sea. The leftist Greens, led by Foreign Minister Analena Baerbock, want to hold off on Germany certifying the pipeline until Russia backs down on its thinly-veiled threats to
invade Ukraine
. But senior members of the center-left SPD, the majority partner in the coalition, would rather leave Nord Stream 2 out of the
ongoing talks
between the US, NATO, and Russia to avert war because Germany needs a steady supply of Russian gas. Chancellor and SPD leader
Olaf Scholz
, for his part, is walking a tightrope between not undercutting Baerbock and keeping the Russian gas flowing. Vladimir Putin obviously wants Nord Stream 2 to be certified ASAP to gain leverage with Ukraine — now a transit country for Europe-bound overland Russian gas — without hurting Moscow's European customers, while the Biden administration would like Germany to keep the ace up their sleeve as long Putin keeps bullying Ukraine.