What We're Watching: MBS on tour, Lithuania vs. Russia, Spain's moderate swing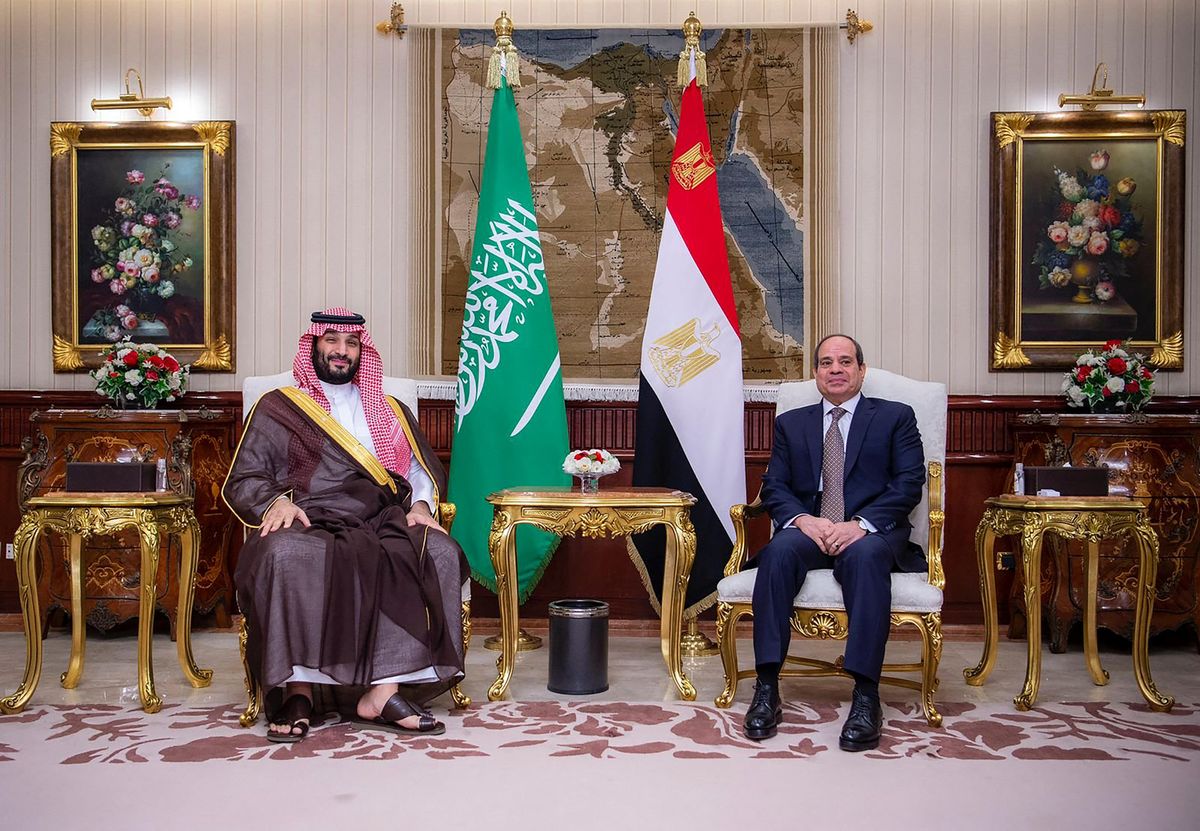 Saudi Press Agency/Handout via REUTERS
MBS makes BFFs ahead of Biden visit
With barely a month until his controversial summit with President Joe Biden, the Saudi crown prince is on a regional tour this week to show that he's hardly the "pariah" that America's president once promised to make him. In Jordan, Mohammed bin Salman will look to patch up a monarchy-to-monarchy relationship that became strained last year over allegations of Saudi involvement in a plot to overthrow King Abdullah II. The Jordanians hope MBS's visit leads to a resumption of lavish Saudi financial support. In Egypt, Crown Prince Mohammed will be highlighting Riyadh's tight relationship with the Arab world's most populous country. Egyptian strongman Abdel Fattah el-Sisi enjoys strong backing from the Saudis, who have gifted or invested billions of dollars in Egypt in recent years. But the most significant stop on MBS's tour will be in Turkey, where always-dicey relations between the regional rivals nearly broke off entirely over the Saudi government's 2018 murder of Saudi dissident journalist Jamal Khashoggi in Istanbul. But with Turkey looking for financial help to right a listing economy, and MBS looking to shore up ties with a mercurial member of NATO, it seems that bygones are bygones.
---
Kaliningrad set to be next flashpoint?
Leaders of NATO countries have taken extraordinary steps to ensure that Russia's war against Ukraine doesn't extend into NATO territory. So far, they've been successful. But the Russian government says it's furious that Lithuania – a former Soviet Republic that's now a NATO and EU member – is blocking Russian goods shipments to Kaliningrad, a Russian exclave set between Lithuania and Poland that's hundreds of miles away from the rest of Russia. Kaliningrad, home to about 1 million people, is a strategically important spot. It's home to Russia's Baltic Fleet headquarters and, though Russia denies it, there may also be nuclear-capable Iskander missiles stored there. Lithuania is now blocking rail supplies from Russian territory to Kaliningrad, which Russia claims is a violation of international law. Lithuania says it's simply enforcing an EU ban on the transport through EU territory of a range of Russian products, from heavy machinery to luxury goods. If Lithuania keeps it up, Russia would be forced to ship the equipment to Kaliningrad's port on the Baltic Sea. But Moscow warns that Lithuania will face "serious" consequences unless it allows the trains to pass. The EU has backed Lithuania's refusal to resume the rail shipments, so it's up to President Vladimir Putin to decide how high tensions will rise.
Spain swings to the center
In late 2018, an election in the southern region of Andalucía upended Spain's politics after Vox became the first far-right party to win representation since the late 1970s. Vox later exploded nationwide and is now the third-largest force in parliament. But on Sunday, another vote in the same bellwether region, Spain's largest and most-populated, saw the traditional center-right People's Party secure an outright majority for the first time, while Vox fell short of expectations. What's more, the ruling center-left PSOE party, which until recently dominated Andalusian politics, got its worst result ever there. The PP has been riding high in the polls since it picked the moderate Alberto Núñez Feijóo to lead the party following a messy internal crisis, and now its odds of returning to national power in 18 months are looking good. Amid an increasingly polarized political environment and rising inflation, Feijóo is pitching himself as an anti-populist nerd to voters fed up with parties that won't talk to each other, and as a pair of safe hands to manage the economy in turbulent times. Will making Spanish politics boring again take him all the way to La Moncloa?