What We're Watching: Zelensky's Bakhmut message, Rishi's post-Brexit win, Trudeau's take on Haiti, Ethiopia's peace progress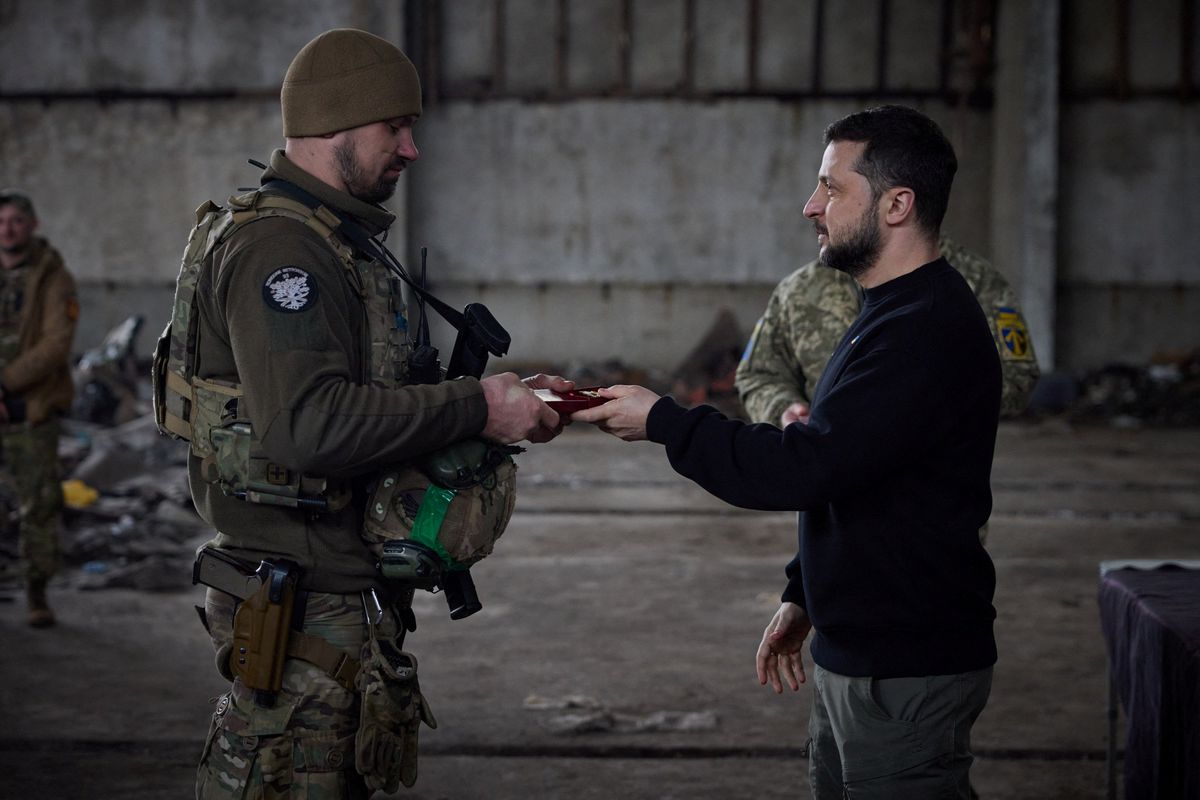 Ukrainian Presidential Press Service/Handout via REUTERS
Russia and Ukraine score points where they can
Volodymyr Zelensky visited frontline troops in war-ravaged Bakhmut, located in Ukraine's eastern province of Donetsk, on Wednesday as Russian drones struck across the country. While planning for the trip was surely well underway before Vladimir Putin's surprise stop in Russian-occupied Mariupol last weekend, the contrast underlined Zelenksy's signal of defiance.
By appearing in Bakhmut very near the fighting, Zelensky reminded the world that, six months after Putin mobilized 300,000 new Russian soldiers for a deeper advance into Ukraine, even the small city of Bakhmut remains beyond their grasp.
In other war news, Russia has warned it will respond harshly to shipments from the UK to Ukraine of anti-tank munitions made from depleted uranium. Moscow claims this step adds an escalatory nuclear element to the conflict. In response, the UK insists the Russian position is propaganda, that the use of depleted uranium is common in anti-tank weapons, and that it contains nothing that can be used to make nuclear or radiological weapons. Finally, Russia has announced a plan to raise an additional $8 billion in revenue by changing the way oil profits are taxed.
All these stories underscore the reality that, while little has changed on the battlefield, Russians and Ukrainians are still looking for every small advantage they can gain in what looks increasingly like a war of attrition.
---
Has Brexit got "done" yet?
In a win for PM Rishi Sunak, the British House of Commons on Wednesday passed a reworked post-Brexit deal for Northern Ireland, which was agreed to last month with the European Commission.
Essentially, the proposal known as the Windsor Framework creates two lanes for trade: a faster-flowing green lane for goods transiting only between Britain and Northern Ireland and a red lane with more rigorous customs checks for goods bound for Ireland and elsewhere in the EU. It is unlikely to come into effect for several months as details are ironed out, officials say.
Still, despite the big margin of victory, more than 20 Tories – including Sunak's two predecessors Liz Truss and Boris Johnson – voted against the measure, with Johnson saying it would mean that the UK won't be able to fully embrace the benefits of Brexit (what benefits, he didn't say). It also signals that in the run-up to next year's general election, Sunak will continue to deal with a vocal Euroskeptic wing within his party.
Meanwhile, six representatives from Northern Ireland's Democratic Unionist Party also rejected the vote, suggesting that the DUP would not lift its boycott on the Northern Ireland legislature, which began almost a year ago. The lack of resolution on this front will make for awkward optics as President Joe Biden heads to Belfast next month to mark the 25th anniversary of the Good Friday Agreement that ended the Troubles.
Trudeau's take on Haiti
President Joe Biden heads north on Thursday for his first presidential visit to Canada, where he and PM Justin Trudeau are expected to discuss a variety of issues, from defense and immigration to trade and Ukraine (see our look at likely agenda items here). But Biden is also expected to make some demands about … Haiti.
The situation in the Caribbean nation has deteriorated in recent months. Police have lost control to local gangs, and more than 200 Haitians were killed in the first half of March alone.
The Biden administration is reluctant to get more involved itself but wants Canada to take the lead in addressing the chaos in Haiti. Why Canada? The country has a long track record as a peacekeeper and has had prior involvement (for better or worse) in Haiti, making it an obvious choice from Washington's perspective. An uptick in Haitian migrants seeking entry to the US and Canada raises that urgency further.
But Trudeau says that "outside intervention" can't bring long-term stability to the country, and it's hard to argue with the historical record on that. Meanwhile, many in Haiti worry that outsiders would merely prop up unelected acting PM Ariel Henry. And it didn't help that Haiti's largest newspaper ridiculed the recent deployment of two Canadian ships to patrol the coast.
All of this puts Trudeau in a tough spot: Biden wants him to be a reliable security partner beyond Ukraine, but the political fallout from a failed entanglement in Haiti could be disastrous for him. While the Canadian leader will likely make a commitment of some sort for Haiti, will it be enough to satisfy Biden or change the dynamics in Haiti itself?

*From trade and migration to defense, culture, and technology, the US and Canada need each other more than ever. To meet the moment, GZERO Media is launching GZERO North, a new weekly newsletter offering an insider's guide to the very latest political, economic, and cultural news shaping both countries. Subscribe today!
Ethiopia, TPLF take steps in tenuous peace
The Ethiopian government is removing the Tigray People's Liberation Front from its list of terrorist organizations, part of a peace deal with the rebel group signed last November. The decision moves the country closer to what observers hope is an enduring peace after a brutal two-year civil war that has claimed an estimated 600,000 lives.
The situation is very delicate. The agreements don't include all of the various combatants and are vague about who controls certain disputed territories. And while all sides reportedly committed war crimes, many Tigrayans believe the deal doesn't hold the Ethiopian federal government accountable. PM Abiy Ahmed's resistance to a UN investigation inspires little hope.
Still, the momentum is towards peace, for now. Economic interests are part of the reason why. Ethiopia is in bad shape, as the country is wracked by famine, drought, and an estimated reconstruction price tag of $20 billion. A lasting peace would enable Ethiopia to reopen two-year-old talks with the IMF on a $26 billion loan restructuring plan, which was interrupted by the war. Still, with so much bad blood – will these incentives be enough to bind the former combatants to a durable peace? All parties must still tread very carefully …