Catch up on GZERO's coverage of the UN General Assembly (UNGA 78)
WATCH
GZERO Daily: the newsletter for people who love global politics
Sign up for our free newsletter to keep up with what's going on around the world - and why it matters.
Subscribe
GZERO Daily: the newsletter for people who love global politics
Subscribe Now

We have updated our Privacy Policy and Terms of Use for Eurasia Group and its affiliates, including GZERO Media, to clarify the types of data we collect, how we collect it, how we use data and with whom we share data. By using our website you consent to our Terms and Conditions and Privacy Policy, including the transfer of your personal data to the United States from your country of residence, and our use of cookies described in our Cookie Policy.
What's Ukraine's "strongest position" 100 days into the war?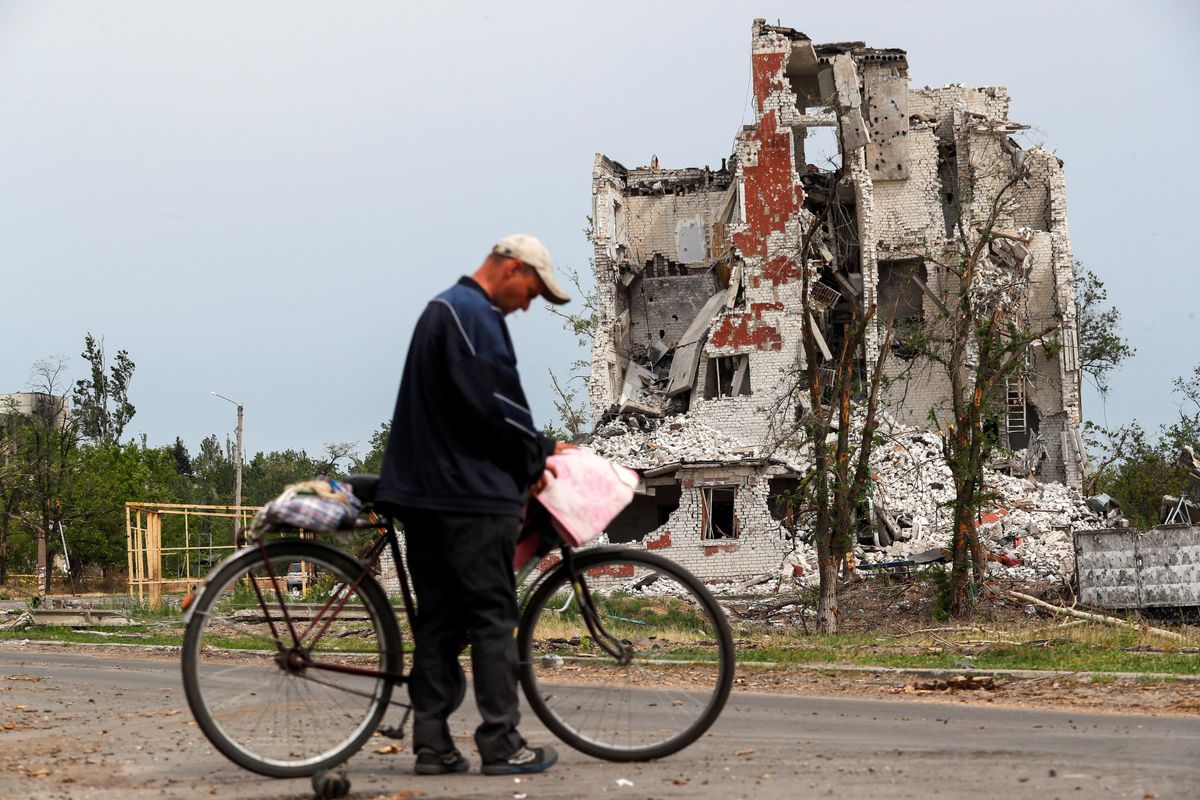 REUTERS/Alexander Ermochenko
On Friday, Russia's war in Ukraine — or at least the latest, most egregious phase of it — will be 100 days old. If Vladimir Putin thought that the invasion would be, as the old Russian saying goes, "a short, victorious war," he was spectacularly wrong.
But as the war enters its fourth month, debates are stirring again in Europe and the US about what the proper extent and aims of support for Ukraine really should be. The New York Times editorial board last week urged the White House to be more specific. A few days later, former US Secretary of State Henry Kissinger kicked up a hornet's nest of criticism by calling at Davos for immediate negotiations on returning to the "status quo ante." Meanwhile, European leaders have been working the phones — without success — to try to open a way for Ukraine-Russia talks as well.
One reason these debates are so frothy is this: deciding how to help Ukraine achieve victory will require defining what that even looks like.
---
In an op-ed published in the New York Times this week, US President Joe Biden hinted at Washington's view. The aim of American support for Kyiv, he wrote, isn't to confront or topple Putin directly, but rather to create conditions for a diplomatic solution that puts a democratic and sovereign Ukraine in "the strongest position at the negotiating table."
But what, precisely and realistically, is that "strongest position"?
Before we get there, let's look at where the war stands now. After an initial two months in which Ukraine heroically beat back a much larger Russian army, defending the capital Kyiv and the second city Kharkiv from Putin's assault, things have moved into a new, more inconclusive period of fighting.
Moscow is looking to consolidate gains in the South and seems to be making incremental progress toward taking greater control of the Donbas. Ukraine, meanwhile, is trying to hold Russia back and exploring counter-offensives in Kherson province, which borders Crimea and represents Russia's westernmost advance in the war.
Against that backdrop, what might Ukraine's "strongest position" look like? There are at least three answers floating around.

The first is a return to the borders of February 2022. This would require Ukrainian forces to push Russia back from positions in Kherson, the strategic port of Mariupol, and the swaths of Luhansk and Donetsk provinces that Russia has taken in recent days.

Some military experts think this is possible. Russia's army lacks the manpower, materiel, and morale, they say, to hold its overextended positions in both the East and the South. Ukraine, writes the Institute for the Study of War, "still has a good chance to stop and then reverse the gains Russia is currently making." The latest shipment of high-tech US weapons to Ukraine will increase that chance.
The second is a return to the borders of February 2014, which would require going substantially further: not only to dislodge Russia from the self-proclaimed "People's Republics" of the Donbas, but to take back the Crimean peninsula, which is functionally — if illegally — part of Russia now. This is a substantially taller order, particularly when it comes to Crimea, which is home to Russia's Black Sea Fleet. Washington's decision to refuse Ukraine weapons that can strike deep into Russian territory seems to make this goal unlikely.
The third is a more vaguely defined goal of humiliating Russia to the point that it is unable to attack Ukraine or other neighbors for the foreseeable future. At the extreme end of this, we have calls to bring about the overthrow of Putin's regime. By making this an existential threat to Putin himself, this would risk expanding the conflict into a war between NATO and Russia, something that Washington — to say nothing of the Europeans — seem keen to avoid.
What do the Ukrainians want? To keep fighting. Eight years since Russia first swiped a chunk of Ukraine, and three months since the Kremlin's more recent invasion, 80% of Ukrainians reject the idea of territorial compromises altogether, including the territories lost since 2014. And Ukrainian President Volodymyr Zelensky does not seem to be in the mood to negotiate just yet. He compared Kissinger's call for talks with the appeasement of Adolf Hitler in 1938.
Is the Ukrainian view the only one that matters? From a moral perspective, it's tempting to say yes. After all, Ukraine is defending itself against an unprovoked and spectacularly brutal attack. But there are at least two other key perspectives that matter: Washington's and Moscow's.
US military and financial support has enabled Ukraine's defense and will be critical for any post-war reconstruction. Popular support for Ukraine is high in principle, but concerns about inflation and the economy are more pressing. Ahead of contentious midterms, the Biden administration may have to work harder to justify support for Ukrainians while Americans pay higher bills. Donald Trump is already rounding on that message himself.
As for Russia, it has shown little willingness to talk on a serious basis at all, of course. Putin wants to be in his own "strongest position" as well. Evaluating what that is and working towards it is — depending on who you ask — either unconscionable appeasement or an important practical consideration for any negotiations.
What if none of the above three options is real in the next several months? It's possible that this is all moot. If Russia can hold its current advances or potentially make more gains, Ukraine and the West will have to reevaluate entirely what Ukraine's strongest feasible position really is.
For now, Ukraine continues to fight,
with strong if carefully delineated Western support. But by the war's 200th day, will we be any closer to a clear picture of how it all begins to end?