Returning Cuba to terror list is an 11th hour move by Pompeo and Trump
Does Cuba belong back on the US's State Sponsors of Terrorism list? The Wall Street Journal Editorial Board showed their support for Secretary of State Mike Pompeo's decision on this issue in a recent opinion piece, "Cuba's Support for Terror." But in this edition of The Red Pen, Ian Bremmer and Eurasia Group analysts Risa Grais-Targow, Jeffrey Wright and Regina Argenzio argue that the WSJ's op-ed goes too far.
We are now just a few days away from the official end of Donald Trump's presidency, but the impacts of his latest moves in office will obviously last far beyond Joe Biden's inauguration. There's the deep structural political polarization, the ongoing investigations into the violence we saw at the Capitol, lord knows what happens over the next few days, there's also last-minute policy decisions here and abroad. And that's where we're taking our Red Pen this week, specifically US relations with Cuba.
---
The Trump administration this past week declared Cuba a "state sponsor of terrorism." Just to remind you, the Obama administration removed Cuba from that list in 2015 as part of a broader opening with the communist country. The Wall Street Journal editorial board is a big fan of the decision to put it back on the list.
Cuba has problems when it comes to human rights and suppression of political opponents, plus close ties to countries that the United States hardly friendly with, like Iran and Venezuela. But we think this op-ed actually goes too far, as does Secretary of State Mike Pompeo's parting shot of putting that nation back on this list.
So, let's get to it. First, The Editorial Board writes that "Cuba will attempt to coax Joe Biden to resume Mr. Obama's courtship, but the regime never honored its promises at home or abroad."
Well, Cuba wasn't really given a chance, and that wasn't the point. Trump started to roll back Obama's policies immediately after becoming president. Obama intended to engage the Cuban population and encourage economic opening with the United States as a way to bring about political change. The policy was never about the communist regime's "promises."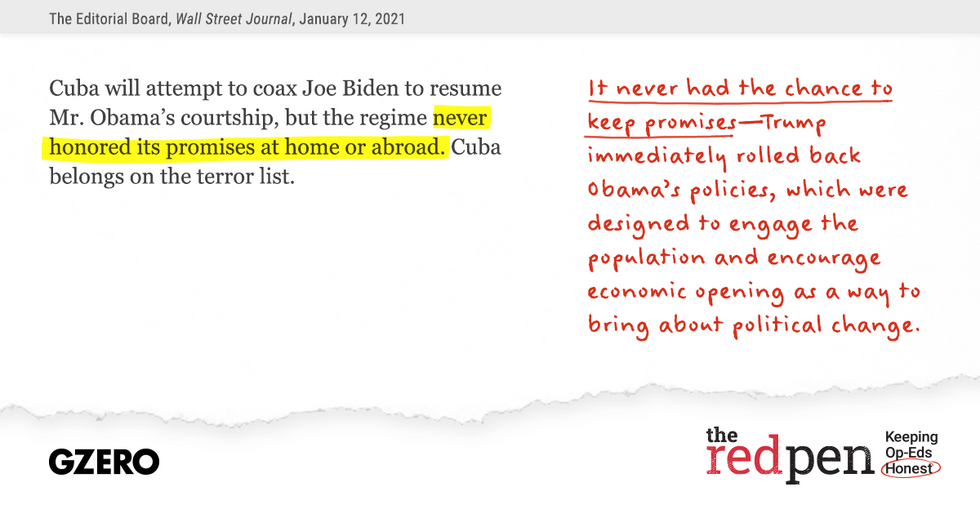 Next, the Wall Street Journal argues that Cuba is responsible for the "collapse of Venezuela's democracy." Maduro "survives in power thanks to Cuba," and Venezuela has become a "base for transnational crime and terrorism."

Now, it's true, Cuba has and does support the Maduro regime. So have Russia, Turkey, China, and Iran. US sanctions have also deepened Venezuela's crisis. And the United States doesn't seem so concerned about Venezuela being a terrorist base since Venezuela is not actually on the terrorist list itself.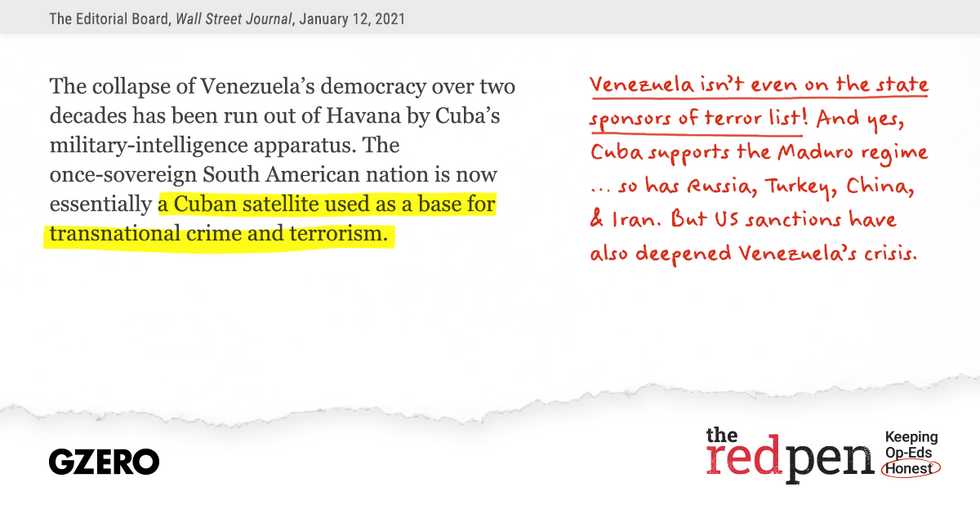 The op-ed also states that Cuba has "deepened and broadened its commitment to terrorism," and that the nation harbors terrorists and criminals wanted by the FBI and other law enforcement agencies.

By this standard it's true, but many US allies would also need to make the list. Saudi Arabia for example, has long harbored people suspected of involvement in terrorist attacks. France refuses to extradite its own citizens to face US courts. And by the way, the United States has harbored many anti-Castro exiles who have committed acts of violence in Cuba.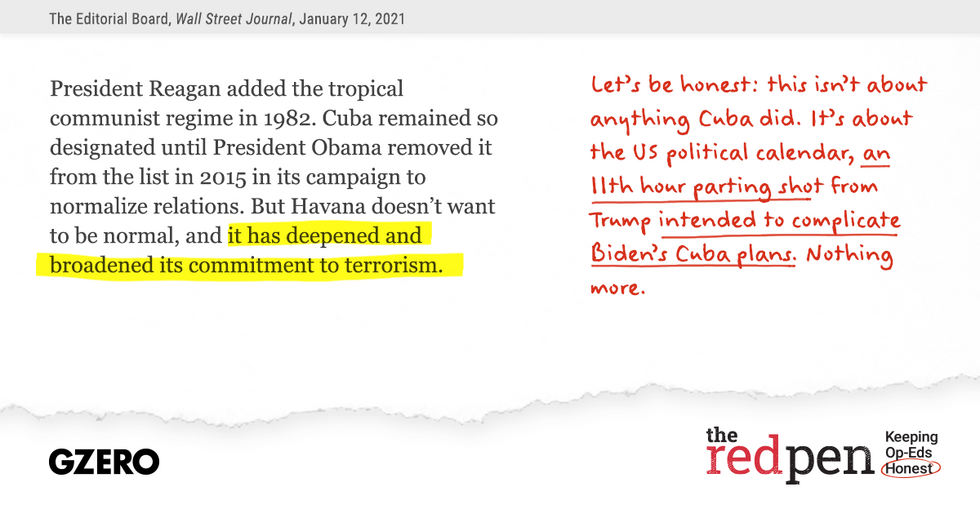 Now Cuba is far from being blameless, but that's not the point. Why put Cuba back on this list now? The decision has a lot more to do with the US political calendar than anything Cuba has done. The 11th hour move is intended to complicate Biden's Cuba plans, nothing more.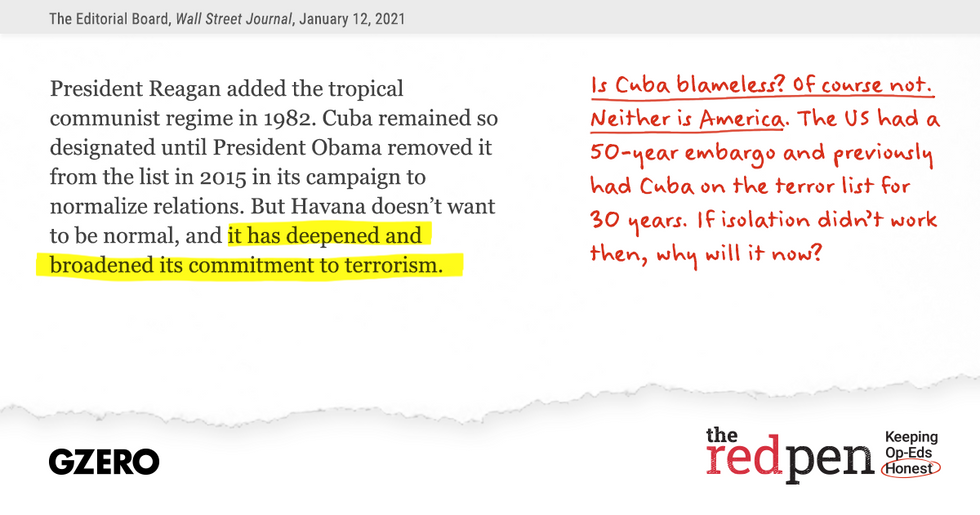 It was Ronald Reagan who first added Cuba to the terrorism list back in 1982, and the US had embargoes in place with Cuba for nearly 50 years. Communist government is still in power and still repressive.
What makes Trump, or the Wall Street Journal Editorial Board, think this time around is going to be any different? It feels more like another mess to toss at the incoming president and his administration.

Add it to the growing pile.