What We're Watching: UK-Nordic security pact, Biden-ASEAN summit, King Abdullah II at the White House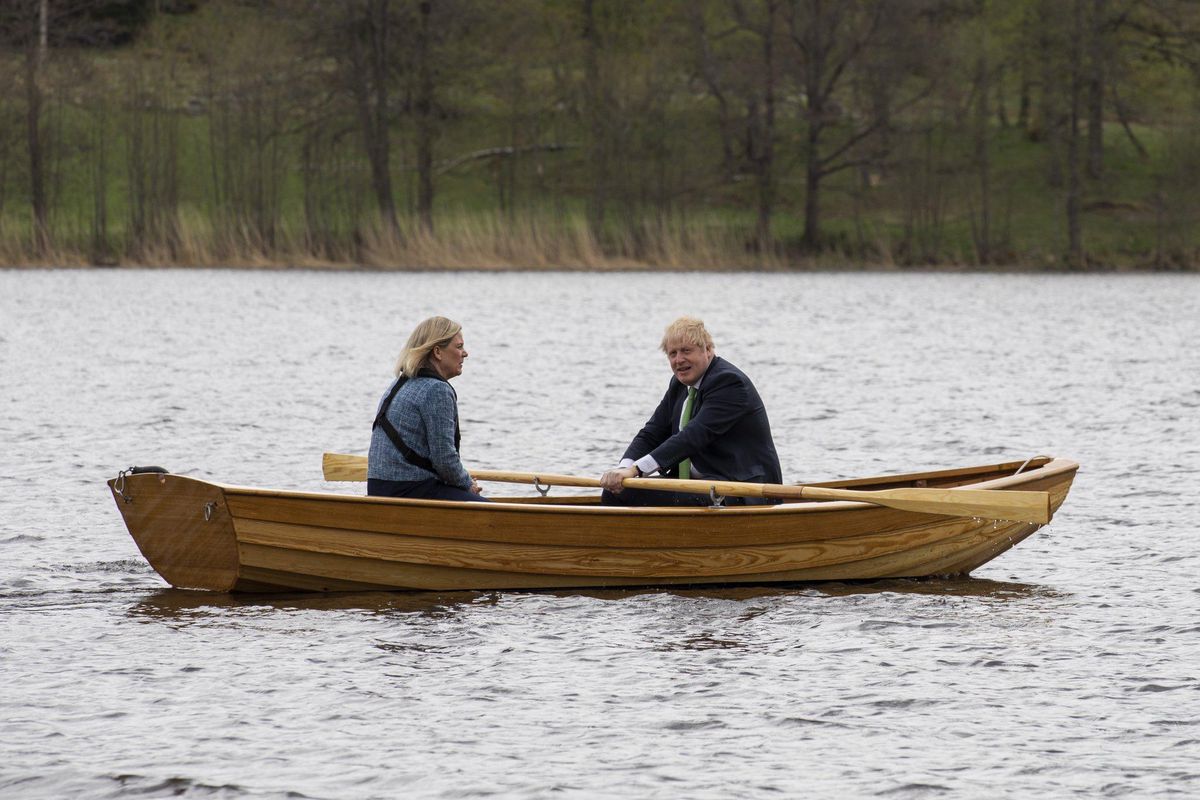 EYEPRESS via Reuters Connect
Boris Johnson embraces NATO-bound Nordics
UK Prime Minister Boris Johnson signed security declarations on Wednesday with Sweden's Prime Minister Magdalena Andersson and Finland's President Sauli Niinistö. These documents are promises that if either Nordic country is attacked, Britain will come to its aid. In return, Sweden and Finland promise the same support for the United Kingdom. Asked for specifics, Johnson said his government would offer "whatever Sweden requested" and would "share more intelligence, bolster military exercises, and further joint development of technology." On specific weapons, the UK PM said that would be determined by what was requested. These are simply political promises, not security guarantees of the kind NATO membership offers. But this show of solidarity comes at a sensitive moment; Finland and Sweden are widely expected to announce their application for NATO membership in the coming days, and their governments have warned that the "gray zone" period between formal application and certain acceptance will leave them vulnerable to various forms of Russian aggression. Meanwhile, Russia's offensive in Ukraine continues, and US intelligence now believes Moscow is planning for a long war with intentions of achieving "goals beyond the Donbas."
---
Will ASEAN side with Biden?
On Thursday, US President Joe Biden kicks off a two-day summit in Washington with eight leaders of the Association of Southeast Asian Nations. There's one big item on the agenda: China. Biden will try to persuade the guests to take his side on the US-China rivalry, but almost all of them will surely say, like Singaporean PM Lee Hsien Loong has, that it's an impossible choice. ASEAN has long bickered with China over a range of issues, mainly Beijing's claim to the entire South China Sea, disputed by Brunei, Malaysia, the Philippines, and Vietnam. But China has too much economic and military clout in Southeast Asia for ASEAN to openly antagonize Beijing — no matter how much investment and security cooperation Washington offers. Since the bloc will likely meet Biden's overtures with its usual bromides, perhaps the most interesting thing about this summit is two no-shows: Myanmar and the Philippines. Myanmar's junta was not invited because the US still recognizes the previous democratic government the generals toppled in February 2021, and outgoing Philippine President Rodrigo Duterte didn't RSVP because he's about to be replaced by Ferdinand Marcos Jr., who is less openly pro-China than Duterte.
King Abdullah set to visit White House
Jordan's King Abdullah II will meet with President Joe Biden at the White House Friday for their second face-to-face meeting since Biden came to office. The two are likely to discuss bilateral relations, with Jordan emphasizing the need for ongoing US aid to help its battered economy (the US is the single biggest donor to Jordan, providing $1.65 billion in the 2021 fiscal year). They're also bound to focus on the recent uptick in violence in Jerusalem, particularly at the Al-Aqsa Mosque, which Jewish Israelis call the Temple Mount. Jordan is the site's custodian and is responsible for its day-to-day administration. Amid recent clashes between Palestinian worshippers and Israeli police, Amman requested additional Waqf monitoring at the site, and Israeli authorities agreed. Still, the Jordanian government, which usually maintains warmish ties with Jerusalem, accused Israel of provocations against Muslim worshippers. (Israel claims that it was responding to rock-throwing and that it has maintained the status quo, which mandates that Jews cannot pray at the Temple Mount, despite it being the holiest site in Judaism.) Indeed, the security situation in Jerusalem and the occupied West Bank remains precarious, and King Abdullah may politely request that the Biden administration – distracted by the onslaught in Ukraine – pay more attention.