What We're Watching: Biden vs Putin, Rohingya vs Facebook, Peruvian congress vs president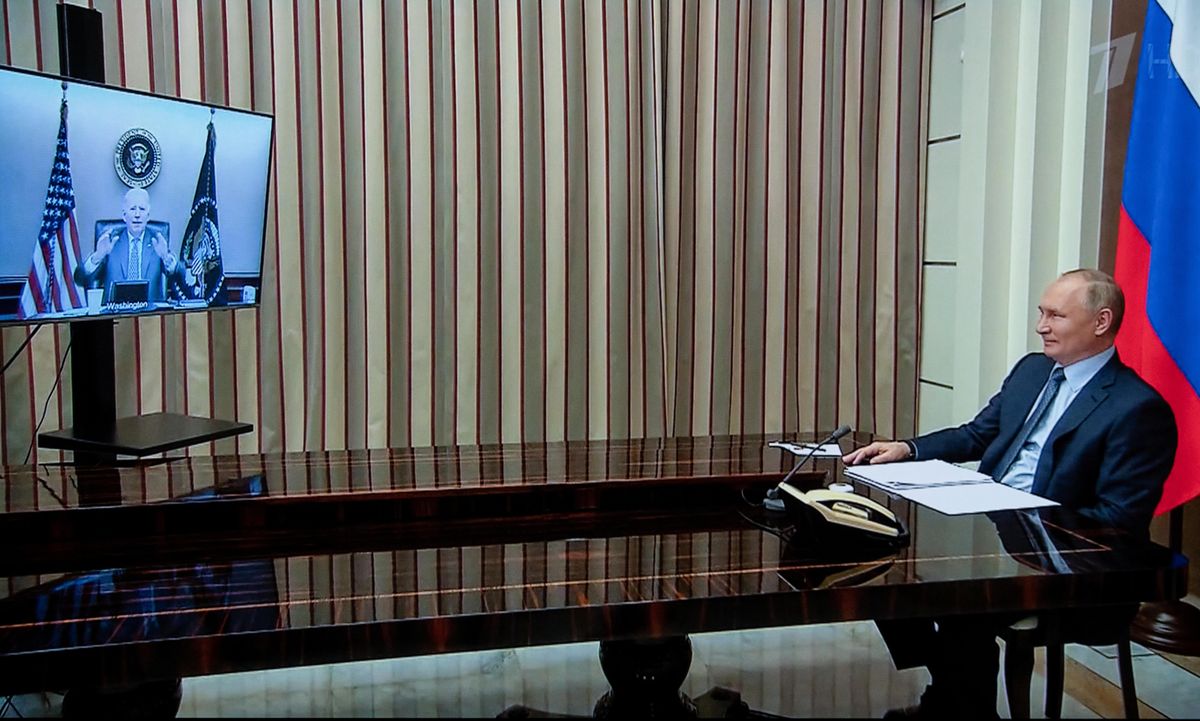 Sputnik/Sergey Guneev/Pool via REUTERS
Joe Biden and Vladimir Putin agree to disagree. But what a disagreement it is…. From what we know, during their Tuesday video call, the Russian president made clear that NATO's flirtations with Ukraine are a red line, and that Moscow is prepared to defend its sphere of influence. The Kremlin also wants to see movement on the 2015 Minsk peace plan, which would give Russian-backed separatists in Eastern Ukraine broad autonomy. Biden meanwhile stressed that if Russia stirs up fresh trouble in Ukraine, the US is prepared to impose more severe economic sanctions. The US president also told Putin that Washington doesn't accept the idea that Ukraine's interests are subordinate to Russia's. All of that leaves us more or less where we were before the call: Russia with more than 100,000 troops camped out on the Ukrainian border, and the US sounding the alarm about a possible invasion.
---
Rohingya sue Meta. Dozens of Rohingya refugees in the UK and the US want $150 billion in compensation from Meta, the parent company of Facebook, for allegedly allowing hate speech targeting the minority ethnic group to spread like wildfire in Myanmar. More than 10,000 Rohingya — most of whom are Muslim — were killed in August 2017, when the country's trigger-happy military, egged on by radical Buddhist monks, carried out a bloody crackdown against Rohingya communities. Meta, for its part, has as of Tuesday evening yet to reply to the lawsuit, which claims Facebook turned a blind eye to its algorithm amplifying misinformation, failed to invest in moderators and fact-checkers, and didn't take down accounts that explicitly called for violence against the Rohingya. The legal case is only the latest example of Meta, which has admitted its past mistakes in Myanmar, being haunted by its business practices. Regardless of what happens in court, shutting down in Myanmar is a non-starter because for most people there Facebook is the internet.
Peru's new president is on the ropes already.
Impeaching presidents is practically a national pastime in Peru, which has had six of them in as many years. Now it's the
newly-elected
Pedro Castillo's turn. After a scandal-ridden and erratic first four months in office, the leftist former schoolteacher — a political novice from Peru's oft-neglected highlands who won the presidential runoff election by a hair — has seen his approval ratings plunge from a meager 40 percent to a flashing-red 25 percent. Lawmakers are talking about
booting him
, and while there isn't quite enough support in Peru's fractious parliament just yet, the bell could toll soon enough unless Castillo rights things — and fast.