What We're Watching: EU vs everyone, Austria vs the unvaccinated, India vs smog, Barbados vs real world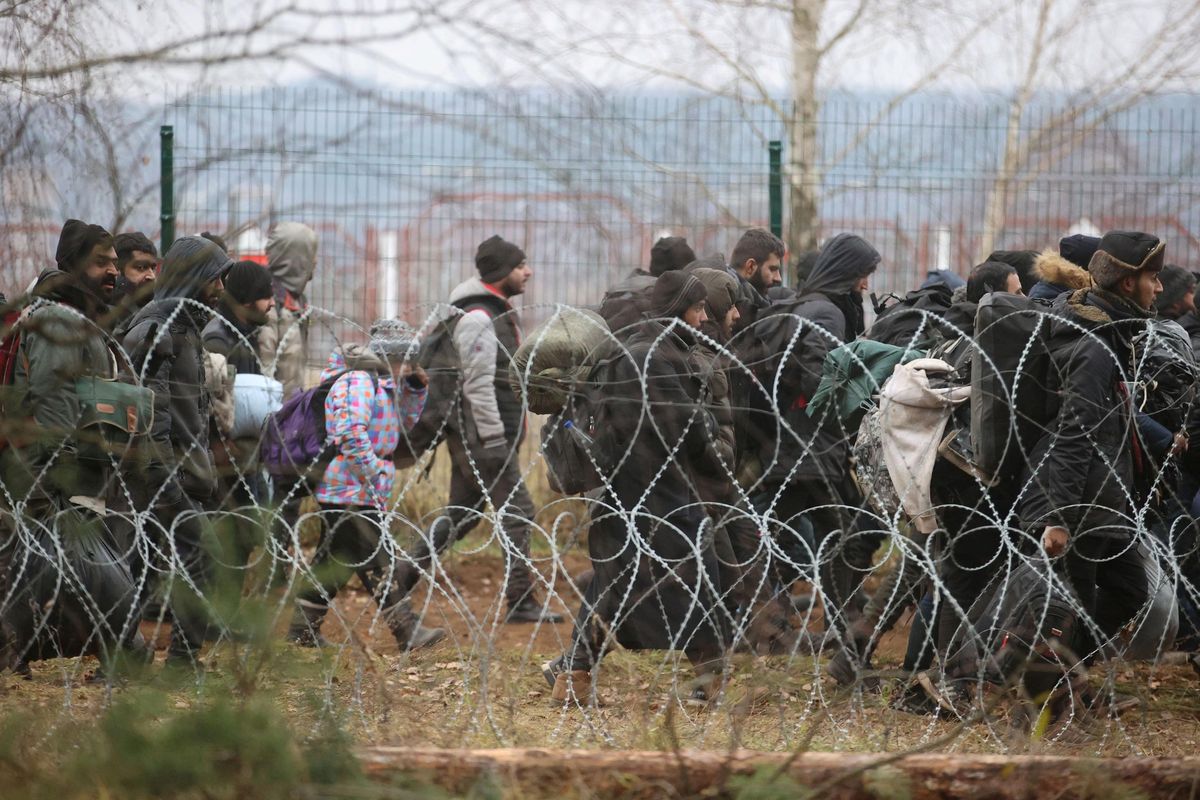 Leonid Scheglov/BelTA/Handout via REUTERS
The EU targets "everyone!" The EU on Monday unanimously agreed to impose fresh sanctions on "everyone involved" in bringing migrants to the Belarus-Poland border, where a diplomatic and humanitarian crisis continues as thousands of asylum-seekers shiver in makeshift camps. Brussels says Belarusian dictator Alexander Lukashenko has deliberately created this crisis to strike back against existing EU sanctions that were imposed in response to his sham re-election last year and his hijacking of a RyanAir flight this summer. Reports show that Belarus loosened visa restrictions for migrants — largely from Iraq — to serve as a transit point for migrants hoping to cross the EU border to apply for asylum. Details of the new sanctions aren't yet decided, but they are likely to target political officials, travel agencies, and airlines. Lukashenko has vowed to fight back, but he won't cut off the Russian gas flows that traverse his country on the way to Europe — Vladimir Putin quickly slapped down that possibility after Lukashenko raised it over the weekend. The question remains: will EU sanctions change Belarus' behavior?
---
Austria's lockdown of the unvaccinated. Beginning Monday, unvaccinated Austrians will be required to stay in their homes for all but essential outings or face a fine of 500 euros ($572). The move comes as Austria suffers one of the highest rates of new COVID infections in Europe. The country currently has a vaccination rate of 65 percent, which lags behind most of Western Europe but exceeds levels in Eastern Europe, which is experiencing an even harsher wave of the virus. The Austrian measures will last for 10 days and be enforced by police spot checks. The unvaccinated were already prohibited from entering restaurants, but the government says the additional restrictions are necessary to boost vaccination rates and head off a crunch at ICUs. Critics — including the right-wing Freedom Party — say the policy is discriminatory and violates Austria's constitution.
A different sort of lockdown in India. India's Supreme Court called on Monday for an immediate lockdown of Delhi, the country's capital. But this time, the threat to public health comes not from COVID but from the toxic smog that regularly pollutes the city's air. The Delhi government has pronounced itself "ready to take steps like complete lockdown," while calling on the governments of neighboring regions to do the same. There will be no in-person classes in schools this week, government officials will work from home, and private businesses are urged to do the same. The city's many construction sites will also remain shut down for three days. Delhi suffers from the exhaust produced by millions of vehicles, crop-stubble burning by farmers, coal-fired plants on the outskirts of town, and the open burning of garbage. By some measures, India is home to 13 of the world's 14 most polluted cities, and in 2019 air pollution was blamed for more than a million deaths.
Metaverse diplomacy.
What happens if you run into trouble when visiting a foreign country? You call your embassy or consulate, of course. But what if you're in the Metaverse, a catch-all phrase for the virtual and augmented reality world Mark Zuckerberg wants you to
spend a lot of time in
? Well, you're in luck if you're a citizen of Barbados, the
first country to open an actual embassy
in this virtual world. The tiny Caribbean island nation plans to build and purchase digital "land," offer e-visas to visit virtual Barbados, and develop virtual transport to move avatars to and fro. What this all means in the real world is unclear, but crypto bros are
very excited
about it, and we don't want to burst their bubble.