What We're Watching: Russia's Zaporizhzhia strikes, Washington-Caracas dealings, Canadian asylum challenge, Macron's intimacy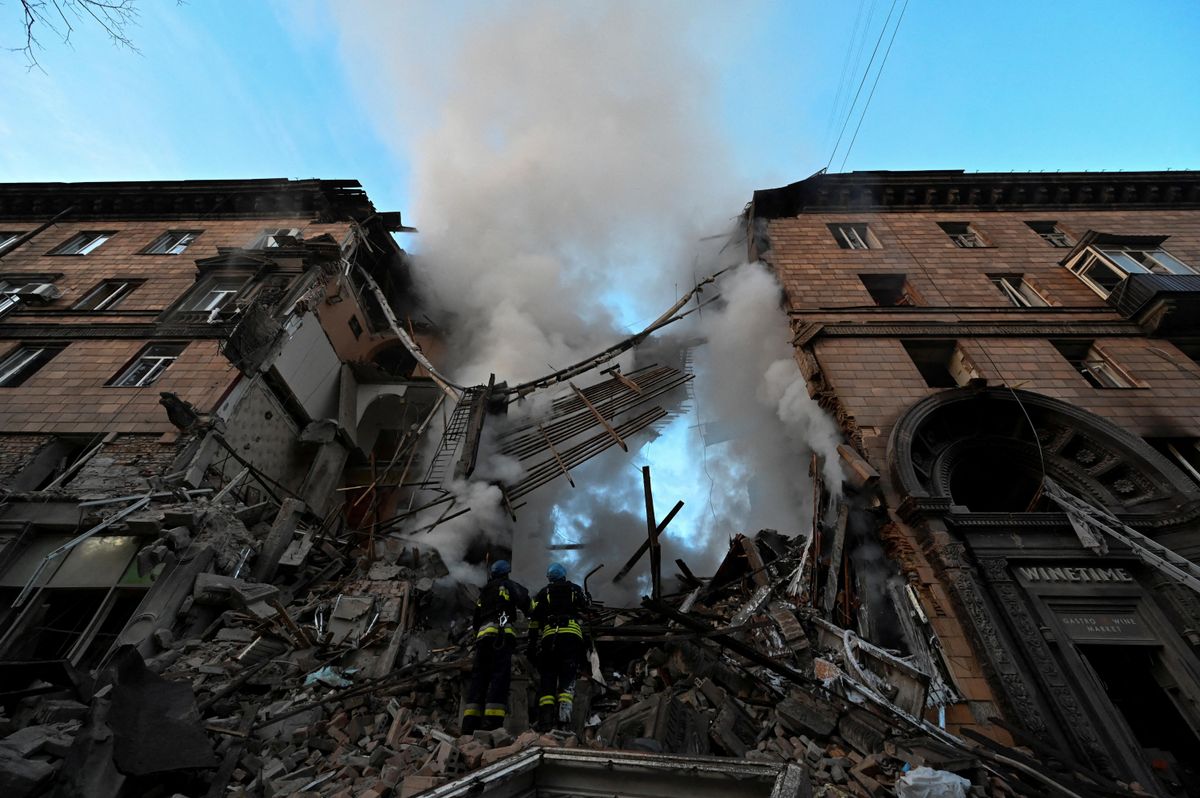 REUTERS
Russian strike on Zaporizhzhia provokes anger and fear
Ukraine's foreign minister said Thursday that seven Russian missiles hit residential buildings overnight, killing a still unknown number of people in Zaporizhzhia, a city located in a region annexed by Russia in recent days and the site of Europe's largest nuclear power plant. President Putin has ordered Russian troops to take control of the plant. International Atomic Energy Agency chief Rafael Mariano Grossi was in Kyiv Thursday as part of talks on creating a zone of protection around it to avoid a catastrophe. Last week, at least 25 people were killed and many more were wounded by a missile strike on a humanitarian convoy in this same region. It's a reminder that though Russia is losing ground at the moment in the eastern and southern regions of Ukraine, it can still inflict great damage, including to civilians. And it's one more attack that raises fears for nuclear safety.
---
Is the US ready to deal with Venezuela?
If you're Joe Biden right now, you can either isolate Russia or Venezuela, but with energy prices soaring, it's hard to freeze out both of those oil-rich countries at once. That's particularly true now that the Saudi-dominated OPEC+ grouping has decided to cut oil production in order to raise prices even further — with friends like these! That's the context for a Wall Street Journal scoop that details a proposal under which Washington would relax sanctions against strongman Nicolás Maduro's "21st Century Socialist" regime, allowing US oil giant Chevron to do a fresh deal there. In exchange, Maduro, whose repression and economic mismanagement have generated one of the worst refugee crises since 2018, would restart talks with the opposition about holding free and fair presidential elections in 2024. Venezuela has some of the world's largest oil reserves, but its once-booming oil industry has been crippled by mismanagement and US sanctions. Output has fallen from close to 3.5 million barrels per day in the late 1990s to barely over 500,000 today. Nudging that back up again would be a boon to Biden, but critics say the fresh revenue would embolden Maduro, a dictator the UN has accused of crimes against humanity. So long as the world needs oil — and it will for a long time still — there are no easy choices.
US-Canada asylum deal under scrutiny
Canada's Supreme Case this week is hearing a case brought by human rights groups challenging the constitutionality of the Safe Third Country Agreement — a treaty brokered in 2004 by the US and Canada that requires asylum-seekers trying to cross select parts of the countries' 5,525-mile border be sent back to the country where they first entered. Claimants say it violates Canada's constitutional right to "life, liberty, and security" because asylum-seekers returned to the US are often placed in indefinite detention or returned to their home countries, where they face persecution. This appeal comes after a federal court in Ottawa ruled against the claimants in 2020, saying the evidence presented was "problematic for drawing systemwide inferences concerning the situation in the United States." Meanwhile, US-Canada illegal border crossings have increased under President Biden, with more than 23,000 asylum-seekers caught trying to cross into Canada at unofficial border crossings in the first eight months of this year, the highest number on record since 2017. Ottawa and Washington are both keen to keep the STCA in place — and to extend it to all border points — so both will be watching this case closely.
What We're Ignoring: Macron wants Europe to get frisky
French President Emmanuel Macron, a known Europhile, has always wanted the EU — and the rest of Europe too — to do more on things like defense and foreign policy. Last May, he floated the idea of a European Political Community, similar to a United States of Europe, that would bring together the EU, the UK, and other non-EU countries in the region. Macron got a step closer to realizing his dream on Thursday, when 44 leaders gathered in Prague for the inaugural meeting of the EPC, a talk shop now being billed as a grouping of democracies to counter Russia. Among the invitees were British PM Liz Truss — who needed a quick break away from home — as well as the presidents of Azerbaijan and Turkey, whose democratic credentials are, ahem, shaky. Still, Macron thinks they can all get along to build what he referred to as a "strategic intimacy." They say French is the language of love, so it probably made sense in his head, but in English it felt awkward — and unleashed a torrent of Twitter memes.
This article comes to you from the Signal newsletter team of GZERO Media. Sign up today.