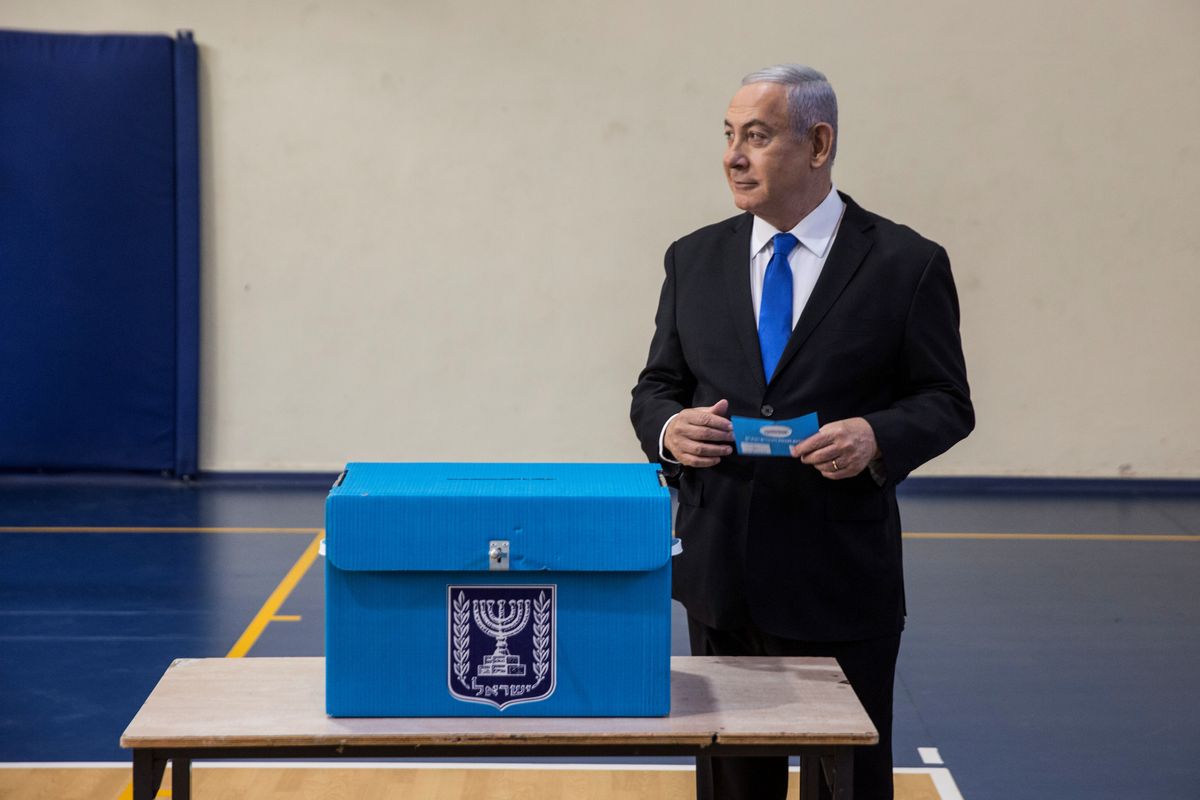 With 95 percent of the votes counted, Israel's election still hasn't yielded much clarity about who will be running the country. If it feels like we've been here before that's because we have — this is Israel's second vote in five months. Back in April, voters just barely gave Prime Minister Benjamin (Bibi) Netanyahu's Likud party the most votes, but he failed to form a government, and called a do-over rather than let his chief rival, Benny Gantz of the centrist Blue and White party, try to form a government of his own.
---
Did his move pay off? One Haaretz reporter summed it up best: "Nobody won, but Netanyahu definitely lost."
What happened? Neither Netanyahu's Likud party nor Blue and White has a clear path to attaining a majority in the 120-seat Knesset. As of now, Likud is projected to win 32 seats, trailing Blue and White's 33. Both parties have teamed up with others to strengthen their negotiating positions: Netanyahu would command a 56-seat bloc of right-wing and ultra-orthodox parties, while Gantz's center-left grouping would pick up 44 endorsements for prime minister. Meanwhile, the Joint List alliance of Arab-majority parties has 12 seats, making it possible that an Arab Israeli could become opposition leader for the first time in Israel's history.

Avigdor Lieberman, kingmaker? This spring, it was Avigdor Lieberman, a wily far-right secularist, who doomed Bibi's chances of forming a government by defecting from the Likud-led coalition. After yesterday, he is a potential kingmaker again: his party, appealing largely to Russian-speaking Israelis, has currently won a crucial eight seats, which will be coveted by both Netanyahu and Gantz.

What happens next?
A unity government — A coalition made up of both Blue and White and Likud remains likely. But there are many forms such a government could take. Who would serve as prime minister? Will Likud depose Netanyahu this time around? Gantz says he will not serve in a unity government with Netanyahu so long as the Likud leader remains implicated in corruption scandals. If a unity government is the outcome, pull up a chair and get comfortable – coalition talks could take weeks, if not months.

Netanyahu forms a single right-wing bloc — Netanyahu has already reached out to his natural coalition partners – right-wing and ultra-Orthodox parties – suggesting that he's working towards preventing a "liberal, nationalist" coalition that Gantz would hope to lead. If Netanyahu can win them over, he would have the biggest bloc, improving his chances of forming a government.
Center-left government — Gantz could bridge the gap needed to form a minority government with support from the Arab parties, but neither side seems enthused about that prospect. If it happens, it would be an extremely tenuous coalition.

Election 3.0 — It's the option that nobody wants, but if deadlock persists, Israel could head for its third election in just 12 months. President Reuven Rivlin has said he will do everything in his power to avoid another election, but that would require some parties to compromise. And lack of compromise is what led to repeat elections in the first place…

Would any of this change Israel's foreign policy? Probably not much. Benny Gantz would certainly offer an opportunity for Israel to reset its relations with countries disaffected by Netanyahu's cozying up to illiberal nationalist leaders. (Think of this "warm embrace" with Brazilian President Jair Bolsonaro or Bibi's affection for Hungary's Viktor Orban.) But Gantz is a former army chief whose actual views align closely with Netanyahu on many foreign policy issues, including the threat posed by a nuclear Iran. On the Palestinian issue, Gantz recently echoed his rival on annexing part of the West Bank, leading Palestinian Authority Prime Minister Mohammad Shtayyeh to conclude: the difference between Gantz and Netanyahu is like the "difference between Pepsi Cola and Coca-Cola."