Crises and Concessions: France, Germany, Italy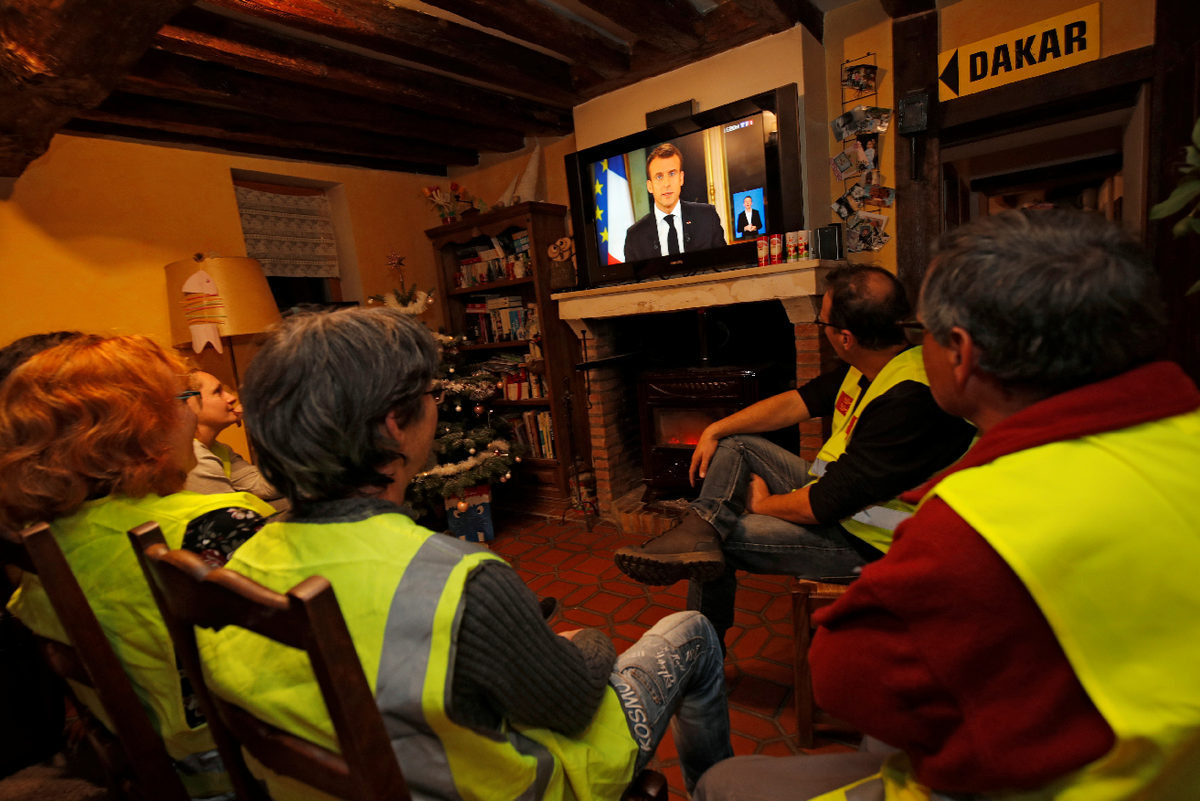 Ms. May's humiliation was particularly dramatic, but political leaders elsewhere in Europe have had to backtrack on strongly-held ideas in recent days.

Here's a cornucopia of climb downs from the continent:
---

In France, after another weekend of violent protests, President Emmanuel Macron went on TV yesterday to defuse a crisis that has engulfed his presidency. The "Yellow Vest" movement, which began in opposition to a proposed hike in fuel taxes, has quickly grown to embody the broader anger and anxieties of the country's middle class, particularly in rural areas. After initially remaining aloof from the crisis, his administration first suspended and then outright cancelled the tax hike. Mr. Macron has now declared a state of "social and economic emergency" and pledged to restore order while also offering a (somewhat meager) 100 euro a month increase to the national minimum wage.

The challenge for Mr. Macron is this: he was elected in part on his promises to make the unpopular economic reforms that France needs in order to bring down unemployment, boost growth, and spur innovation. Thus far he has stumbled in part because of the perception that he's front-loaded the pain for poor and middle-class people. His speech yesterday aimed to demonstrate both resolve and compassion in a way that puts him back on track to address further politically fraught issues next year, such as pension reform. The risk is that in making concessions to the street once, he will be unable to hold the line in the future.

Meanwhile in Germany, outgoing Chancellor Angela Merkel has quietly dropped her long-standing insistence that all EU countries must accept refugees according to an agreed-upon quota. The new line, included in a joint German-French discussion paper ahead of EU meetings later this week, says that while solidarity within the common bloc is desirable, countries can, in effect, say no to taking in migrants. It's a small nuance with big implications – migration policy has been the single most inflammatory issue in European politics in recent years.

Backlashes both against refugees themselves, as well as against Brussels' insistence on country-level quotas, have fueled the rise of anti-establishment parties that have roiled Europe's politics since 2015. Merkel's climbdown on this issue may facilitate a broader EU agreement on migration policy this week, but at the cost of Brussels' long-term legitimacy.

And to Italy, where the government coalition of the anti-establishment Five Star Movement and the right-wing Lega party has pulled its own climbdown. For months Rome has locked horns with Brussels over next year's Italian budget. The government wants massive tax cuts favored by the business-friendly Lega, along with huge social spending increases promised by Five Star on the campaign trail.

But the combination would violate EU fiscal rules by expanding Italy's sky-high government debt. The EU has threatened sanctions, while financial markets punished Italy. Faced with the prospect of deeper financial market turmoil, Rome has relaxed its earlier anti-Brussels bravado and now says it's willing to trim spending to find a compromise. But room for maneuver is scant: both Five Star and Lega have electoral promises to keep, and both are burnishing their Eurosceptic bonafides ahead of European parliamentary elections this spring.