WORLD CUP: POLITICS ON THE PITCH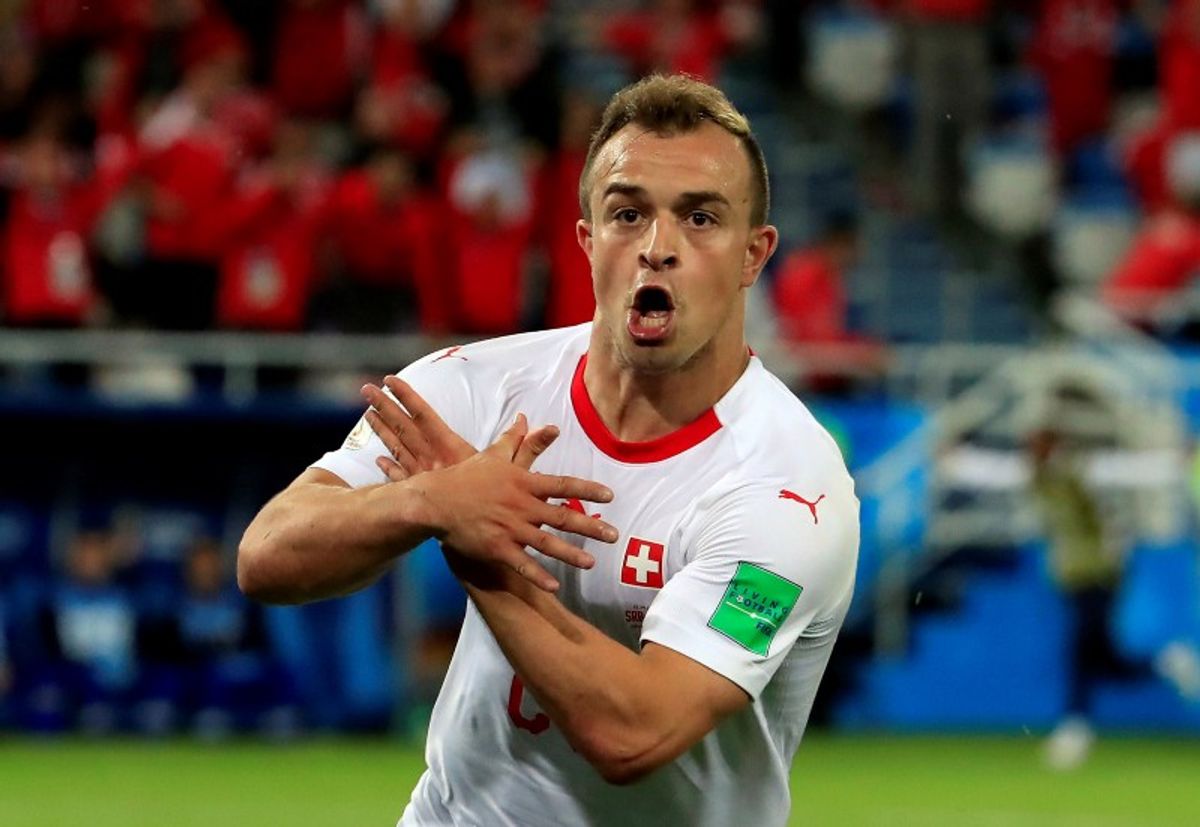 Last week, we looked at a few ways in which the World Cup reflected broader themes in global politics. During an intensive review of the action this week, Alex Kliment, Signal's unofficial tournament correspondent, spotted two new examples of politics on the pitch:
---
Balkan Bad Blood
Switzerland's stirring last minute victory over Serbia last week dripped with Balkan political intrigue. Three of the Swiss team's biggest stars have roots in Kosovo, the ethnically-Albanian province that won independence from Serbia after a brutal war in the 1990s. Serb nationalists consider Kosovo to be historically part of their country, so when two ethnic-Albanian Swiss players celebrated their goals by flashing a nationalist hand signal (pictured above) that mimics the distinctive Albanian double-headed eagle, things got hot fast.
FIFA rules prohibit on-field political displays. After an investigation, the players escaped with a fine, but the politics didn't stop there. After the game, Serbia's coach said the German referee — who failed to award a penalty after an egregious foul against Serbian striker Aleksandar Mitrovic — should be sent "to the Hague" to be tried "like they did to us." The Hague, of course, is home to the international tribunal that prosecuted dozens of people for crimes committed during the Yugoslav civil wars, many of them ethnic Serbs.
The Bavarians Again
Meanwhile, in an eerie reflection of the broader uncertainty that plagues Germany's coalition government, the German national squad also reportedly suffers from a rift between a faction of "Bavarians" (in this case Thomas Muller, Mats Hummels, and Manuel Neuer who all play for Bayern Munich) and the so-called "bling bling gang" which includes Mesut Özil, Jerome Boateng, and Sami Khedira. Supposedly, there is a long running disagreement between the blingers, who are all of immigrant origins, and the Bavarians about whether it was right to leave Leroy Sane, a German footballer of Senegalese ancestry, off the squad. The alleged friction comes as the conservative Bavarian CSU is split with Chancellor Merkel over letting in non-ethnic Germans into the country.
Finally, yes, German midfielder Toni Kroos's game-winning strike in the final seconds of extra time against the Swedes was one of the most beautiful goalsyou'll ever see (go on, watch it again, you know you want to). But it may have been a political, and not just a sporting, accomplishment: by sparing Germany the national humiliation of crashing out of the tournament in the first round, Kroos might just have offered a little relief to the embattled Merkel. The squad's post-match rapport certainly left the team's fans in a more cheerful mood.