What We're Watching: Australia elects new PM, Poland hearts Ukraine, Saudis stand by Russia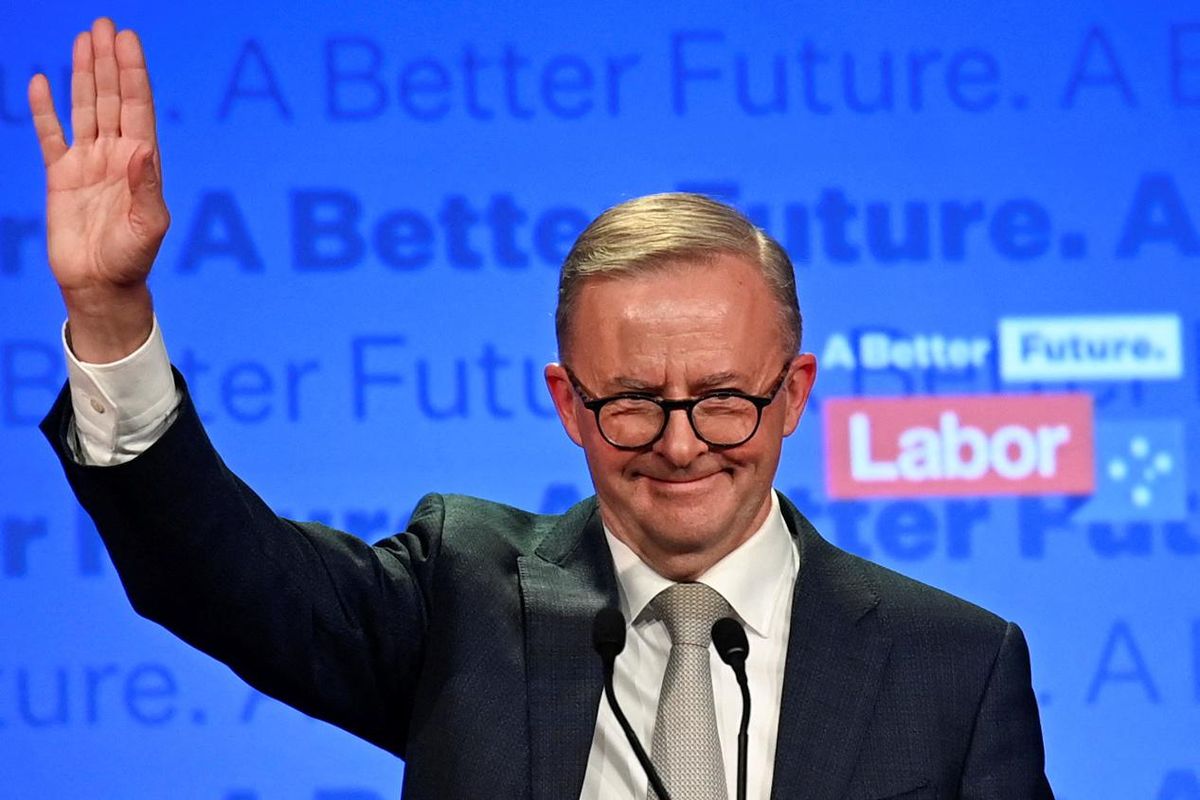 REUTERS/Jaimi Joy
Albo takes over in Oz
After his Labor Party won Saturday's parliamentary election, Anthony Albanese, known popularly as Albo, is set to become Australia's new prime minister. But it remains unclear whether Labor has a parliamentary majority: if his party falls just short in the end, it'll be a minority government, so Albanese will need some support from the Greens and climate-focused independents to get laws passed. In a gesture toward both, Albanese announced Sunday that he wants to make Australia a renewable energy superpower — a sharp departure from Scott Morrison, aka ScoMo, his coal-loving conservative predecessor. While mail-in ballots are still being counted, Albanese was sworn in Monday as acting PM in order to attend the Quad Summit in Tokyo on Tuesday. Albanese will need to hit the ground running because Australia is also in the AUKUS security partnership, which China doesn't like one bit. Just weeks after Beijing inked a deal with the neighboring Solomon Islands that'll allow the Chinese to gain a military foothold in the Pacific, expect the China question to continue dominating Australian foreign policy under the new government.
---
Poland has Ukraine's back
On Sunday, Polish President Andrezj Duda became the first foreign leader to address the Ukrainian parliament since Russia's invasion began. The political moment was hardly surprising, given that Poland is hosting the bulk of Ukrainian refugees and, more importantly for Kyiv, is lobbying aggressively for the EU to fast-track Ukraine's application to join the bloc ASAP. Duda said he hopes the European Council will formally accept Ukraine as a candidate on Wednesday because those who "shed their blood" for Europe must be respected, "even if the situation is complicated, even if there are doubts." Still, Polish efforts have run into stiff opposition from France, whose EU affairs minister estimates it'll take Ukraine a couple of decades to gain EU membership. Meanwhile, Ukrainian President Volodymyr Zelensky announced that while he wants to end the war through diplomacy with Russia, he won't agree to give up any territory in eastern Ukraine, where Russian forces are intensifying their assault in Luhansk, one of the two territories that make up the contested Donbas region.
Russia gets leverage from OPEC
For years, Saudi Arabia — the world's top oil exporter, OPEC heavyweight, and traditional US ally — has dealt with Russia's production through OPEC+, the larger group of oil-producing economies. But despite Western sanctions against Moscow, Riyadh has indicated that it will still continue to stand by Moscow as a member of the powerful alliance. With Russia increasingly isolated, its oil production falling, and an EU ban on Russian oil in the pipeline, Brent crude, the global benchmark, was being priced at about $112 a barrel last week, a 10-year high. Crown Prince Mohammed bin Salman, who has been shunned by the Biden administration, has refused to lower oil prices, and along with regional ally UAE, has been pushing for a more balanced position on Russia. Expected to expire in about three months is a set of production quotas for OPEC+, which would leave open space for Russia to continue to produce, and sell, more oil.
This comes to you from the Signal newsletter team of GZERO Media. Subscribe for your free daily Signal today.