What We're Watching: Protests Erupt in Indonesia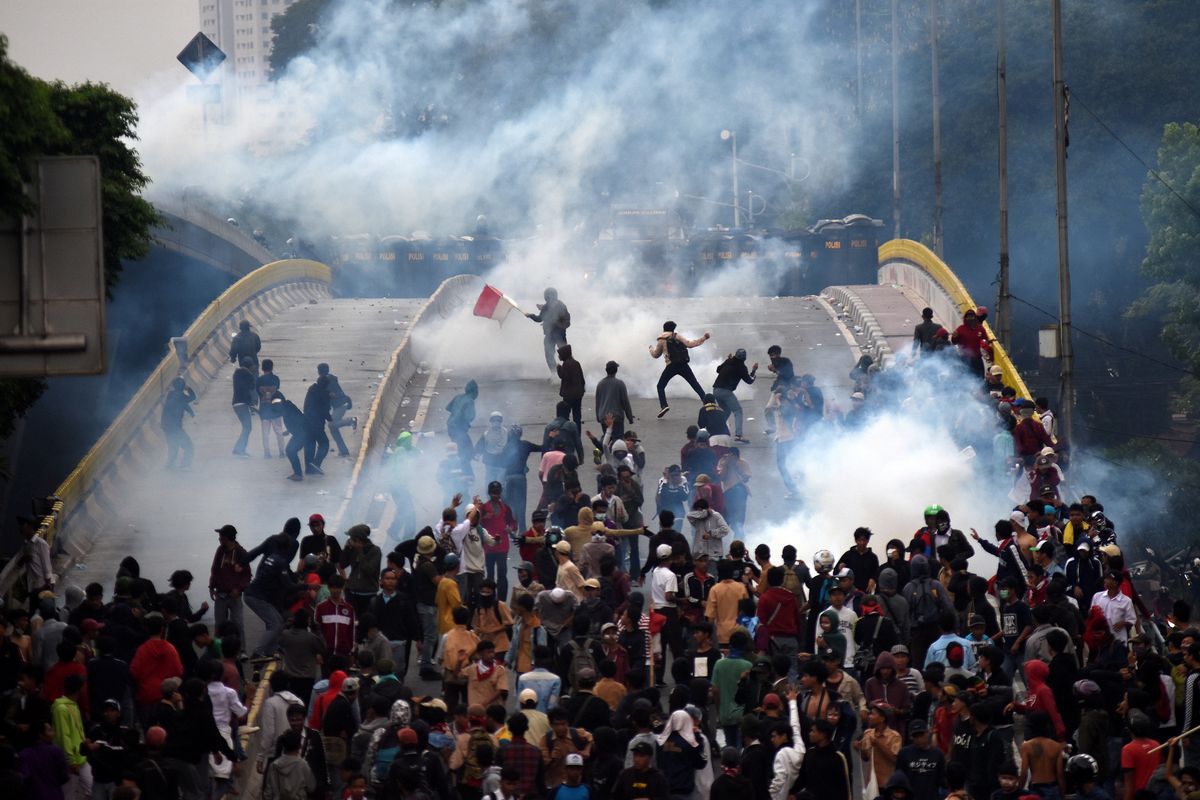 Massive Protests in Indonesia: This week, tens of thousands of students clashed with police on the streets of Jakarta and other large cities as part of ongoing demonstrations triggered by two controversies: President Joko Widodo's move to curb a major anti-corruption agency and his apparent support for a new criminal code bill, strongly supported by Indonesia's growing Islamist movement, that would outlaw premarital sex, limit gay rights, and curb free speech. The students also want the government to punish companies that have set thousands of fires in Indonesia's forests to clear land for palm oil plantations. Joko's common touch and commitment to build better infrastructure brought him to power five years ago as a political outsider. In April, he easily won re-election, though some questioned his decision to run alongside a hardline Islamist cleric. As he enters his second and final term, the appearance that he's caving to pressure from business oligarchs and conservative clerics has taken a bite out of his once sky-high popularity. Does he need to make these concessions in order to govern effectively? We're watching to see how Joko squares this circle.
---
The Big Vote You Might Have Missed: Buried beneath the impeachment story this week was another US political bombshell: The US Senate passed a resolution which effectively kills President Trump's declaration of a "national emergency" at the US-Mexico border. On Wednesday, 11 Republican senators joined Democrats to strike down the president's declaration, issued in February, which allowed his administration to bypass congressional approval to divert money toward construction of his border wall. The administration has already used the declaration to divert $3.6 billion from congressionally approved military construction projects to fund the barrier. The Senate passed a similar resolution back in March, and Trump swiftly vetoed it. But as he faces a lengthy impeachment battle and needs Republican unity in the Senate, we're watching to see if Trump chooses a different strategy this time.
The Monday Dilemma: In Mestre, a suburb of Venice, Italian police recently imposed a fine of €350 on a Nigerian migrant named Monday. His offense? Sweeping garbage off the streets (only trucks are permitted to do this). A public backlash that followed persuaded police to cancel the fine. This story raises an important problem for the future. In coming years, migration to wealthy countries is set to increase. But it will also become harder for migrants to find productive work as automation sweeps up more and more menial jobs. What happens to those who want to justify their presence by performing useful work when more of the world's menial labor is performed by machines?
The Death of Chameleon Bonaparte:Jacques Chirac had many nicknames, some of them too vulgar for inclusion here, but his death on Thursday gives us pause for thought. The former French president, known for decades of corruption scandals and a theatrically avuncular speaking style, was a political giant. His critics say he stood for nothing. His backers insist he stood for France. His political gifts were undeniable, and we'll remember Jacques Chirac as the superstar shape-shifter with a deep feel for his country's hopes and fears.
What We're Ignoring
The Pope's Assault on Adjectives: "Let us learn to call people by their name, as the Lord does with us, and to give up using adjectives." So tweeted Pope Francis this week in a plea for concise expression. "We have forgotten the strength of nouns," he said in a speech on Monday. "Why say authentically Christian? It is Christian! … it is an adjective noun, yes, but it is a noun." Your Friday author shares the Pope's yearning to prune the world's verbiage, including our own. But we're respectfully (that's an adverb) ignoring His Holiness on this one, because adjectives are like candy, and your Signal authors can't live on bread alone.
Labradoodle Regrets: In a recent interview, Wally Conron, the first person to cross-breed a Labrador with a poodle, says his creation is his "life's regret" and that he hasn't "got a clue" why people still breed these dogs. It's a little late for that, Wally. Labradoodles are everywhere. And don't make it worse for yourself by using adjectives in the confessional #ReadYourMaryShelley.